What Apps Have to do With the Music Industry
Written by Andressa Izumi on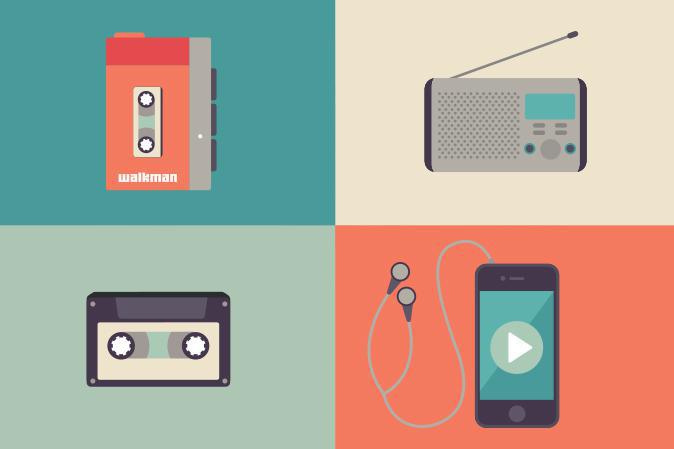 If you remember the early 90's, you should remember when Sony decided to revolutionize the way we listen to music and launched the famous yellow sports WALKMAN :)
These were the times when you could record a mixtape to give to your girlfriend and when having the freedom of listening to music while walking on the street was a huge thing!
From then on, we evolved first to CDs and then to downloads, and the latter grew very quickly thanks to the democratization of the internet. By now, according to a report of the IFPI (International Federation of Phonographic Industry), the number of paying subscribers to music subscription services - which includes services such as
Spotify
and
Deezer
- increased from 8 to 28 million.
As the chief content officer of Spotify, Ken Parks, said: "Unlike the distribution of a physical product we can reach every person on the planet, at least every person with a smartphone." (
IFPI Digital Music Report 2014
)
In light of this, we decided to talk about how you can create a good music app. We will address the subject considering two different types of apps: radio apps and band/musicians apps.
Let's start!
First of all, why should I create an app?
If you have a radio station or if you're a musician or have a band, why should you consider creating an app for it? Well, people use their phones all the time and what better way than to deliver your business card in the form of an app!

Beyond presenting yourself and giving access to your music, the advantage an app can bring is the way you deliver that experience. With an application, you can offer exclusive content, and your presence on the web (social networks, website, music players, streaming, personal information, contacts) can be found in one single place.
Thanks to the fact that the content is chosen by you, as well as customized, the focus of your users will not be as easily distracted while navigating on a website under the menace of the multitude of hyperlinks.
Radio Apps - What are the possibilities?
Listening to the radio has improbably survived "
Video killed the radio star
" and despite its age, people still listen to the radio frequently and even talk about which is their favorite radio station, why they prefer one and not another. There are many ways you can make your radio app more dynamic.
But, to make it more clear let's take the example of one of our GoodBarbers, the app
Pausa Musicale
. Besides the possibility of listening to music, this app allows users to see upcoming events in the Agenda section. They organize different competitions and there's an entire section dedicated to promoting the contests. Even if you are new and feel a bit lost in the app, there's the Popular section where you can find the most popular articles. This type of feature will serve not only your users, but also you, because it's a great tool to understand what kind of content is most interesting to your audience.
Beyond this, you can use push notifications to let your listeners know when that new song will be on the air, or the Live+ section, that makes it possible for your audience to share the songs with their friends on socials.
How can I use a music app to accelerate my projects?
An app is a tool to promote your music and also to communicate with other artists and people interested in the industry.
The
Soltanto
app shows us it's possible to associate different types of sections to make complete application. Here the users can go from listening to the songs on Soundcloud, to the latest concert dates, to checking the photos of the musician and much more.
But the great thing about it is that
Soltanto
being a street artist, one of the features that made it really successful is the possibility to target the push notifications using the geolocation tool to really be effective at communication.
You can also encourage your users to give feedback by using the submit section or by leaving comments in the articles or even some connected sections.
The times are a-changin?
While the wearables concept is still finding its own identity and still gaining popularity, the most-used devices in our daily lives are currently cellular phones. And, though I loved the revolutionary yellow walkman of the 90's, I have to admit that a smaller device with much better performance and greater capacity is my unquestionable choice.
Nowadays people still listen to music and I think they always will, but it's very clear that the way we do is changing. So, the best thing to keep up with changing times is to communicate your business using the format that other people are using. This means learning how to speak the language your audience is speaking. A good example of this is
Beats
, the brand of headphones and speakers created by the rapper and hiphop producer Dr. Dre. They launched an online music streaming service this year and Tyler Hayes commented on it, saying: "The music business isn't about albums anymore--it's about distribution via app." (source:
FastCoLabs
).
So, I guess that gives you a number of good reasons to consider creating an app for your music business. Now I would like to leave you with this powerful quote from Bobby Owsinski :
"What we see now is the business morphing as music streaming becomes the consumption method of choice for listeners. It seems like just yesterday we were living through the first digital music revolution; keep your eyes open because we're living it again." (source:
Forbes
)
Have some thoughts to share on this subject? Leave us a comment below!