What Does In-App Purchases Mean in the app stores ?
Written by GoodBarber Team on
Even if people download an app for free, chances are it can still cost them something through in-app purchases. This is true for both App Store and Google Play users, prompting users to spend, whether it's for additional features, game add-ons, or subscriptions.

In-app purchases are one of the most common monetization models in mobile apps. According to the latest 2021 statistics , around 48% of all mobile app earnings are driven by in-app purchases. In fact, users worldwide have spent $380 billion on in-app purchases. This means the market for in-app purchases is doing really well – if marketers are able to position their apps properly.

What exactly do in-app purchases mean? And how can you potentially use them for your brand? Let's explore!

What Do In-App Purchases Mean?
As the name suggests, in-app purchases are the digital goods, services, or content that users can buy from within the app on their smartphone, tablet, or any mobile device. Many in-app purchases are optional, but they give users access to additional features that could potentially elevate their experience and engagement with the app.
In-app purchases allow developers to offer the app for free in the App Store (for iOS) and Google Play (for Android). Then, within the application, they can upsell and advertise paid upgrades, locked features, special items, and other premium offers.

For example, you might be able to download a video streaming app for free. And then if you want to remove ads, you could either upgrade or pay for a subscription.

Essentially, with in-app purchases, users can buy different kinds of digital items or special access within your app – like using it without being interrupted by ads, gaining access to full e-books, or subscribing to premium content.

Types of In-App Purchases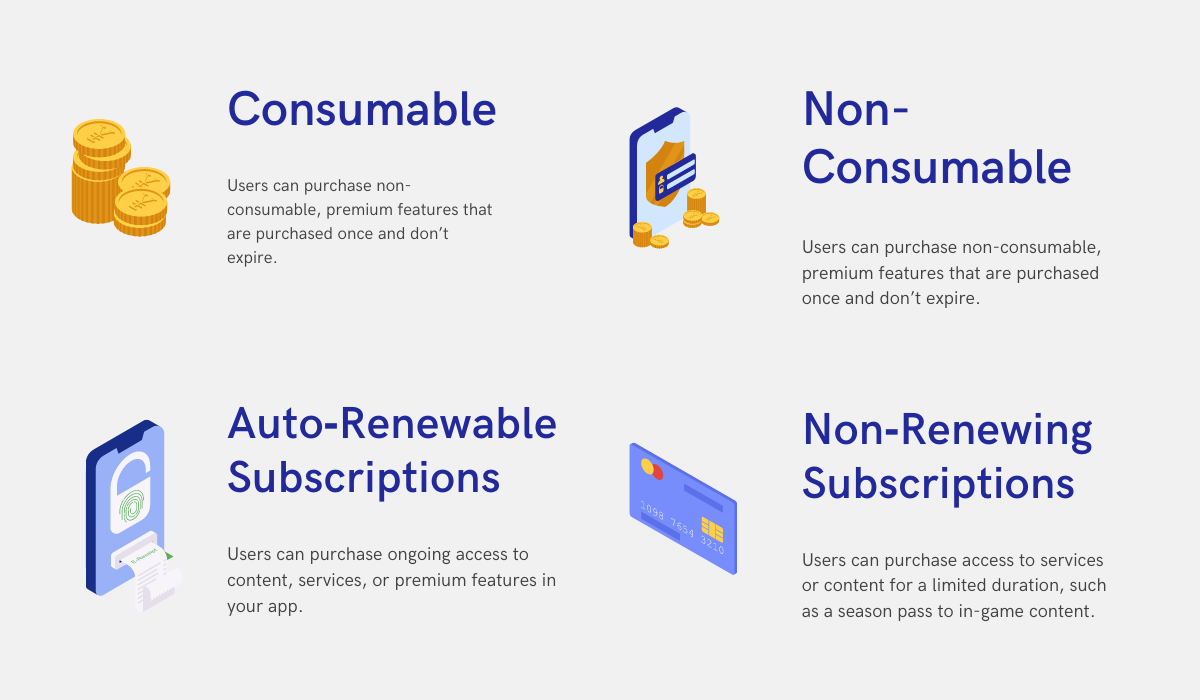 If you want to get into in-app purchases, it's important to familiarize yourself with the different types.

Auto-Renewable Subscriptions
With subscriptions, developers are able to offer users access to premium content or advanced features of the app for a set price at specific intervals. Commonly, marketers offer different options — like weekly, monthly, quarterly, or yearly payment plans. These plans can be renewed automatically unless users decide to cancel.

Subscriptions are particularly popular for music or video streaming services that you sign up for in an app. This includes Disney+, HBO, Hulu, Netflix, Spotify, or YouTube Premium. Subscribers are entitled to the whole catalog of movies or to listen to music without interruptions as long as the subscription plan is valid.
Subscriptions are especially perfect for content producers looking to make money with their apps. This might mean newspapers, radio, and online courses. Offering your users in-app purchases is a simple way to generate revenue and increase the profit that your app is able to generate.

Non-Renewable Subscriptions

The only difference here is that the subscription won't auto-renew. So, if the user wants continued access to whatever they previously purchased, they'll need to manually subscribe again.

Consumables
These digital goods can be used and repurchased multiple times. Commonly, consumable in-app purchases are extra lives or moves, game currencies (like coins, diamonds, or gems), a package of exports to a new file format, or refillable credits.

Non-Consumables
These are one-time purchases that give users permanent access (meaning they never expire) to features and content within the app, like filters for a photosharing app of some sort.

Other common examples of non-consumables include:
Exclusive offers.

Removal of ads.


Upgrades to the pro version.

Potential Uses of In-App Purchases
As a marketer or developer, there are different ways you can ensure in-app purchases work effectively for you and your users. To recap, here are a few suggestions,

One idea is to enable app users to purchase items that will take their gaming experience to the next level. This includes consumables such as game currencies and additional lives, moves, or time to continue playing.

Similarly, you can create a freemium model by offering the app for free but charge them a fee for advanced or exclusive services and functions. Keep in mind that purchases must be made through the app (and not on a different website). This could range from all-access passes to "members only" products, exclusive content, or premium upgrades for loyal users.

What Does the Revenue-Sharing Model Look Like?
As you might have suspected, when you sell in-app purchases, both the Apple and Google marketplaces will take a cut of the revenue.

At present, the marketplaces take a 15% cut for apps that earn less than $1 million in revenue. For apps that earn $1 million and up, the marketplaces take 30% of sales from in-app purchases. You should take this factor into consideration when deciding how to price your in-app purchases.

How to Spot In-App Purchases
Both App Store and Google Play allow users to download apps with in-app purchases. But first, they inform users that the app has this feature.

In the App Store, applications with in-app purchases will have a disclaimer next to the purchase button. If the app is initially free, this note should be beside the Get button. If it's paid, the disclaimer is beside the price tag. On the app's detail page, users can scroll to the Information section, tap in-app purchases, and see the full list of in-app purchases.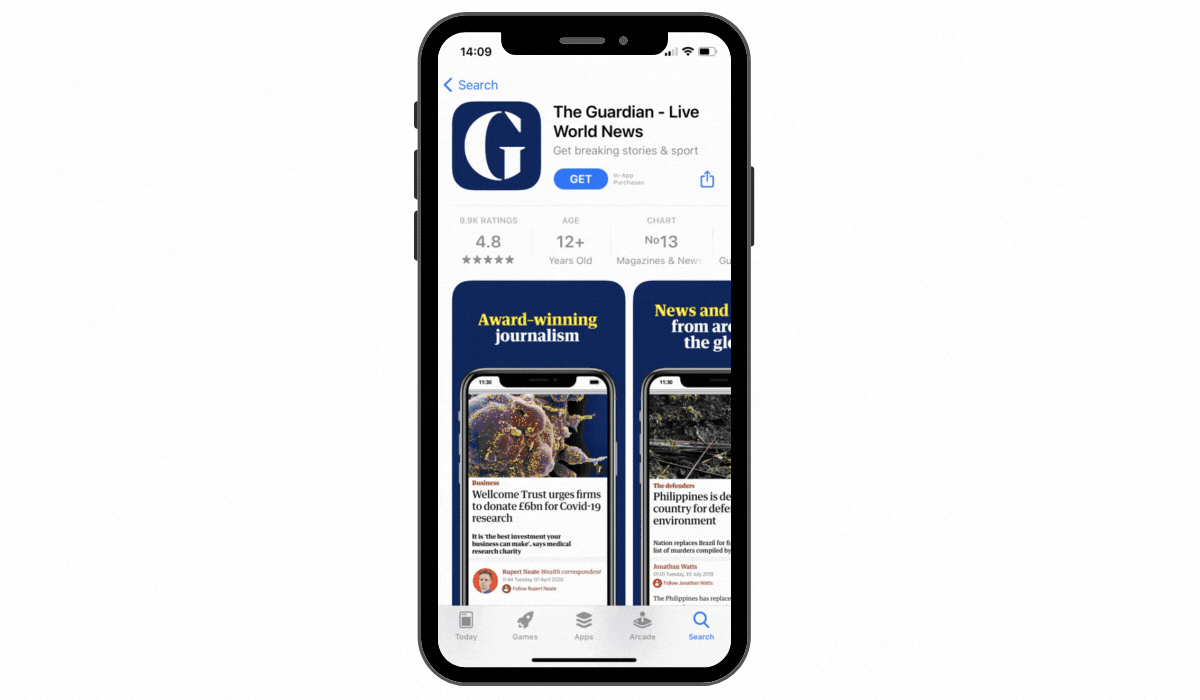 For Android users, they will see a label that says offers in-app purchases. This is positioned just below the app's name, developer, and age-based rating. Google Play does not offer a detailed list of all in-app purchases within an application. However, under Additional Information, users can see the price range of in-app products.


Ultimately, in-app purchases are an effective way to upsell your application to users and keep them engaged with your app, without going through other marketing channels. Likewise, it's a proven monetization method to earn from your app even if it's offered (initially) for free.

Now that you know more about in-app purchases and how they can work for your brand, are you ready to join the movement? Create your online shop or content app with GoodBarber.

We have exciting news! The ability to incorporate in-app purchases will be coming to GoodBarber this fall. Stay tuned for updates!