What's new at GoodBarber? February 2018
Written by Mathieu Poli on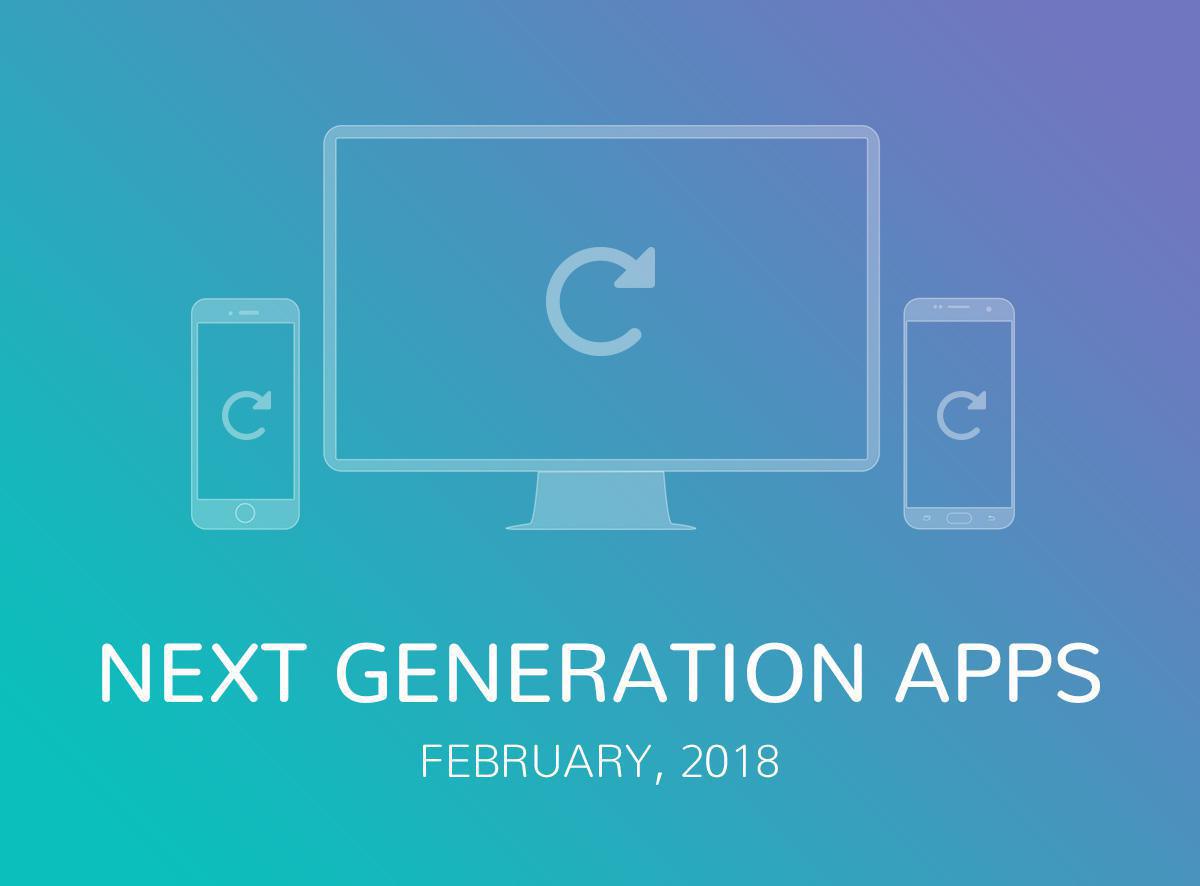 Here at GoodBarber, the month of February was marked by our annual Mobile World Congress attendance. Going to this type of event takes several days of preparation, but represents an opportunity to meet loyal clients and new players in the industry, as well as those who have been following the GoodBarber adventure since the start.

As always, this year the event was a rich learning experience. We were able to get a better grasp on the evolution of the market than we expected.
App Builders are now standard members of the ecosystem
We were delighted to see that app builders are now a concept everyone is familiar with, which wasn't always the case.

Having been positioned as an app builder since 2011, we've spent many years promoting and fighting for this concept. That's why it's so satisfying today to be able to see the kind of place in the market it's managed to achieve, as well as the level of awareness the public has of app builders.
Things are looking good for Progressive Web Apps
You probably guessed it, this Mobile World Congress we went full force with the Progressive Web Apps. For us, the event was an opportunity to present the product we've put the past year into, and especially to get an idea of what our audience's impression is.

What we gathered was that the concept of Progressive Web Apps isn't exactly common knowledge yet. A few people knew about Progressive Web Apps, but they weren't completely aware of everything they offer.
As you know, we've put ourselves in an avant-garde position in the PWA market, just as we did with the whole app builder concept in 2011. We therefore have a new challenge on our hands, which is to make as many people as possible discover the full potential of PWA's!
As for you, you now also have the opportunity to be one step ahead by offering a PWA to your users, or by
reselling PWA's to your own clients
.
Below you'll find a summary of all developments and updates done in February, 2018 :
PWA
General
Home section

Fixed an issue in the navigation widget templates "Big and Small Carousel" preventing infinite scroll in the widget.
In the "Small Carousel" navigation widget template, the carousel is now correctly displayed in Internet Explorer 11.
Fixed an issue preventing personalized icons to be aligned correctly in the Remote widget.

Map section

Map icon management has been restored.
TabBar navigation mode properly displayed now.
Fixed a display issue in the detail view of the tool bar.
Fixed an issue causing the wrong font size to be shown in the Back button of the detail view.

About section

Fixed an issue related to external script evaluation.
Fixed a content overflow issue.

Menu section

In template 5, the background image is now full screen as it should be.

Calendar section

In the detail view, the map isn't displayed if the event doesn't have valid coordinates.

Custom HTML section

Fixed a scroll problem on iOS devices.

Plugin section

Fixed a scroll problem on iOS devices.

TabBar navigation mode

Fixed an issue causing round buttons to be partially hidden by the TabBar.

Authentication add-on

The Save button is no longer cut off on the edit profile screen.

Chat add-on

In the user's profile, the button to send a message is no longer displayed if the chat add-on is not activated.

Other fixes and improvements

An issue concerning the transparency effect in the header has been fixed.
A display issue concerning lengthy titles in additional menus in header shortcuts has been fixed.
Native iOS app
General

You can now set a gradient as a header background.

Articles section

In template 8, when an ad banner is displayed, you can no longer scroll vertically.

Video section

Fixed an issue causing detail views to be incorrectly displayed when clicking on an element in template 5.

Calendar section

Fixed an issue preventing the itinerary button from working.

Favorites section

Fixed an issue causing photo thumbnails to be displayed in poor quality.

From Scratch navigation mode

You can now add links to your Click-to section.

Community add-on

In the User List section, template 1 is no longer displayed in place of template 2.
Fixed an issue causing a crash when clicking on a user in the list.

Coupon add-on

Fixed an issue preventing thumbnails from being displayed in the list.

Other fixes and improvements

Updated the Facebook SDK to version 4.30.0
Native Android app
Home section

The click on the cell button has been fixed in all navigation templates.
A display problem in the header of the Newsletter widget has been fixed.
Fixed an issue causing incorrect widget height when the header was set to transparent.

Authentication add-on

Login buttons have been redesigned according to Facebook's policies.

Other fixes and improvements

App stability has been improved.
Dailymotion player issues have been fixed for version 7.0 and below.
Back office
Podcast section

Fixed an issue that occurred when trying to copy a podcast section.

Submission section

Fixed a display issue in the list of items.

Coupon add-on

Fixed an issue with geo-targetted push notifications for specific coupons.