What's new at GoodBarber? February 2022
Written by Mathieu Poli on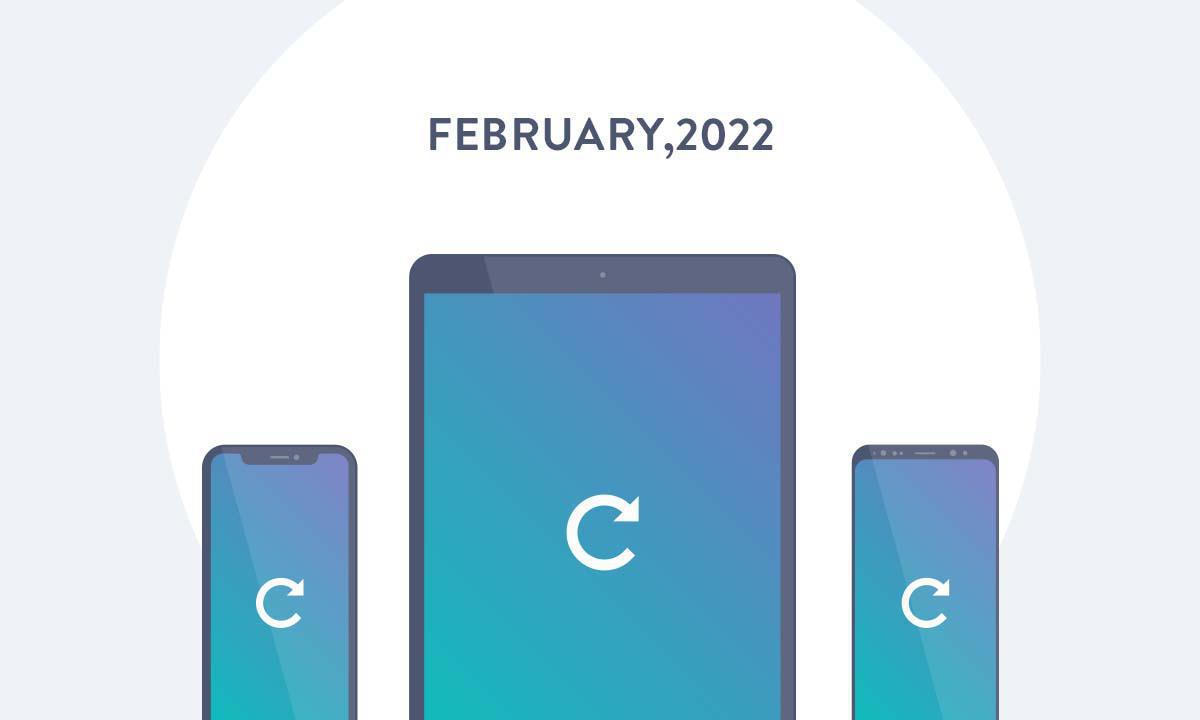 This month we've decided to expand the catalog of content you can add to your GoodBarber shops. You can now choose to add the following sections:
Podcasts
Photo Gallery
Flickr
WebTV
Youtube
Vimeo
Twitter
Calendar
iCal
WordPress
Everything you need to enrich your store with any kind of content!
You will find below the summary of the developments and updates made during the month of February 2022.
eCommerce Apps
General

You can now add several new content sections to your shop: Podcasts, Gallery, Youtube, Vimeo, Flickr, Twitter, iCal, WordPress, WebTV, Calendar

Product detail page

Fixed an issue that displayed the information text with the wrong font.

iOS

Checkout page

Fixed an issue where the user's cards could be out of date.

iOS

Fixed an issue that caused a blue rectangle to be displayed instead of the VISA card icon.

iOS

Fixed an issue that closed the new card pop-up window also closed the card list pop-up.

iOS

PWA

Fixed an issue causing a crash to occur when the user opened the checkout page.

Android

Gallery section

In template 2, the first photo could not be displayed.

PWA

Calendar section

Fixed an issue that caused the app to crash when the user changed category.

Android

Map section

Fixed an issue that could cause the app to crash.

iOS

Fixed an issue that caused the app to crash when the user changed category.

Android

Contact section

Fixed an issue that caused the icons not to be centered.

iOS

Click to section

Fixed an issue where clicking on the section could not work.

iOS

Add-on Blog

In template 1 on iPad, the information could be truncated.

iOS

In the comments publication page, if the user is logged in, the name field is now automatically filled with his username.

iOS

Fixed an issue that caused the app to crash when the user clicked on an article link.

iOS

In template 6, text could be misaligned in a section with a right-to-left language.

Android

Add-on Store Locator

Fixed an issue that caused the app to crash.

iOS

Fixed an issue that caused the app to crash when the user changed category.

Android

Other fixes and improvements

Your apps are now optimized for Android 12.

Android

Fixed: the link sent with the push notification could open on a blank page.

iOS

Fixed: the header title could be displayed with the wrong font size.

iOS

PWA
Content Apps
Articles section

In template 1 on iPad, information could be truncated.

iOS

In the comments publication page, if the user is logged in, the name field is now automatically filled with his username.

iOS

Fixed:an issue that caused the app to crash when the user clicked on an article link.

iOS

In template 6, text could be misaligned in a section with a right-to-left language.

Android

Photo sections

In template 2, the first photo could fail to display.

PWA

Calendar section

Fixed an issue that caused the app to crash when the user changed category.

Android

Map section

Fixed an issue that could cause the application to crash.

iOS

Fixed an issue that caused the app to crash when the user changed category.

Android

Favorites section

Fixed an issue where the text was missing on the delete bookmark button.

PWA

Contact section

Fixed an issue causing the icons not to be centered.

iOS

Click to section

Fixed an issue causing the section not to work.

iOS

Add-on Authentication

Fixed an issue causing the second screen of the registration process not to be displayed.

iOS

Fixed an issue that caused the text of the terms to be truncated in the login and registration screens.

iOS

Add-on Community

Fixed an issue where the list of users was not updated when the user clicked on the tabs.

iOS

Fixed an issue causing the Apply button on the user search filters page to show on the filters when the filter list was larger than the screen.

iOS

In-App purchase add-on

Fixed an issue that could cause an error message to be displayed when a user attempted to subscribe.

iOS

Fixed an issue that caused a crash when the user opened a section with premium content on iPad.

iOS

Fixed an issue that prevented the premium badge from being displayed in the correct position.

iOS

Fixed an issue that caused an infinite load when a user attempted to subscribe.

iOS

Fixed an issue that caused the app to crash on launch.

Android

iBeacons add-on

Fixed an issue that caused the app to fail to install.

Android

Plugin Add-on

Fixed an issue that made the User Agent incorrect on iPads.

iOS

Couponing Add-on

Fixed an issue that emptied the coupon list after a few swipes between categories.

PWA

Fixed an issue that could prevent a coupon detail page from opening.

Android

Now a placeholder is displayed when the coupon list is empty. Android

PWA

Fixed an issue where the redemption button was not centered on the coupon detail page.

PWA

Other fixes and improvements

Your apps are now optimized for Android 12.

Android

Fixed an issue that caused a pop-up window to appear asking to log in with an Apple ID when launching the app.

iOS

Fixed: the link sent with the push notification could open on a blank page.

iOS

Fixed: the header title could be displayed with the wrong font size.

iOS

PWA