What's new at GoodBarber? March 2020
Written by Mathieu Poli on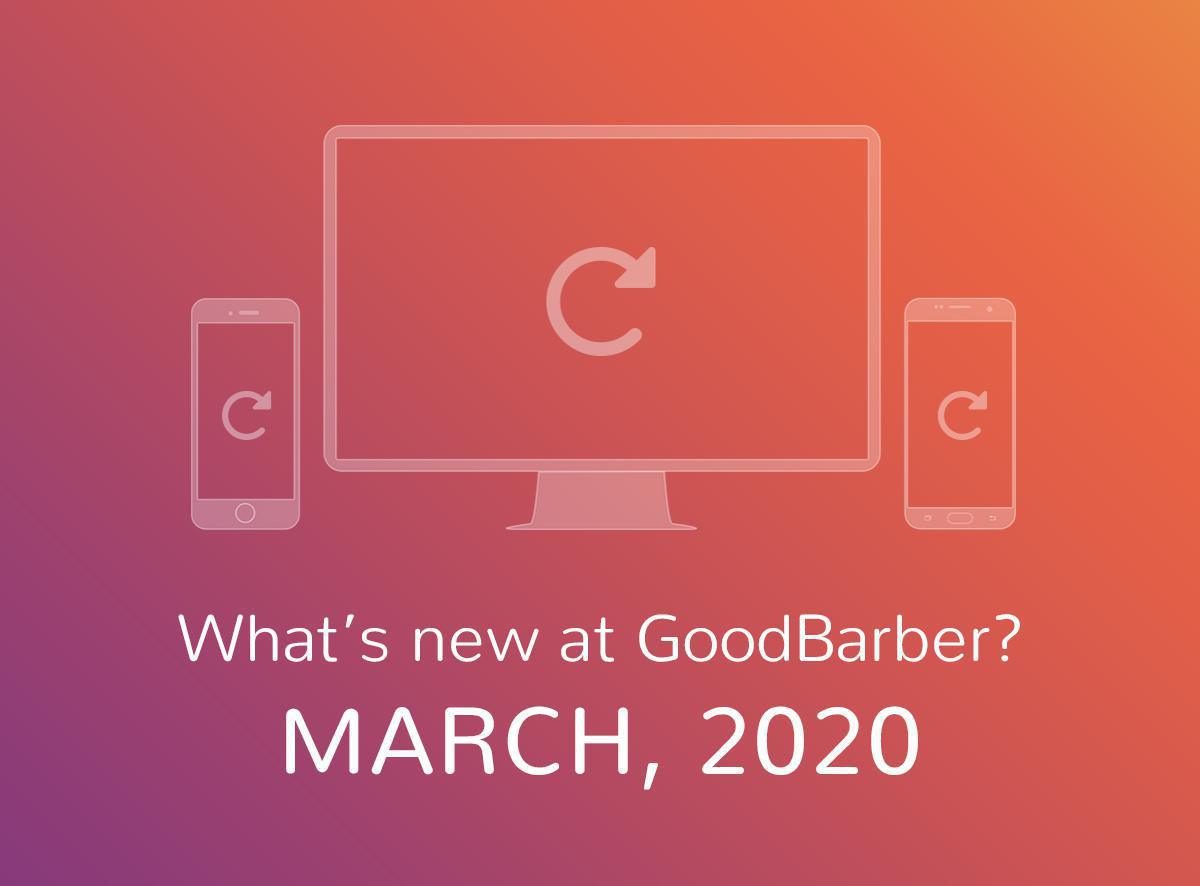 The month of March was disrupted all around the world by the health crisis. Even though the situation is more difficult, the GoodBarber teams have taken steps to ensure that the company's productivity does not suffer. A few weeks ago, we unveiled our new exclusive
home-working organization
, and it is under these conditions that our technical teams have carried out the developments listed below. We are now in our fourth week of containment and we intend to keep up the pace as long as it takes for the situation to return to normal.
Don't forget to take care of yourself and others by staying home as much as possible! You can count on us to continue to provide you with the best service and allow you to fine-tune your app from the comfy seats of your couch :)
This month we're releasing a new must-have feature for apps that use our Authentication add-on:
Sign-in with Apple.
It is Apple's authentication system that relies on the user's Apple ID and is designed to enhance the privacy of user data. Users can choose not to provide their email address to the apps in which they authenticate via Sign-in with Apple. In this case, Apple will create a unique, random email address that will act as a relay between the user and the third-party app.
Apple has announced a change to the Apple Store's guidelines due to the release of Sign-in with Apple: all apps that offer at least one third-party authentication system will now be required to offer Sign-in with Apple.
For you, this means that if you have enabled authentication via Facebook and/or Twitter in your GoodBarber app, Sign-in with Apple will automatically be enabled in your GoodBarber app.
If you only use the GoodBarber authentication system, nothing changes for you :)
You can find below a summary of the developments and updates made during March, 2020.
GoodBarber Shopping App
Home section


In widgets with SlideShow template, fixed an issue that caused the background of the button being colorized instead of being transparent. iOS


Fixed an issue that caused the first widget being bigger when the header has disparition effect. iOS


In widgets Promo banner, fixed an issue that caused the texts & buttons being centered instead of being aligned on left. Android


In widgets with template Banner Classic & Banner Visual, fixed an issue that caused the navigation arrows not displayed on desktop devices. PWA


Products List section


You're now able to choose the center of your product thumbnail by editing the focal point of the image. iOS Android PWA


User Profile section


Fixed an issue that caused a crash of the application on devices with Android 4.4. Android


Article section


Now when you click on an image of the detail view, a slideshow is opened with all images of the article. iOS Android PWA


Other fixes and improvements


Fixed an issue that caused the splash screen image on iPhone XR devices being wrong. iOS


Fixed an issue that caused the Status Bar text being black on black backgrounds on devices with dark mode enabled. iOS


Fixed an issue that caused the PWA not working in Facebook iOS in-app browser. PWA

GoodBarber Classic App
Home section


In widgets with SlideShow template, fixed an issue that caused the background of the button being colorized instead of being transparent. iOS


Fixed an issue that caused the first widget being bigger when the header has disparition effect. iOS


In widget search, fixed an issue that caused a crash of the application on Android 4.4 devices. Android


In widgets Promo banner, fixed an issue that caused the texts & buttons being centered instead of being aligned on left. Android


In widgets with template Banner Classic & Banner Visual, fixed an issue that caused the navigation arrows not displayed on desktop devices. PWA


Article section


Now when you click on an image of the detail view, a slideshow is opened with all images of the article. iOS Android PWA


Video section :


Now when you click on an image of the detail view, a slideshow is opened with all images of the video description. iOS Android PWA


Event section


Now when you click on an image of the detail view, a slideshow is opened with all images of the event description. iOS Android PWA


Sound section


Now when you click on an image of the detail view, a slideshow is opened with all images of the sound description. iOS Android PWA


Map section


Now when you click on an image of the detail view, a slideshow is opened with all images of the place description. iOS Android PWA


Settings section


Now the distance metrics setting is available only if there's a section that needs it in the app (Map, Users list, Agenda, Couponing sections). iOS Android PWA


Ghost navigation mode


Fixed an issue that caused the close icon displayed in the header. PWA


Authentication add-on


Sign in with Apple is now available. iOS Android PWA


In the User Profile section, fixed an issue that caused a crash of the application on devices with Android 4.4. Android


Community add-on


In the users list section, fixed an issue that caused the profile page of a user with a broken design, when it was opened from the map. Android


Internal ad network add-on


Fixed an issue that caused the ad not being displayed when the user was choosing rectangle format in the widget. iOS


Fixed an issue that could cause a crash of the application when using a campaign without interstitial image. iOS


In the sound detail view, fixed an issue that caused the banner ad not appearing. iOS


Fixed an issue that caused the banner ad not centered horizontally. iOS


External Ad Network add-on


The Facebook Native Ads SDK has been updated to 6.0.0 version. iOS


Fixed an issue that caused the AdMob banner to disappear on iPad devices in Landscape orientation. iOS


Beacons add-on :


Fixed an issue that caused a crash of the application. Android


Other fixes and improvements


Fixed an issue that caused the splash screen image on iPhone XR devices being wrong. iOS


Fixed an issue that caused the Status Bar text being black on black backgrounds on devices with dark mode enabled. iOS


The Flurry Stats SDK has been updated to the 10.2.0 version. iOS


The Twitter SDK has been updated to the 5.1.0 version. iOS


Fixes some issues that caused error in the Firebase stats display. Android


Fixed an issue that caused the PWA not working in Facebook iOS in-app browser. PWA


The management of pop-ups used to ask permission requests has been improved. PWA