What's new at GoodBarber? October 2019
Written by Mathieu Poli on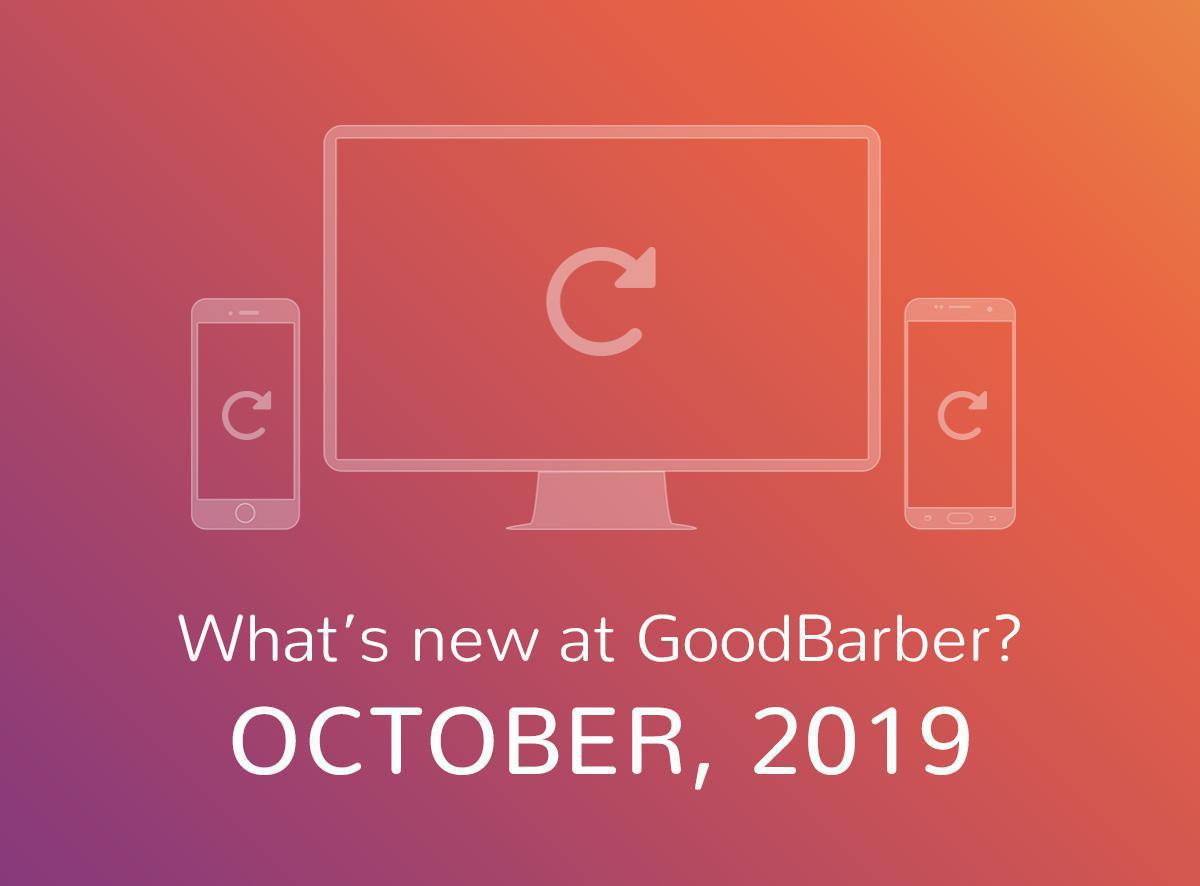 You could not miss it, this month of October was marked by big news: the launch of
GoodBarber Shopping App
, the first app builder dedicated to the creation of Shopping Apps.
After months of development, we are proud to present you today a very complete product with solid foundations. GoodBarber Shopping App is already at the level expected of an eCommerce platform. But as you already know, our product is constantly evolving and you will be able to follow all the updates and improvements we will bring to this product.
With this new product you will note a change in our monthly rendez vous: it will no longer be split by platform but by application type
GoodBarber Shopping Apps
&
GoodBarber Classic
. You will be able to easily find the updates or bug fixes that concern you with tags indicating the platform concerned.
You can find below a summary of the developments and updates made during October, 2019
GoodBarber Shopping App
General


You can now use Google Analytics for Firebase to gather your app's statistics. iOS Android


New currencies are now available for GoodBarber Shopping App:


Pound Sterling (GBP)
Singapore dollar (SGD)
Polish zloty (PLN)
Japanese yen (JPY)
Danish krone (DKK)
Swedish krone (SEK)
Russian ruble (RUB)
Norwegian Krone (NOK)
New Zealand dollar(NZD)
Australian dollar (AUD)
Swiss franc (CHF)
Canadian dollar (CAD)
Brazilian real (BRL)
Mexican peso (MXN)
Home

Widgets Search, Social Links, Separator, HTML

iOS

Android

PWA

Widget Navigation Template 5.

iOS

Android

PWA

​
​
​Authentication add-on

In the header, when the user add a logout shortcut, fixed an issue that caused the button not working.

iOS

In the login view, fixed an issue that caused the login field was not visible when the keyboard was displayed on iPhone 6s devices.

iOS
Search section


Fixed an issue that caused a crash when the user was trying to search without connection. Android

Products collection section


In the product detail view, embed paragraphs are now properly displayed in the product description. PWA

Swipe navigation mode


Now the show / hide opacity setting is properly handled. PWA

Grid navigation mode


Fixed an issue that caused titles not displayed anymore. PWA


Fixed an issue that caused the icons misplaced after screen rotation. PWA

Other fixes and improvements


Fixed an issue that caused a warning when uploading an app to the Store related to the UIApplicationExitOnSuspend property. iOS


Fixed an issue that caused links not working when they were containing "download" in the path. iOS


Fixed an issue that could a crash on the app install. Android


Fixed an issue that caused the back button not displayed in the header in some cases. PWA


Global improvements of the performances have been made. PWA

GoodBarber Classic
General


You can now use Google Analytics for Firebase to gather your app's statistics. iOS Android

Home section


In widget Navigation, fixed an issue that caused the pager displayed with the wrong color. iOS


In widgets Navigation template Grid & SmallSlideShow, fixed an issue that caused widgets not displayed. iOS


In widgets Event, fixed an issue that caused the events displayed in a wrong order. iOS


In widgets Event, events are now ordered by date with custom feeds. Android


In widgets Article template Classic, fixed an issue that caused the subtitle not displayed in the cell. iOS

Fixed an issue that caused a wrong height of widgets that are displayed on full screen with a TabBar navigation mode. Android


In widgets Social links, fixed an issue that caused a crash when a transparent color was set on the icon. Android


Fixed an issue that caused the scroll down impossible when a widget with slideshow template was displayed. PWA


Publication of Widget Navigation Template 5.

iOS

Android

PWA

Publication of Widgets Search, Social Links, Separator, HTML. iOS Android PWA



Article section


In template 2, fixed an issue that caused the infos label not displayed when the title font size was too big. iOS


Fixed a display issue of the toolbar on IE11 browsers. PWA



Video section


Fixed an issue that could cause a crash of the application. iOS


Fixed an issue that caused a crash on resuming video playing. Android


In the detail page, fixed an issue that caused a crash when the content of this view was too long. Android



Map section


In the detail view, fixed an issue that caused the display of a featured image even if the user disabled it. iOS


The list's scroll position is now restored when going back from detail. PWA


Fixed an issue that caused the map marker not displayed in some cases. PWA



Event section


Fixed an issue that caused text truncated in the list when the user should to display event by hour. iOS


Fixed an issue that caused the buy ticket button not working in the list. iOS


Fixed an issue that caused the map button hidden by the ad banner. iOS


In the detail page, fixed an issue that caused a crash when the content of this view was too long. Android


Fixed an issue that caused a crash of the application when the user was trying to display the map view without any event with geolocation. Android



Sound section

In the detail page, a new checkbox has been added in the backoffice allowing you to hide the date.

iOS

Android

PWA

​

In the detail page, fixed an issue that caused a crash when the content of this view was too long.

Android

Fixed an issue that caused the title displayed twice in some cases.

PWA
Search section


Fixed an issue that caused a crash when the user was trying to go in a search section on iOS13 devices. iOS


Fixed an issue that caused a crash when opening the detail page from a search result. Android



Form section


Fixed an issue that caused the form sent without all the files uploaded. PWA



Swipe navigation mode

Now the show / hide opacity setting is properly handled. PWA



Grid navigation mode


Fixed an issue that caused titles not displayed anymore. PWA


Fixed an issue that caused the icons misplaced after screen rotation. PWA

Authentication add-on


The user_location permission has been removed on Facebook Login. iOS


Fixed an issue that caused the skip button always displayed in the Login view. iOS


In the header, when the user add a logout shortcut, fixed an issue that caused the button not working. iOS


The logout header shorcut is now hidden when is logged in. Android


In the login view, fixed an issue that caused the forgot password button displayed with the wrong color. Android


The number of characters allowed for the email domain extension has been increased. Android


Fixed an issue that caused the email of the user not filled in case of Facebook login. PWA


In the login view, fixed a display issue of the skip button on mobile devices. PWA

Loyalty card add-on


Fixed an issue that could cause links to loyalty cards section not working. iOS



Couponing add-on


Fixed an issue that caused the opening of a 404 page when the use was clicking on a coupon link. Android


Fixed an issue that could cause some coupons not displayed. Android


Fixed an issue that caused submenu of action button not displayed when user was clicking on it. PWA



Internal Ad Server add-on


In Widgets Ads, fixed an issue that caused the click on the ad not count in stats. iOS


In Widgets Ads, fixed an issue that caused the click on the ad not opening the right link. iOS



Other fixes and improvements


Fixed an issue that caused the IPA disappearing from iTunes connect. iOS


Fixed an Apple rejection caused by the error message ITMS-90683 (Core bluetooth key). iOS


Fixed an issue that caused a warning when uploading an app to the Store related to the UIApplicationExitOnSuspend property. iOS


Fixed an issue that caused links not working when they were containing "download" in the path. iOS


Fixed an issue that could a crash on the app install. Android


The Facebook SDK has been updated to the 5.2.0 version. Android


Global improvements of the performances have been made. PWA


Supported browsers now use the web share api, opening device's sharing dialog. PWA


Fixed an issue that caused the back button not displayed in the header in some cases. PWA