In-app purchase - Manage users' subscriptions
Once you have set your subscriptions via in-app purchase extension in your apps, you are responsible for your subscribers' account management.
Subscriptions are, by default, renewed automatically by the stores.

We explain in this online help how to manage subscriptions.
Once your users have subscribed or registered to your app they are listed in your back office in the menu Monetization > Subscribers

This page lists all of your app users in 3 tabs:
Active subscribers: User with a paid ongoing subscription
Expired subscribers: User with an expired subscription
Users: Users who registered to your app but did not subscribe*

Select the tab of your choice to display the list of users.
Click any user from the list to have access to all his information (subscription details, account history etc.)

*To register as user without subscribing to the app:
- Open the native app or PWA
- Click the login box or profile section
- Click "Login > Sign up" and follow onscreen instructions

Offer a subscription to an Expired subscriber or a User
1. Select the tab Expired subscribers or Users
2. Select the user you wish to offer a subscription to
3. Click "Gift a subscription" from your user details page
4. Select the subscription period and click "Gift subscription"

You can email them to let them know you've offered them a subscription by clicking their email address from the user details page.
You can also edit the expiration date of your subscription gift or delete it from the user details page.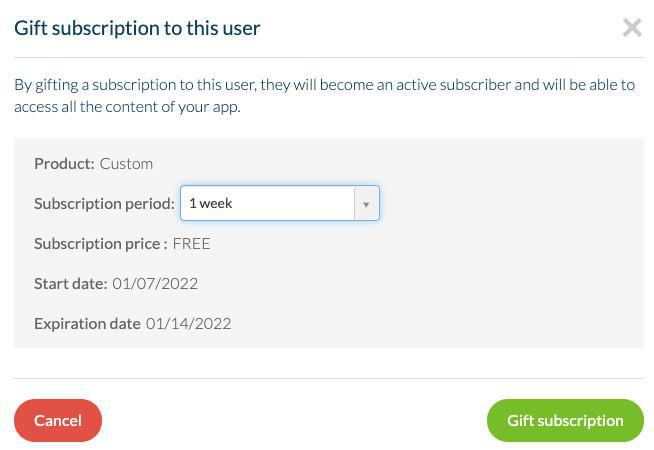 Add a new subscription / product to your app
If you have published your app to the stores with for instance a monthly and a yearly subscription and want to add a weekly subscription.

1. Go to the menu Settings > Settings guide > Product creation
2. Create your new subscription / product in the back office
3. Click "Publish my product" on the top right
Solo process: read these online helps IOS / Android for all details.
GoodBarber Takes care service: a new ticket to our team will be generated and we will deal with it for you.
Delete a subscription / product from your app
If you have published your app to the stores with for instance a, weekly, a monthly and a yearly subscription and want to delete the weekly subscription.
1. Open a ticket to the support and specify which subscription precisely you'd like to delete from your app and which ones you wish to keep.

Warning: Existing subscribed users of the weekly subscription will still have access to your restricted content until the end of their subscription even if the subscription is ended on the store.
Read this online help for all details.
Cancel the automatic subscription renewal for your users
IMPORTANT
Deleting a user account from the app or the app being deactivated doesn't cancel the subscription made on the stores.

Exemple:
- A subscribed user delete his account from your app but doesn't cancel his subscription on the stores, Apple or Google will still renew automatically their subscription.
- Apple or Google will also renew automatically the subscription and take your users money even if you cancel your GoodBarber account or if your app is deactivated.

To cancel the auto renewal of their subscriptions, users must do it from the stores directly:
Apple documentation: https://support.apple.com/en-in/HT202039
Google documentation: https://support.google.com/pay/answer/7644008

You are responsible as owner of your GoodBarber app to make sure your users know how to cancel their subscription renewal, and to keep your app activated while your users subscriptions are running.
More articles