5 Reasons You Should Become a White Label App Reseller
Written by GoodBarber Team on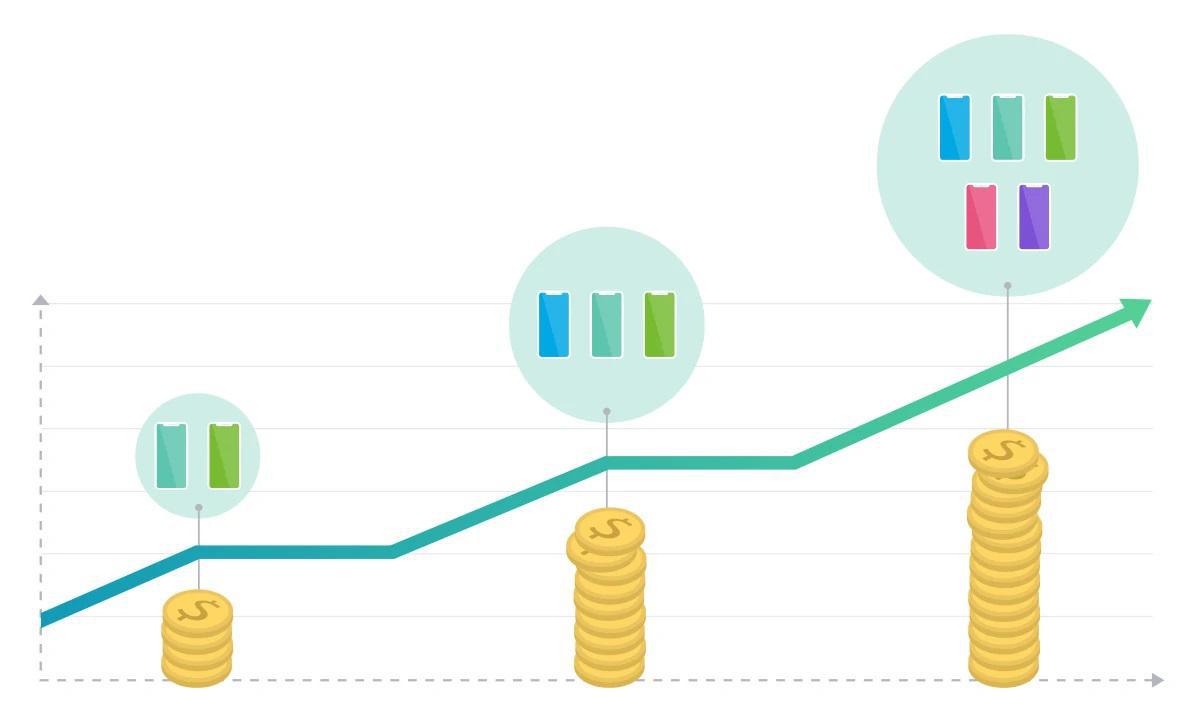 Resellers are now offering extensive app development solutions: becoming a white label app reseller is a lucrative opportunity for individuals and organizations alike.

The mobile application industry is growing at an exponential pace. The growth of remote working fueled by the COVID-19 pandemic has augmented the mobile app penetration in the daily life of the average mobile user.

Nowadays, the demand for mobile applications is spread across genres, including gaming, lifestyle, finance, e-commerce, and utility. The world has over 6 billion mobile users, and the number is expected to cross 7 billion in just three years (Source: Statista ).


Despite the raging demand for mobile applications, there still exists the need to transform your ideas into code before you can reach your customers. Although many organizations move towards building customer-friendly mobile applications, a large number of businesses do not have the workforce or simply do not know how to build mobile apps . Moreover, finding skilled app developers that do the job perfectly requires time and financial resources, which is difficult for small businesses and solopreneurs.
This is where app builder platforms and app resellers come into play.

In this article, we will list the top reasons why you should become an app reseller.

The Top 5 Reasons To Become An App Reseller
Businesses of all shapes and sizes are eventually outsourcing their mobile app development to app resellers.
If you are still on the edge about becoming an app reseller, there are five reasons to change your mind:
Small Businesses Shift Towards Mobile Applications
An Inexpensive Entry Barrier for new app resellers
A straightforward Process Of Creating And Selling Mobile Apps
Selling Affordable Solutions Without Missing Profits
The Industry Growth Has Just Begun
1. Small Businesses Shift Towards Mobile Applications
In this day and age, one thing is certain — businesses of all shapes and sizes want to invest in mobile applications to reach a wider range of audiences. Moreover, many organizations also want applications for internal uses, including communication, process streamlining, and operations. The possibilities for business mobile applications, both in-house and customer-facing, are endless, and they are quickly becoming an indispensable tool for small businesses. Moreover, with the extensive growth of e-commerce platforms, the need for a mobile-first approach has taken full swing.

As more businesses start understanding the need for mobile applications, the demand is going to augment even more. Further, the need to avoid the high capital requirement for mobile app development also factors in. When businesses go out looking for affordable application development solutions, mobile app resellers will come to the rescue. With demands reaching an all-time high, becoming a mobile app reseller can become a profitable outlook.

2. An Inexpensive Entry Barrier for new app resellers
Much like any other business, the initial cost is a deciding factor of entry. A large capital requirement can be a hindrance in starting a business. However, becoming a mobile app reseller does not require a large sum of money and can be quite inexpensive to start. Most white-label mobile app reseller programs offer friendly costs for the resellers, with a flat monthly rate. This helps app resellers keep healthy margins and generate as much revenue as they wish.

At GoodBarber, you can subscribe a white label app reseller program which allows you to create unlimited applications and have access to a dedicated interface to manage all your projects. You can choose the plan that aligns with your business model and start building apps without writing any code. With two affordable plans, GoodBarber lets you choose which apps you want to build. Build apps for Android, iOS and PWA and start generating revenue on GoodBarber easily.

3. A straightforward process of creating and selling mobile apps
Practically, anyone can become a mobile app reseller if they choose the correct platform. You need not have any technical experience in building apps. Most mobile app reseller platforms offer a no-code development environment, where you can build beautiful applications without writing a single line of code. These no-code app development platforms are easy enough for anyone to join and start selling apps. Since they do not require extensive technical and design knowledge, you can create applications with a faster turnaround time, reducing business costs and increasing margins.

Moreover, you can offer similar apps to different clients, with different branding, of course, which can help you cater to similar clients without the complexities. With a good app reseller program, you have the freedom to rebrand, repackage, and customize the mobile applications as you may deem fit, with your credentials and not the platforms'. The key is to choose the right app reselling partner that offers extensive solutions, helping anyone become an app reseller from scratch.

4. Selling affordable solutions without missing profits
In the end, every business is about revenue generation, and so is mobile app reselling. Building applications only makes sense if you have or can get clients to purchase these applications. But as we mentioned earlier, increased mobile penetration and small businesses looking at mobile applications have increased the demand. Since you are building mobile applications at a lower cost than the average in-house developer, you can offer affordable solutions for this demand without hampering your profit margins.

Small businesses are more than willing to pay an affordable price for a functioning and beautiful application, which can easily be developed with a reseller platform. Apart from charging them a one-time fee, you can even opt for a subscription model to generate recurring revenue in case they require frequent updates. All in all, it is critical to have a pricing strategy in place before you start selling. If implemented correctly, the app reselling business can promise hefty returns, keeping in mind the high demand and low costs for white label app resellers.

5. The industry growth has just begun
As we discussed above, the mobile app market has taken off in the past few years, but it is still going strong. If you think you have missed the bus, you are wrong. It is not too late to join the app bandwagon and start selling apps. The demand will only get higher as more businesses move to mobile applications to reach their audiences. Moreover, there is high diversification in the market, which ensures there is plenty of room for all kinds of applications. The demand for mobile apps is endless, and so are the opportunities for resellers.

Building your app reselling business might look difficult, but these app reselling programs make it extremely easy. Before you jump into this business, make sure you choose the right app reselling partner, as it will make your journey easy and your margins high. With GoodBarber, you can start building beautiful applications for your clients without learning to code.

Get an all-inclusive visual builder, white-label account, and affordable plans for your business only at GoodBarber.