A Piazzetta, our favorite Corsican blog :)
Written by Dumè Siacci on
Can you present A Piazzetta to our readers?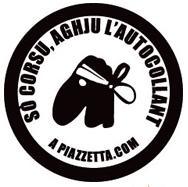 A Piazzetta is a satirical media, that covers Corsican news. The website has been created in December 2007. We launched a free paper version in February 2009, published every three months. The mobile app is online since December 2009. As far as I know, it's the only publication that is fully written in Corsican language.

Note from the GoodBarber team: You may know that we're based in Ajaccio, Corsica. We are very impressed about the work made by the team of A Piazzetta, and we're very proud that they've chose us to power their mobile app.
What's your main goal with your mobile app?
When the app has been launched, few people were aware of A Piazzetta. I think the app has played a key role in the popularity of A Piazzetta. It gave us a tremendous coverage because we had our app before the other big and well-known regional media. It empowered us to reach another audience, and attract new readers. The Corsican language is in danger, it is about to disappear, and one of our main goal is to widen access to this knowledge, to bring it back in a day-to-day usage. For that, the app is really a useful tool.
How does your app help you to increase your readers loyalty?
A lot of our readers tell us that they access A Piazzetta mainly from the app. We see that they comment, share the blog posts directly from the app. Push notifications are also a incredible tool to retain the audience. The app helps us to strengthen the link, to engage with our users.
What's your favorite feature in GoodBarber?
The push notification tool is easy to use and very powerful. Also, the support is reactive and effective. But overall, it's the ease of use of GoodBarber that is to be underlined.