Cyber Monday - How to stand out with your Shopping App
Written by Marie Pireddu on
Cyber Monday is the
biggest day for online shopping
and it's right around the corner.
What used to be a day for tech and electronics is now for every eCommerce and is part of a weekend (BFCM) which marks the start of the holiday shopping season
In 2020, amid COVID -19 concerns, shoppers chose to shop online more than ever and Cyber week broke all e-Commerce records.
According to
Adobe
, a record $10.8 billion was spent online by the end of Cyber Monday, an increase of 15.1 % YoY, making it the largest online shopping day in U.S. history and beating last year's $9.4 billion record. What's more is smartphones accounted for 41.1 percent of revenue during the five-day period, up 7.4 % year over year.
So how do you stand out in the crowd and compete with the big deals from the big brands?
Think mobile-first. If you are just starting as an eCommerce with your GoodBarber Shopping, it is a great time to make your entrance on the market as more and more customers are turning to their mobile to complete their holiday shopping.
Your Shopping App gives you an edge over other retailers.
Retailers who have a Shopping App register 3X more conversions than their website.
Adapting to the new norm
This year, Cyber Monday might be more important than ever.
With the pandemic and the new restrictions in place (lockdowns in some countries, social distancing), an online presence with specific solutions for your clients to easily shop and remain safe, is crucial for small businesses.
Click and Collect: With this option, it's easier to use precautions and comply with recommendations or laws when the shopping process is under the retailer's strict control. Your clients place their order on your app and then safely comes to pick it up in-store.
Local delivery: Shipping delays are common and more so during a pandemic. Delivering orders directly to local clients is a way around delays. With local delivery, you can offer

thoughtful shopping experiences for your local clients, generate sales and revenue, and carve a place for yourself within your community.
Secured online payment. With online payment, payment is made online (Card, Apple Pay, PayPal) and therefore contactless.

Once these main features are in place, you can focus on your marketing strategy and apply the following tips.
1. Push notifications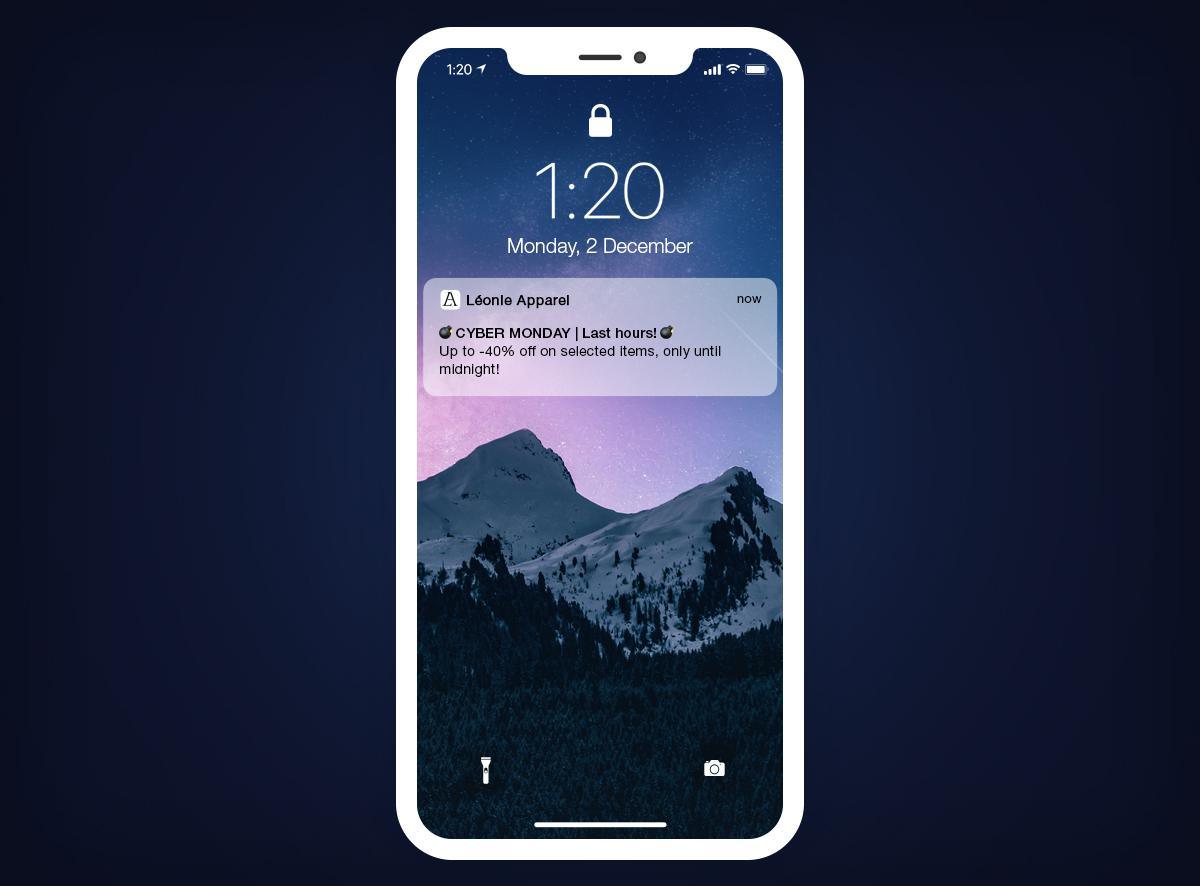 One of the best marketing tools available thanks to the native functionalities of your Shopping App.
52% of smartphone users have push enabled on their devices
, and these notifications can be used to benefit your business.
Indeed, clients email inboxes will be flooded with offers from different shops over the holiday weekend, don't get lost in it. Even though a lot of notifications will be sent, you have more chance of the notification to be opened (notifications are open twice more than emails and the links are clicked 7X more than in an email). Here's a few tips on push notifications:
Users receive a multitude of push notifications over the weekend (106 million SMS and push send in 2018 ), so you only have a few seconds to grab your user's attention and convince them to tap your push notification.Don't overcomplicate your messaging. More text means a smaller chance of users clicking on it.
As a rule of thumb — push notifications should be around 60–90 characters for Android, and less than 120 characters for iOS.
Get your users ready by sending notifications in the days leading to Cyber Monday (start your wishlist, you don't want to forget grandma)
Keep it easy, simple but catchy at the same time. Use of emoji for exemple.
Personalisation is key
Timing is crucial . Send the right message and the right time and if you are selling internationally don't forget time zones.
Target the right audience: with your GoodBarber Shopping App you can target exactly the clients or leads you want to reach with special offers.
​2. Reward your loyal customers
This is the best time to reward your loyal customers by offering them special discounts.
From your GoodBarber Shopping App, you can create discounts targeting your loyal clients only. For example you can offer them an additional discounts on top of your sales prices. Or an early access to the Sales Collection with an Early Bird discount code. Create a sense of urgency by limiting the offer in time. You will be able to track your campaigns from the app back office.
Customers love limited-edition products. You can offer your loyal base a collection of product available only on Cyber Monday. It will help create a sense of community amongst your clients and build a stronger relationship with your shop.
3. Email campaigns
Email marketing is still very effective. it not only gives you the opportunity to sell your product but also creates meaningful connections with your clients. Especially with people who have signed up for your email list, it builds trust and long-term relationships.
Sending your coupon codes to your email base is one of the best things to do for Cyber Monday. And thanks to our new
Zapier add-on,
it's now very easy to do it. Indeed, with the
Promocode new trigger,
you can automate your email campaign with the creation of your Cyber Monday discount code.
Here are a few tips for your email campaign:
- Create bonus offers: you need to offer something new compared to the Black Friday special offer, which is usually a sitewide discount. Offer bonus discounts on specific collections or products, or on orders over a certain amount
- As mentioned previously, take special care of your loyal clients. Send an email campaign especially created for them with a specific offer.
- Create a sense of urgency: whether by emphasizing the deadline (these offers should only last a few days) or the number of products (for example "while they're still in stock).
- Don't forget to create an email campaign for the
abandoned orders
! React quickly on these and send them shortly after the order is abandoned to increase the chances of the shopper coming back to your app.
4.​ App speed
According to
Google
, a page loading in 5s on mobile, has a bounce rate of 90% compared to a page loading in 1s. Your GoodBarber Shopping App is optimized to offer your clients a fast and fluid navigation everytime they use the app. We went even further and boosted each product page by using AMP technology supported by Google. Your clients can browse your catalog faster and generate more sales opportunities.
5. ​Boost your SEO
Optimize all content for search engine: research product niche event keywords and terms. These may be different from the rest of the year. Ensure meta description include target keywords. Meta description should entice your clients to click by mentioning things like free shipping for exemple (instant gratification) and/or hassle free returns .
With GoodBarber Shopping App, each product page is indexed and the meta description can be customized for each product.
6. Design
Dedicate a Collection of your Shopping App to Cyber Monday Sales: Big discounts, cyber exclusive offer, special product only available on this day .
We recommend to organize your product by price range. Since this weekend start the Holiday Shopping season clients will have a budget and know what they want to spend. They don't want to waste time looking through the entire catalog to find the products at the right price for them.
With your GoodBarber Shopping App, you can use the similar products feature as a gift guide for exemple. You can decide which product to want to highlight for this particular day. This is a great way to increase the average cart value and boosts your sales.
By following the tips above, you will be able to create deals and incentives that will drive sales your way.
Prepare yourself and give time to your shoppers to get excited about your offers.

And remember, while Cyber Monday could be a massive day for your shop, it's also the start of the holiday spending season. You still have a whole month of big shopping and sales opportunities for your Shopping App ahead of you.
In the end, as we saw this year, online shopping is becoming the new norm. You'll want to build a shop that your clients want to shop at all the time—not just during the craze of Black Friday/Cyber Monday.