How to create an app for content creators
Written by Angelina Casanova on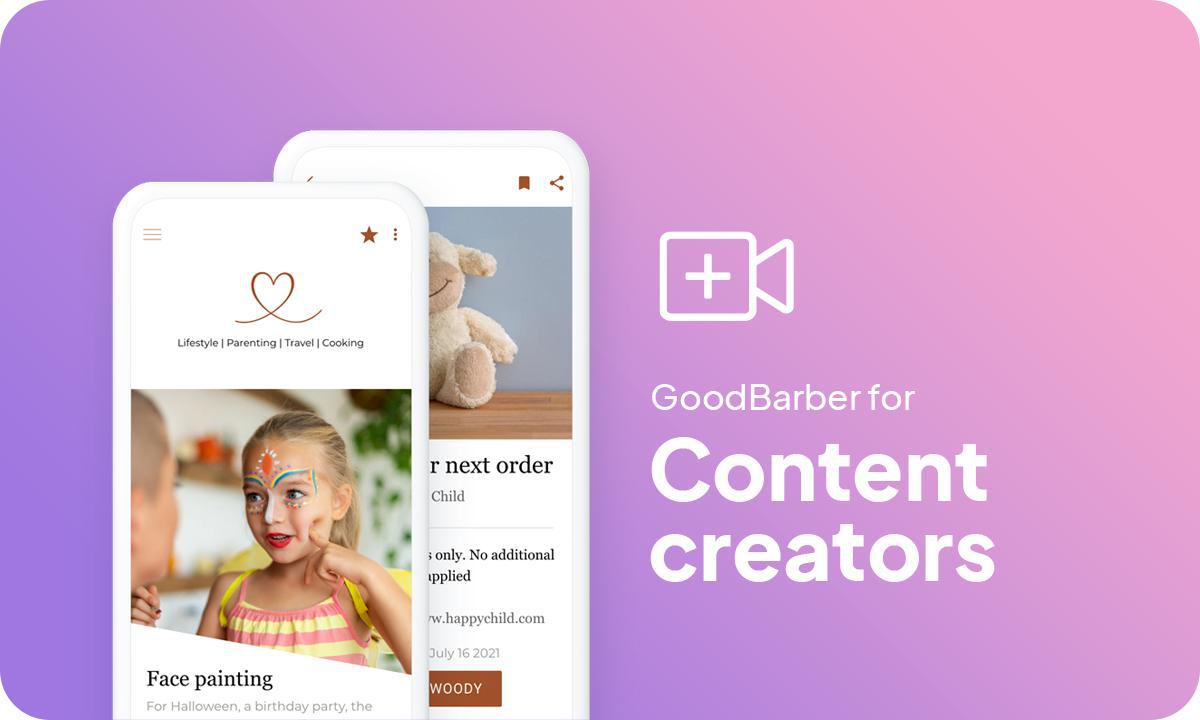 Digitalization has seen great changes in recent years. In perpetual growth, the world of influencers and content creation has been made more accessible, opening new doors for future generations. New means of communication are emerging, giving way to new professions. Our lifestyles and consumption patterns are being shaken up, just like in our ultra-connected world.
More and more people are embarking on this digital adventure: each content creator has their own universe, which they share with their community through various contents,
published on different platforms
.
Although this activity attracts a lot of people, it nevertheless requires a lot of time, effort, and involvement. A content creator must be versatile and adaptable. Design; writing; image management; master the digital world; manage a community; discipline: You have to be able to master a large number of tools and be present on all fronts.
It's a full-time job, which is not always easy to manage, which is why creating
an app has many advantages for a content creator
: By offering users who follow you an optimal experience, an app will allow you to improve your image and gain notoriety. An app also allows you to gather all your content on a single platform, so it is possible to manage your publications and your statistics from a single interface. It is an ideal solution to improve your daily life and optimize your time!
For the creation of an app to be relevant, it is important to first identify its challenges and how could this app help you to evolve as a content creator.

Whether it's a simple hobby or a real profession, content creation has known a real success in recent years. It's a vast field, accessible to anyone, and the competition is tough. Between the recognized content creators who have been established for decades and the newcomers who appear through emerging platforms such as Tiktok, it becomes difficult to make a place for yourself. While their numbers grow, they do not all have access to the same resources: The creation of an app is a real plus, an app has real advantages, both for the content creator and for their community. It's a great way to stand out from the competition.

Creating an app is also a way to satisfy your followers. An app gives you more credibility. Content creation is an unrecognized activity, and your app will make your work more pleasant and professional. Your community can only appreciate this effort on your part.
An app for each content creator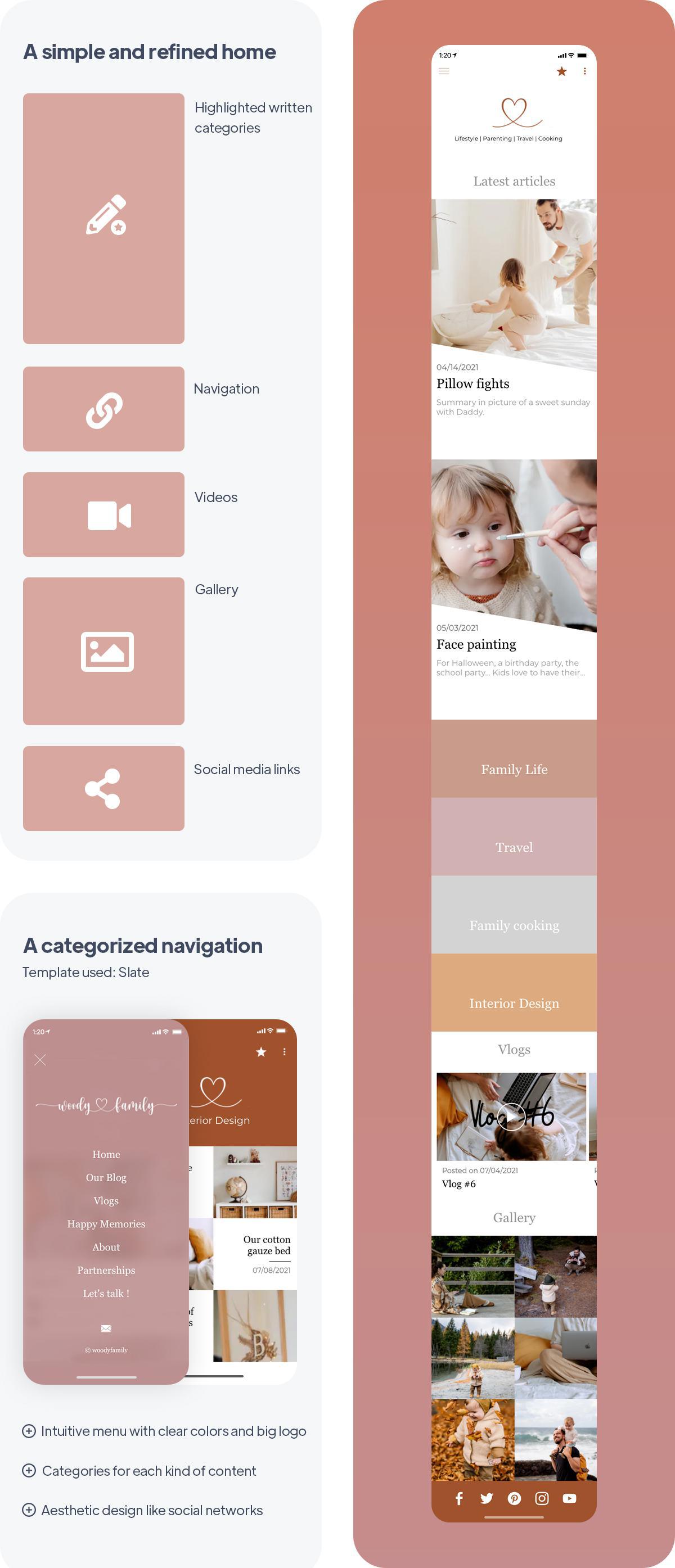 There are many areas of content creation, such as Lifestyle, Fashion, Wellness, or Gaming. Each creator has their own universe, it can be very targeted and focused on a specific field, but many content creators also juggle between different themes! Each creator addresses their target according to their interests and those of their audience.
Several steps are required before
creating an app
: The first is to define your creative domain, to make sure the app will best suit your work. Once this is done, it will be a matter of identifying your target audience, to detect their needs. Ask yourself the right questions: What are the expectations of your community towards this app? What are your objectives?
After this analysis, you can start designing. Don't forget that the user experience is paramount, so you'll have to adapt the features and the UX design so that your app matches your content and your community. Here are some examples of content creator apps created with our tool.
1/ A Family Lifestyle App The WoodyFamily app
is a Lifestyle app through which one can follow the daily life of a family, who shares their interests with their community. This app is aimed at a wide audience, but the core target is mainly female, permanently connected, and very exposed to social networks.
The home of this app is simple, uncluttered and aesthetic since it is a family application, intended for a public used to follow influencers.
The colors are neutral, the design is clear and bright like Instagram feeds. Like social networks, the layout of the app is intuitive, so that users can easily find what they are looking for, without losing their marks. Links to the Woody family's social networks are available at the bottom of the app.
The chosen navigation menu is Slate,
a one-click drop-down menu located at the top left of the screen. Like the Home, it's a clear and intuitive menu choice, allowing easy access to categories. It features the Woody Family logo displayed large, and the different sections. It's a refined and harmonious choice, in line with the app's sleek design.
The content is organized in different sections:
The Blog section is organized by theme through the following categories: Family Life, Travel, Cooking, Deco. The creators don't necessarily target the same audience and allow each member of their community to find their favorite content.
In the Vlogs section, we find all the videos. It's possible to integrate files directly into the app, but also external links that can refer to a Youtube channel for example!
Other sections allow creators to maintain a bond with their community. The Gallery and Let's Talk sections are again reminiscent of how social networks work. They allow the community to feel privileged thanks to the exclusive images in the Gallery, and by submitting their own content thanks to Let's talk. They can also interact directly with your content by posting comments.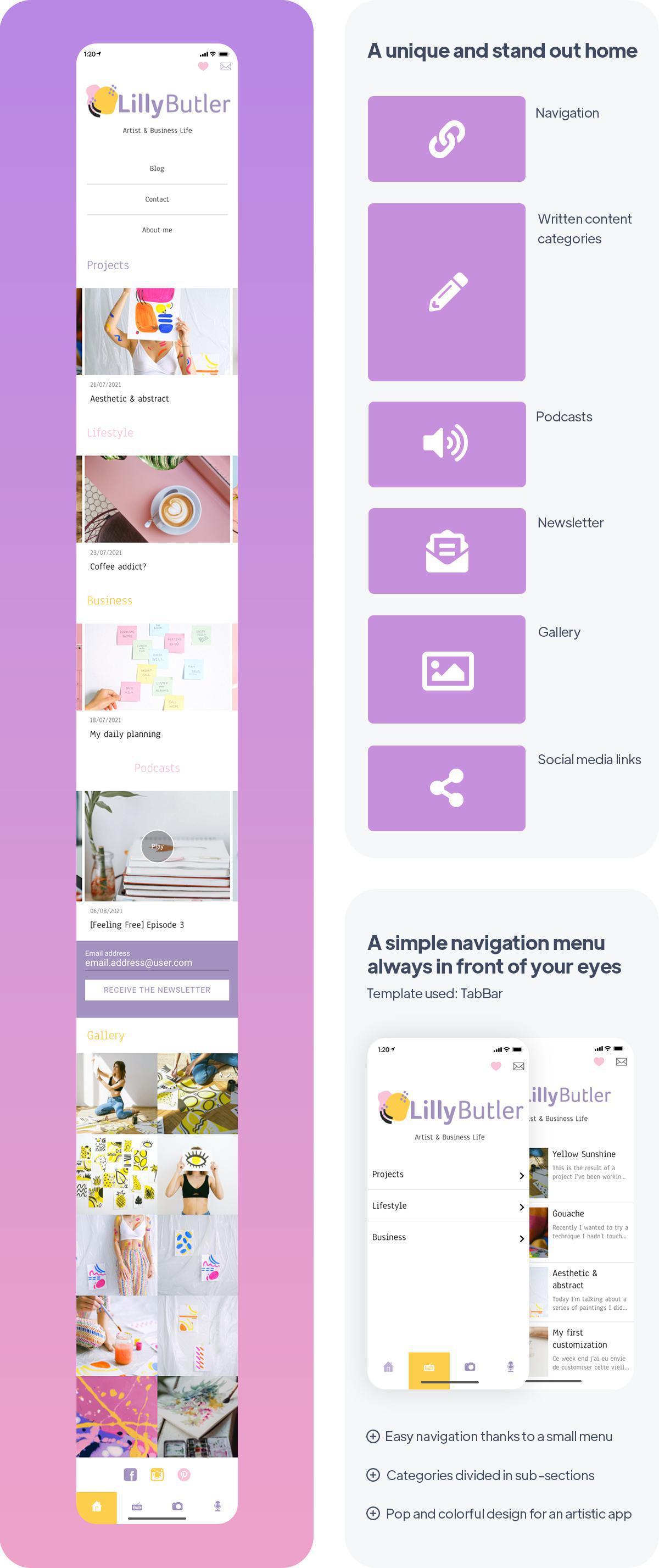 2/ An independent creator's app with a strong identity

Your app is the reflection of your personality, it's the flagship tool of your personal branding. The LillyButler app is an independent content creator's app, it has a stand-out design, allowing users to immerse themselves in the specific and unique universe of the creator.

The main goal of this app is to highlight the universe and the work of its creator. It is an artist's application, therefore meant for a targeted community, with an interest in crafts, art, and personal development.

The Home of the app is in accordance with its message, the design is attractive and colorful, to give a positive and motivating image. It's an artistic application, so the aesthetics must be impeccable. The choice of a large Header with a bright logo and a brief description highlights the creator. There are 3 sections of the App: Blog, Contact, and About me just below, and the Favourites and Contact sections at the top right.

The other sections are highlighted, thanks to the miniatures in the form of visual banners. A colorful newsletter tab is integrated, an ingenious way to keep the community informed and to access new statistics such as the opening rate. Finally, we find the flamboyant images of the Gallery, which make you want to continue browsing, followed by the various links to the creator's social networks.

The chosen navigation mode is TabBar, an intuitive and easy-to-understand illustrated menu. It's always visible to the user, allowing the community to access the sections in one click.

In the layout of the app, there are 3 main categories:

The Blog category, divided into 3 sections: Each of them has a specific purpose, the Projects section is dedicated to art and creation, the main content of the app. The Lifestyle section allows the content creator to exchange with his community by giving his opinion on various subjects, in order to create a sense of proximity. Finally, the Business section dedicated to personal development combines practical advice and real-life experiences. This kind of section is very appreciated by users because they get informed while getting to know the person they follow.

The Gallery category brings a visual and aesthetic touch to the app, it is a section dedicated to art, in which images are arranged in different albums, like in social networks.

We find audio content in the Podcasts section. This media is becoming more and more popular, more and more used and appreciated by the public. Goodbarber allows you to upload your audio files directly from the back office, or to integrate links to your Podcasts from external platforms. You can also add video content in the same way.
Key features for a successful content creator app
Tools to improve followers' UX by centralizing your content:

As a content creator, follower satisfaction is your priority, they are the ones who interact with your content and allow your business to grow.

The GoodBarber back office allows you to manage everything from one place: By centralizing your content, users can access all your publications without switching from one social network to another. This increases the visibility of your content, avoiding it being drowned among the many competing publications. With your app, it's impossible to go unnoticed! You also have the possibility to integrate a search bar into your app, a simple but essential feature, which will facilitate access to your content.
Features to facilitate interactions
Thanks to the calendar, you can keep your users informed of all upcoming releases, partnerships, or events. No more missing any posted content! It is also possible to plan in advance all your publications by indicating the date and time you want, to avoid any delay and to ensure optimal organization.
Push notifications inform your subscribers in time of each of your releases! A little extra reminder for more visibility.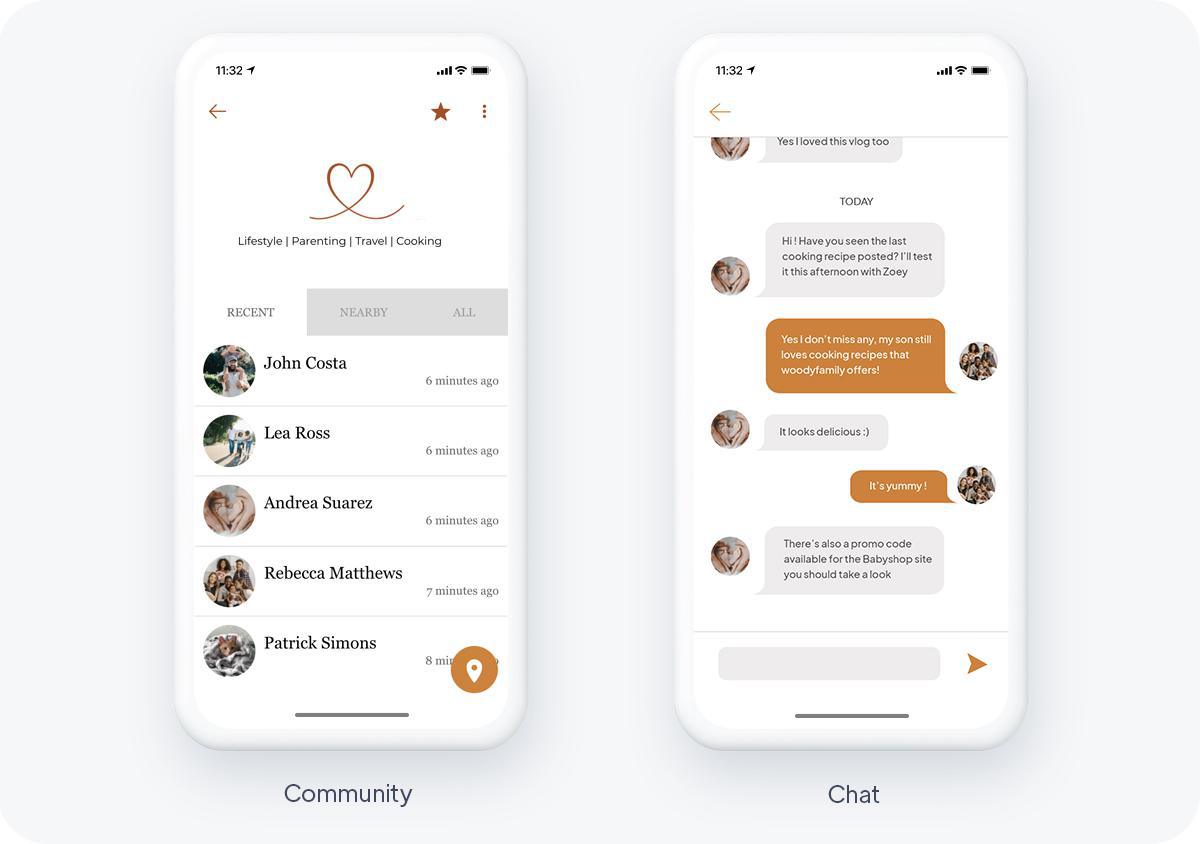 Tools to manage your community

It is possible to include extra Adds-on to your app to manage your community in an optimal way:

- Community Add-on allows you to manage a community of users in your app. Members can discover other members by viewing the list of users in the app. It can be displayed as a list or a map. Engagement generates more revenue than numbers, a tight-knit community is better than a large but inactive one. The addition of a chat is also possible and allows the community to interact. This is a good way to increase this sense of proximity, bringing a specific interest to your application.
A permanent eye on your performance:

GoodBarber's Statistics tool allows you to analyze all your app's data. The results can be filtered by period or by platform. Your app keeps these statistics for a long time, without any time limit, so you can consult them at any time. This data can be exported in .csv format for further analysis with another tool.

It's also possible to connect external statistics tools to your App. Using Google Analytics allows you to get additional statistics about the use of your app. For native versions of your app, you can connect Firebase Analytics, Flurry or Count.ly. This way, you'll get more information about the performance of your content and the behavior of your community.


Improve your image:

You certainly take care of the aesthetics of your social networks, but creating an app gives you the opportunity to go far beyond a profile picture and a banner. Creating your app will allow you to work on a real visual identity! Remarkable, unique, and memorable: Your community will be able to easily identify with it. By choosing from one of our many themes, or by customizing it endlessly, your interface will represent you perfectly and enhance your image.
How to monetize your app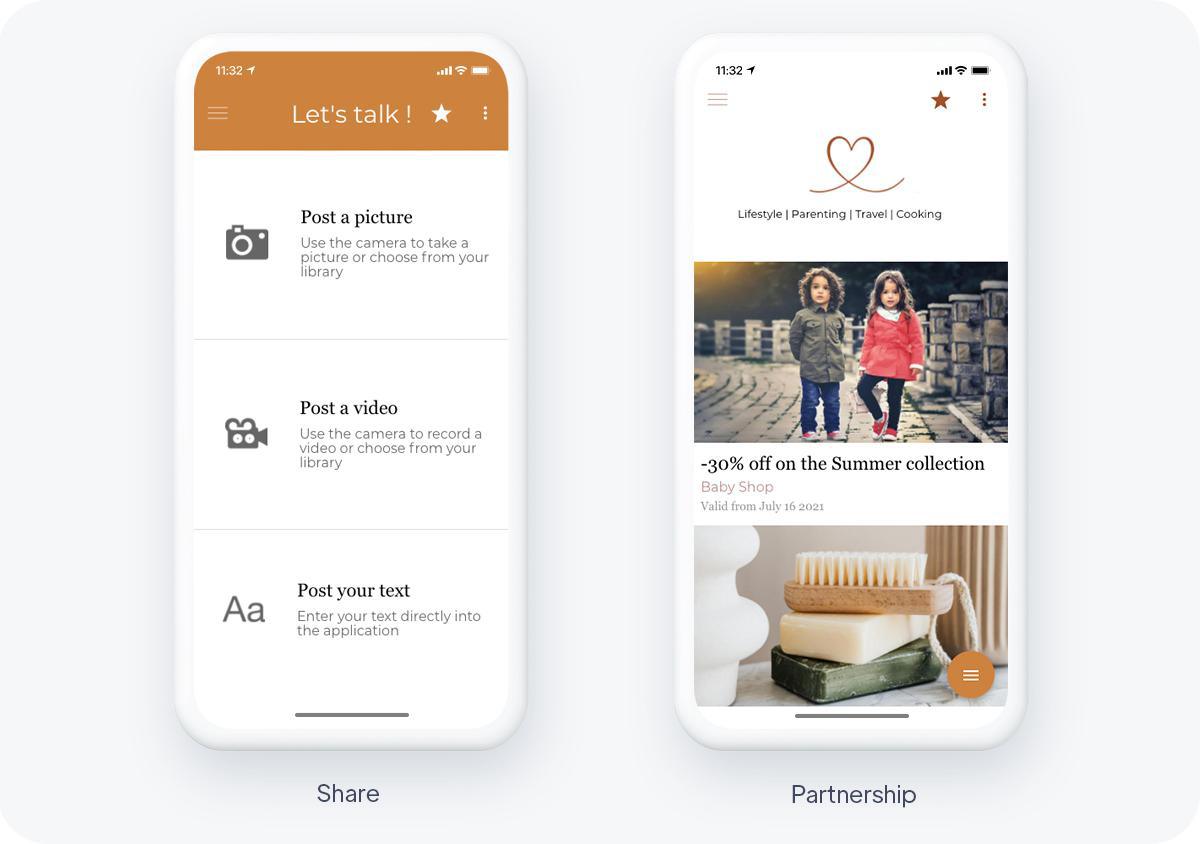 In-app advertising:

Advertising spaces are available to create and manage your own campaigns. Highlight your collaborations with banner or interstitial ads, and manage content, visuals, and display rules.



Share your coupon codes in a simple and intuitive way:

Within the content creation or influencer scene, you're bound to collaborate with brands that match your world and that of your audience. GoodBarber facilitates the management of your partnerships with brands and the distribution of your promotional codes. Thus, your followers will find all the codes in one place: your app. Thanks to the Statistics tool, you can analyze the performance of your discount campaigns, to better adapt your performance and communicate it to your partners.
Add value to your content through a subscription system:
In-App purchase
is a proven monetization model for iOS and Android. Today, more than 50% of app revenues are generated by in-app purchases. With this feature, you have the possibility to close a part of your app by making it paid. For example, if you have a Video section, this is a format that requires a higher production cost and some work time, moreover, this format is very popular and likely to attract more audience: Making this section subject to subscription is a good idea, while you can leave the Blog section open and accessible to all your users. This is the
easiest way to monetize your app
, it is usually more appreciated by subscribers than ads displayed in the apps.
Conclusion
Offering an app allows you to provide your community with the best user experience possible. By offering your subscribers a premium service with multiple features, your content is enhanced. This is the best way to build loyalty, reach new audiences, and maximize your revenues. By analyzing the data collected through your app, you can use it to better understand your followers and adapt your content strategy accordingly. All of these benefits are likely to increase user engagement. Whether you're a new content creator or an influencer with a long-standing following, offering an app can be the way to grow your business and differentiate yourself from the many competitors in this fast-growing market.