iOS 16.4 and Web Push Notifications
Written by Marie Pireddu on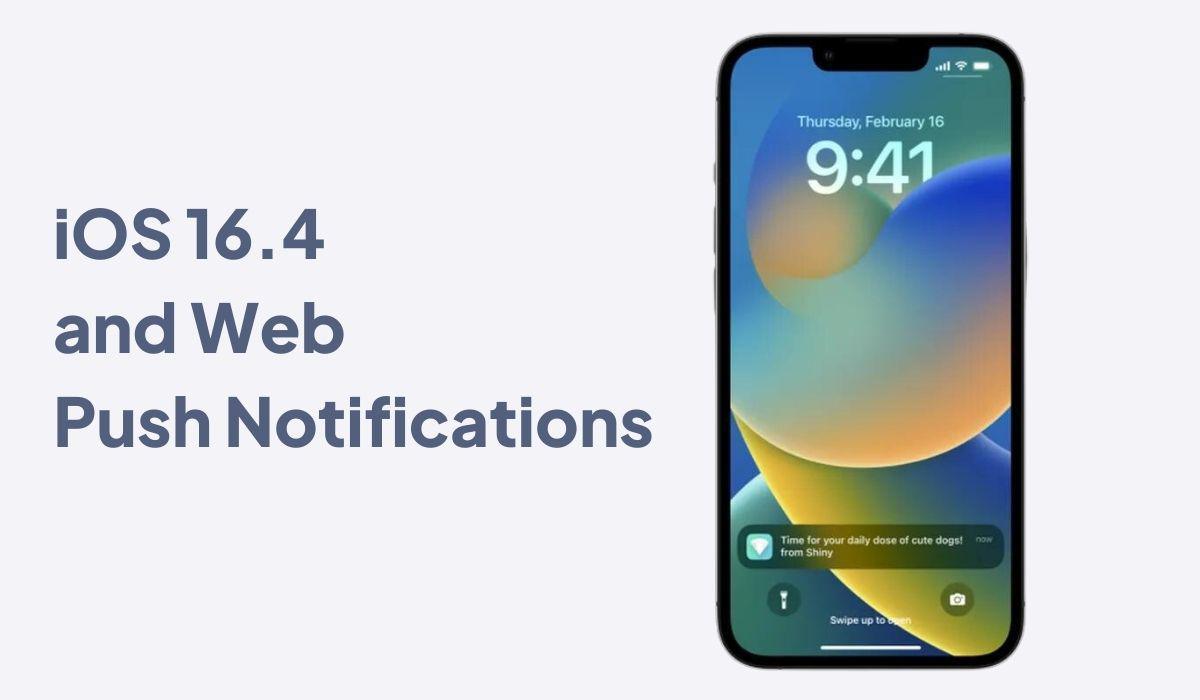 Since the very first iPhone, users have had the ability to create shortcuts to progressive web apps on their homescreens that resemble app icons. Progressive Web Apps, also known as PWAs, offer a unique way to access websites and their services without having to install a dedicated app. This means they don't take up a ton of storage space on your phone, making it easy to quickly visit your favorite sites that don't have an app. However, even though iOS has allowed users to make and use web apps for a while now, they're not perfect. indeed, until now, web apps were unable to receive notifications or display notification badges. This limitation is now over with the release of iOS and iPadOS 16.4.
Last year at the Worldwide Developers Conference (WWDC), Apple showed off a cool feature that lets developers send web-based push notifications to users. They released it for Safari 16.1 on macOS Ventura. And now, they're allowing iOS developers to do the same thing (with permission) for users who've pinned a web app to their Home Screen. This is great news for companies who don't have native iOS apps yet but want to keep users updated on the important stuff. Plus, this move helps Apple respond to claims that the only way to reach mobile consumers is through the App Store. This could help them fight off antitrust regulations and lawsuits.
How do the push notifications work?
Here's how the push notifications will work, according to the
blog post
by Brady Eidson and Jen Simmons — though it sounds a lot like how they work with native apps already:
A web app that has been added to the Home Screen can request permission to receive push notifications as long as that request is in response to direct user interaction — such as tapping on a 'subscribe' button provided by the web app. iOS or iPadOS will prompt the user to give the web app permission to send notifications. The user can then manage those permissions per web app in Notifications Settings — just like any other app on iPhone and iPad.
The notifications from web apps work exactly like notifications from other apps. They show on the Lock Screen, in Notification Center, and on a paired Apple Watch.
A game changer?
Push notifications have always been considered one of the best marketing features of native apps for a few reasons.
First, they allow businesses to send targeted and personalized messages directly to a user's device, even when the user is not actively using their app. This can be an incredibly effective way to engage with customers and keep them informed about new products, sales, or promotions.
Second, push notifications have a high visibility rate, as they typically appear as a pop-up or banner on a user's screen. This makes them hard to ignore and more likely to be seen than other forms of digital marketing like email or social media.
Lastly, push notifications can be used to create a sense of urgency and encourage users to take action. For example, a business could send a notification about a flash sale that ends in a few hours, which could prompt users to make a purchase sooner rather than later.
Overall, push notifications can be a powerful marketing tool that allows businesses to communicate with customers in a direct and effective way.
In case you still needed some convincing, here are a few numbers to illustrate the importance of using mobile web notifications as part of your engagement strategy for iOS users.
Safari claims almost 20% of the global browser market share
Studies have shown that web push notifications earn thirty times higher conversion rates than email.
In addition, iPhone users spend an average of $101 per month on technology products, which makes them a higher-spending market segment
Web notifications are used by more than 8 percent of top websites
As you can see, web-first businesses were missing out on a great tool. As a result, they often had to resort to alternative communication options, such as SMS or email, to engage users.
So, this new release from Apple could change quite a few things in the app world.
Indeed, native apps tend to be more robust and stable than web apps, and they provide a different user experience. Your GoodBarber native app will provide your users with the best mobile experience and flawless UX.
However, even with an intuitive no-code app builder, the prospect of creating a native app can be a bit daunting for some people. Their publication process can be long and strenuous. The cost can also put off small businesses or someone just starting out.Building a web app is generally easier than creating a native app, which means people can prioritize their web versions before diving into native implementations. This would allow them to get their product out quickly and with a lower budget. Larger companies like Twitter can offer now both web and native options to reach a broader audience.
What about your GoodBarber PWA?
Your GoodBarber PWAs are all set for the notifications.
On iOS 16.4, users who have installed your PWA on their Homescreen can already receive push notifications. As for your Android PWA, the notification prompt is only available after they navigate the app for a bit. Your users can accept the notification request and then manage those permissions in Notifications Settings for their iPhone — just like any other app.
Overall, the availability of push notifications for web apps on iOS 16.4 is a significant development for the world of mobile apps, as it brings the engagement and interactivity of native apps to web apps, and opens up new opportunities for developers to engage with their users.
But remember, as they say, "The good thing about notifications is they remind your users that your app is installed. A bad thing about notifications is they remind your users that your app is installed."
Make sure you plan the right strategy for your push notifications. We share 6 best practices to get the most value from your push notifications in this
post.