6 best practices to get the most value for your push notifications
Written by Marie Pireddu on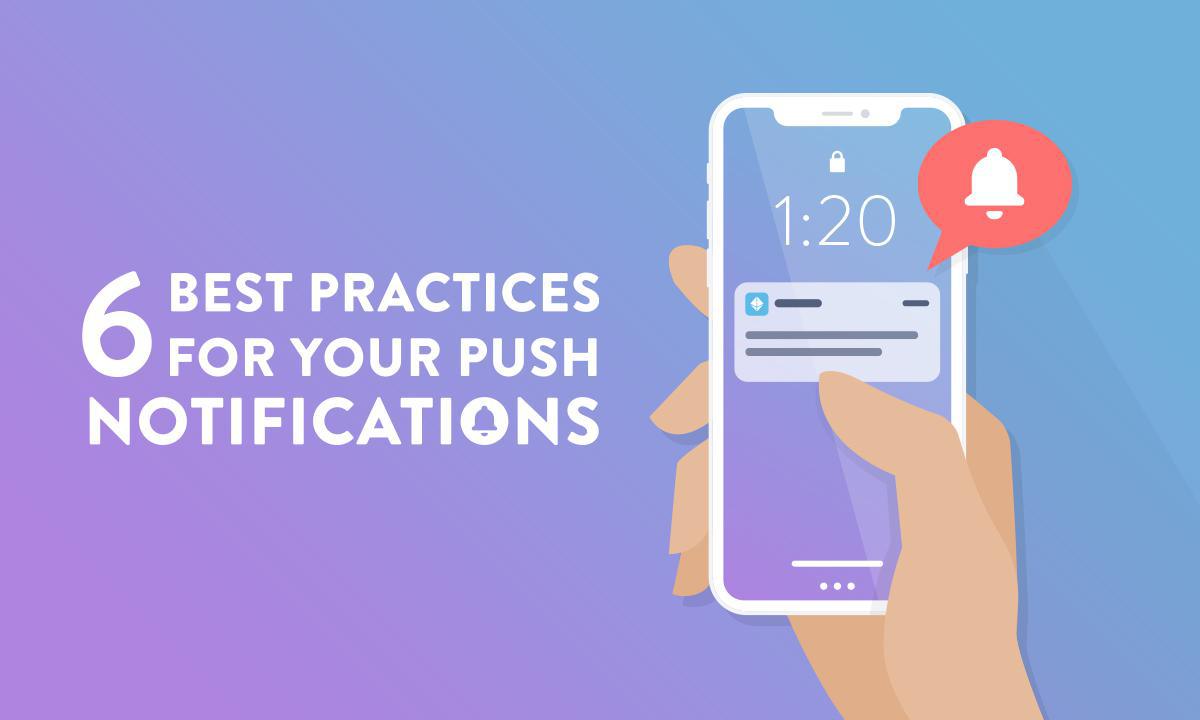 In our mobile-centric world where engagement is key, every action you take to communicate with your users must be carefully thought. If you have an app then push notification is the way to go. Push notifications have become a powerful marketing tool. But misuse them, and the consequences can be dire.
As they said, "The good thing about notifications is they remind your users that your app is installed. A bad thing about notifications is they remind your users that your app is installed."

In this article, we'll share 6 best practices to get the most value from your push notifications.
1. Timing & Frequency
Your app users will usually be notified by a nice sound, phone vibration or both. Imagine receiving that notification at 3 am….
You do not want to anger your users and risk an impulse uninstall. Also, do you really read all your phone notifications when you wake up? Usually, people browse through the most relevant ones and clear the rest. Your well though, finely crafted notification could get lost.
Timing when scheduling your push notification is crucial.
As far as what times during the week or the day are more favorable to send notifications, it will depend on a lot of factors. While, all industry-combined, Monday and Sunday have a slight edge, Wednesday between 3pm and 4Pm is best for eCommerce, while Tuesday between 9am and 10am works better for Media or bloggers. (Source:
VWO)
.
However, these trends change constantly and the best way for you to know when to send your notifications is by testing (which we cover later on in the article).
You must also think of the time zones when scheduling your notifications. Not only you wouldn't want to wake up your users but if you're sending a time-sensitive offer, make sure it's adapted to their time-zone.
Sending a well-timed push can make a huge difference to your users' experience and the success of your app.
While push can be a powerful channel for reaching and re-engaging mobile app users, it can also be counterproductive if you send too many notifications.
Keep in mind not to spam your users. Receiving time and time again the same message can be off-putting. Depending on your sector, only send personally relevant notifications. Of course, if you're creating a news app, sending notifications for each latest news is the way to go.
2. Valuable content
Segmentation first. The more tailored to its audience a push notification is, the higher its open rate will be. As such, segmenting is imperative.
You can segment your users depending on their in-app behavior or based on their profile.
One effective way to segment your user base is through their behavior. Looking at the various ways users interact with the app provides valuable insight into what they care about and how engaged they are with your brand. For example, you have a new user who downloaded your app recently, browsed once and hasn't returned since. Don't flood that user with notifications; they'll be more likely to treat them as spam.
On the other hand, if you have a user who browses often and has yet to make any purchases, you can increase the frequency of your push to remind them that there's an item waiting for them to purchase.
The other strategy is to segment your users according to their profile/preferences, meaning which products they are most likely to purchase. By looking at past purchases, engagement or set preferences, you can then align your push notifications with their traits.
For better results, you can combine both behavior and profile segmentation. The average click rate for push messages sent based on behavioral and profile data is 30.6 %.
Once you've segmented your user base, personalization of the push and relevant content will be key.
Relevant content: "Push Notifications go to people, not devices." What do your mobile users get out of your push? It needs to be clear for them that they get an advantage non-users do not get. For example, I used the app to look for an XYZ hotel in NYC but finally didn't book. Receiving a push like "Still going to NYC, don't miss out on new discounted rates at XYZ hotel!", will most likely get me to open the app again.
You can also significantly increase the effectiveness of your push notifications by personalizing them. Adding the user's name might be the easiest way but don't stop there. As people are more and more used to receive notifications, simply adding their name is not as effective anymore. According to a survey by Localytics, when addressing a user by name, 25% will use the app more often, while it will make no difference to 58% of the people. Instead show them that you know about their interests, their preferences.
Which types of app personalization make you see an app more or less?
Use app more
Use app less
No difference
The app always applies my stated preferences (e.g. sport team, home town) into content displayed or push messages sent to me
49.20%
15.3%
35.5%
The app knows my location and factors that into content displayed or push messages sent to me
42%
24.90%
33.1%
The app factors my actions in the "real world" (e.g. a purchase in a store) and reactors that into content displayed or push messages sent toe me
37.2%
25.4%
37.4%
The app tracks my in-app behavior and factors that into the content displayed or in push messages sent to me
32.5%
29.2%
38.3%
The app addresses me by name
26.8%
15.1%
58.1%
Source Localytics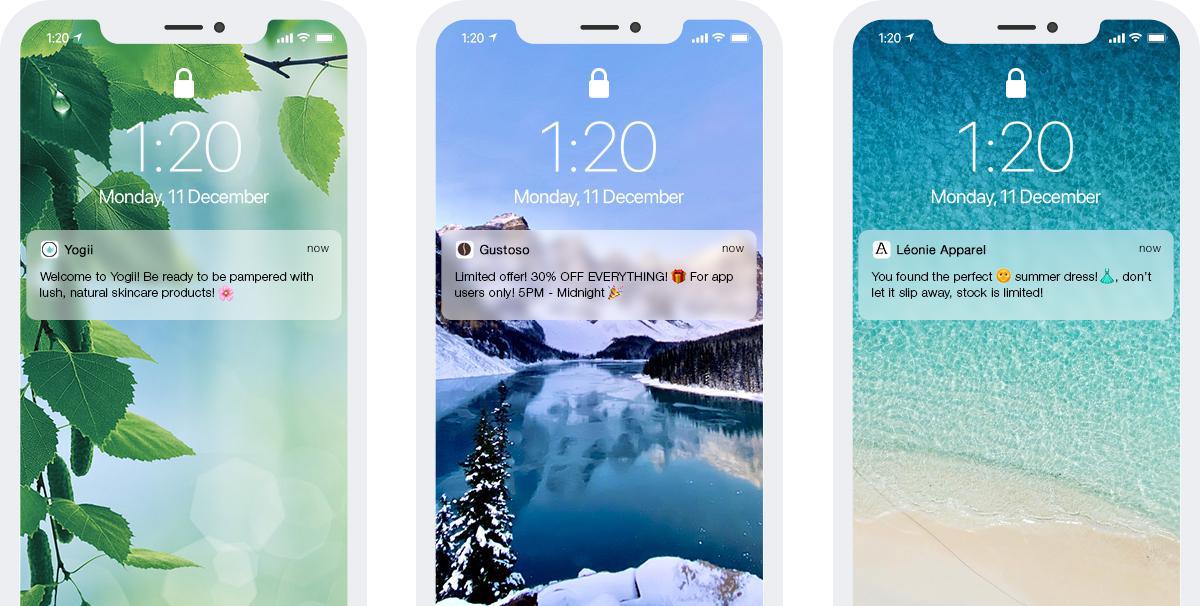 Use different types of push notifications to inform your users of relevant info. Amongst the most common types of push: promotional, Welcome, delivery update, cart abandonment, latest news etc...
Make it visual: Adding pictures and videos to a push notification can result in a more powerful message reaching your users and triggering a reaction. Emojis, for example, can increase CTR – 4.94% with emojis compared to 3.01% without. Some emojis seem to work better than others.
Be creative when drafting the push. Make it feel like you're having a conversation with your users.
3. Adapt to the devices
Make sure you follow the rules of the Stores. Android is not iOS, iOS is not Android. With Android, tap to see the notification, with iOS, slide. Seems simple right?
Regarding the push notification length: remember to keep push notifications short and to the point. This will make your push notification instantly readable by the user. As a rule of thumb:
- 60-90 characters for Android.
- No more than 120 characters for iOS
This way your push notification will appear in its entirety.
Users tend to process the notifications on Android, as there's an inbox that only clears as you manually open each [notification]; whereas on iOS, once you open up one notification from your lock screen, all the others clear."
They are received by users directly in their web browser.
This feature is supported by the majority of
recent browsers
.
Being able to directly contact all of your users regardless of the device they're using is a significant advantage.
On the other hand, in some cases, it can be a good idea to adapt your communication based on the type of user.
Certain messages may only apply to
web users
(to get them to install the application for example).
4. Make sure they go where you want them to go
Make sure they go where you want them to go when opening the notification. There's little more annoying than receiving an engaging push notification, tapping or sliding it, and finding yourself landing on the app's home screen. To avoid this issue, you need to make sure that you have deep linked directly from the push notifications to relevant in-app pages or sections; otherwise, much of the impact of your messaging could be lost.
5. A/B testing
This allows you to test your audience's reactions to a variety of push. By testing to see what works, you can analyze the results and make changes to your push notification strategy accordingly. You should only A/B test one variable at a time to know exactly which one had the most impact. For example a push with the same message but one with a call to action and one without.
Set the right KPIs: don't limit yourself to your push open rate, take time to analyze other KPIs, such as your push opt-out rate or if any app uninstall occur. .
6. Opt-in
All these recommendations are useless if users don't opt-in. The way you ask your users to opt-in as a big impact on whether they say yes. The best approach to maximize your opt-in rate is to ask permission softly, wait for the right time to ask before the "Official" ask. Priming your users by walking them through the benefit of your push notifications and how they will enhance their experience.
Also, give them time to explore and know your app. The average push opt-in rate improved when users have completed more sessions in an app.
Remember, you can only ask for official permission once. Apple requires every iOS app to ask for permission upon install before sending notifications.
Android devices don't have that same opt-in requirement. Android automatically opts users in to receive notifications. When someone downloads an Android app, they're informed that the app will be given certain permissions, including the ability to send push notification. If users don't want to receive push notifications, they can opt-out
Both Android and iOS apps must permit users to turn off push, either within the device settings or in the app itself.
Sending a dedicated email conveying the value you offer them for their acceptance of your push notifications can also be a smart way to supplement your in-app efforts.
Push notifications can be a very effective channel to reach your users. But they can also be a quick way to lose an app's user base if not used properly.
As
Noah Weiss
%5Egoogle%7Ctwcamp%5Eserp%7Ctwgr%5Eauthor summaries it, push notifications need to be timely, personal, and actionable.
Finding a balance between grabbing attention and spamming your users in the process is a great challenge. Get it right, though, and the results can certainly pay off.
Related Articles