Up your push notifications game with emojis
Written by Isabella Leland on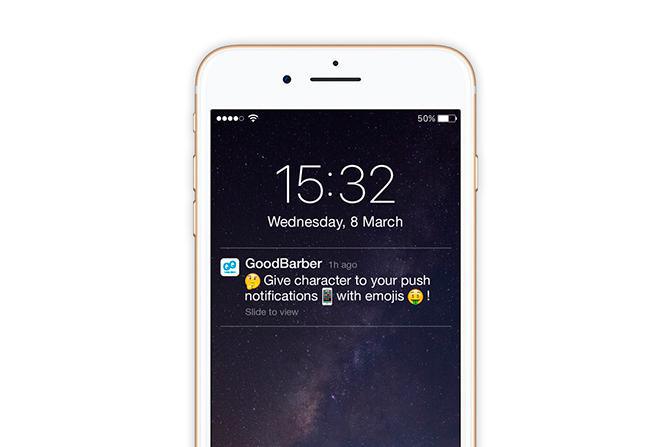 Now that you've built
the perfect app for your restaurant
, the perfect
tourism app
, or "insert your area of expertise" app, it's time to start engaging your audience. One of the most effective ways to make sure your users don't forget about your app?
Push notifications
. Now, if you are wondering how to up your notification game, here's a clue: 🙂
According to a report by companies
Leanplum
and
App Annie
, emojis dramatically lift engagement. To come to that encouraging conclusion, last year,
they
analyzed
over 2.6 billion push notifications, across iOS and Android users.
During the same time span, emoji usage
also
increased 📈. You've probably noticed it in email marketing strategies, in subject lines in particular. We've also been experimenting with is—for instance, if you've downloaded our
GoodBarber News app
, chances are you started receiving our "
coupons
" notifications, with emojis too 🎁.
In that context, the report clearly illustrates how emojis impact the open rate of push notifications. For instance, without emojis, the open rate averages on 2.44%, while it reaches up to 4.51% with emojis. Interestingly, the difference is even more striking on Android devices—where notifications stick longer in the notification tray.
Now, before you turn to emojis to improve your engagement here are a few tips to consider:
-
Get to know your users
. We will repeat this time and time again, and it's all the more crucial when it comes to testing new ways of communicating with your audience. For instance, the report shows that
millennials
engage 20 % more with emojis than the average 25-44 year old user. So, depending on the target audience of your app, you may or may not want to go overboard with emojis. There's really no one size solution fits all, which is where our second tip can come in handy.
- If you are uncertain as to whether emojis will perform well with your audience, why not give A / B testing a chance? With the push notification management menu in your GoodBarber back office you can easily send different push notifications, with or without emojis to different
user groups
👥 for instance. You can also decide to enable emojis for Android users only, etc.
- In terms of targeting, also remember that timing is everything. Tackling periodicity will not only
make your notifications smarter
, but it can also spark your creativity when it comes to emojis, around
special seasons
for instance, such as holidays (Halloween 🎃, Christmas 🎅…) or retail landmarks such as sales 🛍️.
- While you're at it, keep in mind
the power of emotional marketing
which is everything emojis stand for! Scientific research has even demonstrated that people react to emojis in a similar fashion as when they see a human face 😉. If emojis can trigger emotions, they have the power to change the mood of the reader, use it to your own advantage!
- Last but not least, emojis alone won't make a lasting impact unless the content / information you send your users to actually serves a purpose. For emojis to work their magic,
your content
has to be relevant to begin with. Because yes, users respond better to emojis, but you don't want their smile to fade away the minute they click on your push notification and realize it falls short.
Consider emojis as a first good impression, but remember that your content is what seals the deal and what ensures user retention in the long run!