7 clever tips to increase user retention
Written by Camilo Lüttecke González on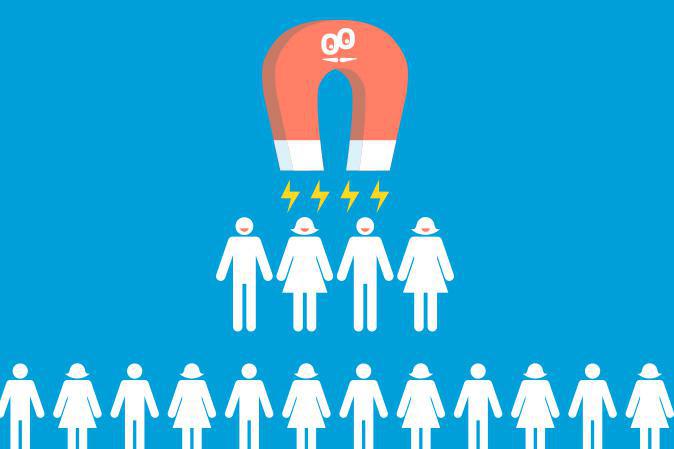 A few years ago still, blogging seemed like the ideal medium to make one's voice heard. Very few people were covering the same subjects so it was easy for early adopters to emerge as experts in a specific category. Nowadays, even though
monetization
has never looked easier, it's also become more difficult to stand out and, most importantly, to keep the attention of ever more disrupted users, attracted by more entertaining formats (such as YouTube), and more instantaneous forms of communication (like Snapchat or Instagram). Bottom line is, it's never been harder to keep a loyal audience.
People now jump from one piece of content to the the next, just like they change channels on TV (for those still watching it), or like when they scroll
mindlessly
through pictures on their smartphone... The question is, should one be present cross-platforms, or is there one solution to address both the v
olatility and
segmentation of the audience?
How can you retain your audience?
Because the competition is so fierce between bloggers and other content creators out there, there is one positive result for readers, the importance of added value has never been greater. Beyond this established truth, remains the question of the format. With
desktop losing momentum
and the supremacy of social media, readers consume, for instance, more content on Facebook than original sources of information. What's more, how can one address the outstanding proportion of users now turning to mobile to access web content?
An app can be the perfect solution to increase user retention because it optimizes the display of content for mobile devices, smartphones and tablets alike; devices which users always have at hand, an opportunity to stay connected with them, everywhere and anytime,
making each micro-moment count.
But of course, creating an app is just a starting point. What really makes the difference is how you leverage it. Here are 7 tips to precisely make the most of your mobile app and give your content its best shot.
1. Stay up to date
Once you've convinced people to download your app, the adventure's just begun. Your challenge is now to make sure that people remember to use and visit your app, with new content and features, a trendy design... Users have never had more of an appetite for novelty, so that even minor changes to shake things up can make a big difference in the long run. If you're already a GoodBarber user, you certainly know how easy it is to update your app, with most changes in the back office applying simultaneously in the apps of your users, without having to send an update to the stores every time. Use it as an advantage, for an app that is not static and bypass one of
the 4 reasons apps gets deleted
.
2. Analyze data
On your blog, website, social media, if you are a content creator you are most likely already used to measuring the impact of what you share with your audience. On mobile, GoodBarber also lets you measure the reach of your content, with detailed statistics, so again, use our tools to your advantage. You can also connect your favorite external services, such as
Google Analytics
or Flurry. One piece of advice, consider monitoring your success, but also where you are struggling. It might not be the most pleasant analysis to conduct, but certainly the most efficient. What you are already doing right doesn't need to be corrected, whereas there's always room for improvement when you're not performing.
3. Listen
An even simpler and more direct way to know what your readers want: ask them! Encourage them to share ideas. Create a form to collect feedback, ask for their opinion, suggestions. It's also the perfect opportunity to engage them. So kill two birds with one stone:
get to know your users better
while improving your connection with them.
4. Target
Push notifications
are among the best features which differentiate apps from the desktop web. They are so efficient that there was no question that they should be included with each of our subscription plans! You should be using them to gain more returning visitors, with an alert whenever new content is published (use our
scheduled push
here). You can also use notifications more spontaneously (manual push) and, what's more, target your notifications to
make them smarter
, according to the localization of users, app usage, etc.
5. Focus on user experience
User experience should be your number 1 concern, especially on mobile. The most popular apps on the market set the bar really high, so make sure you aren't lacking, with clutter or counter-intuitive gestures. No matter how valuable your content, it's nothing without the right n
avigation or content organization.
6. Use social media
What social media and apps have in common: instantaneousness and closeness with one's audience. The two can actually work hand in hand, an app being user friendly when it comes to letting users
share content
on social media, while offering a convenient space to link all your social networks in one place (Facebook page and Twitter integration, click-to section). In that sense, why not use an app to grow your online reputation or even, with the
Chat Add-On
and other social features,
build a community around your app
.
7. Allow your users to "play" with the app
Have you considered
gamification
yet? To keep your audience interested and convert visitors into loyal readers, rely on the unique features of a native app to reward them. This can also come in handy to conclude partnerships with sponsors or advertisers, just like
couponing
or yet again, advertising of course. Just don't lose sight of the one golden rule: added value, which should apply to advertising as well. With
the rise of ad blocking,
users don't compromise anymore, so stay clear of intrusive formats and pop-ups and explore
native advertising in your app
instead.
With all of that in mind, you should not only be able to
better
retain your audience, but also monetize your content in brand new ways.
Mobile internet advertising growth
accelerated up 20 % in 2016! So, don't wait a minute longer, create your mobile app with us! Let's get in touch.

Translated by Isabella Leland