Apps and digital time spent: smartphone apps dominate the desktop web
Written by Isabella Leland on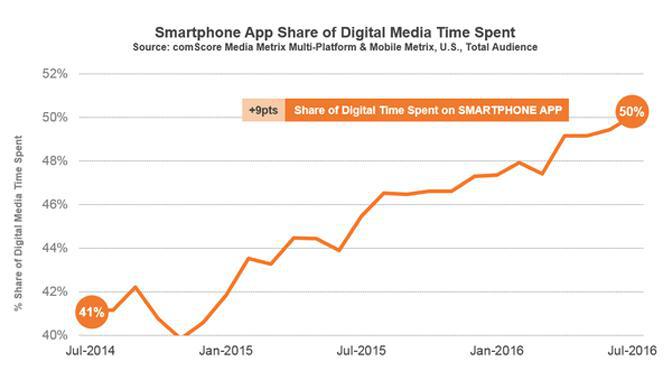 The desktop web is losing momentum, it's a fact. But, do new user behaviors account for more "digital time" spent on mobile apps? With users
transitioning from desktop
to mobile, does it play in the favor of smartphones or tablets, websites or apps?
A recent
comScore
report reveals that, as of July 2016, mobile applications now make up for 50 % of the digital time spent, in the US. An impressive figure, with the mobile web only accounting for 7% of the total share. As for the market of tablets, it is more limited, with an 11% time share
only. N
evertheless, even within that portion, mobile apps remain ahead (9% against 2% for the good old web). So, if you are quick at math, you have already calculated that the amount of digital time left for the desktop is of 32% only.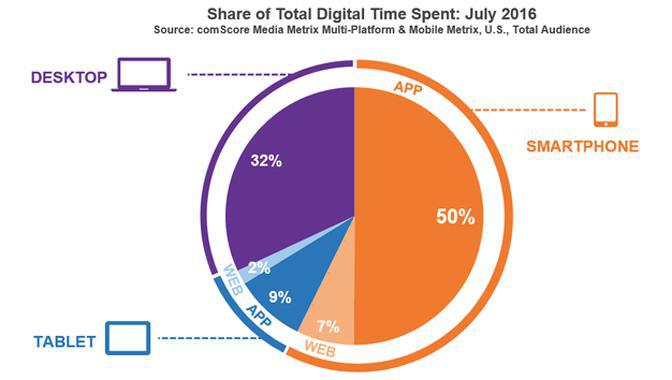 Behind these numbers, what's showing is our daily routines and continually evolving digital habits. How do we keep in touch with one another? How do we stay on top of news from all around the globe? How do we perform a search when looking to verify something in the middle of a conversation? A few years back, if a movie director had to film any of these actions, the main characters would have probably been seen reaching for their landline phone or typing on a keyboard and waiting for a big window to load on a desktop computer. These days are gone. Today's director would, instead, zoom in on a smartphone, with a thumb swiping on the device's screen. You are picturing it too, right? And chances are, you can see yourself as the leading character in that movie.
If we add up the fact that the screen size of smartphones has considerably increased and that 4G is more and more available, it comes to no surprise that many of us turn away from computers, even laptops. Desktops and even tablets now tend to serve specific purposes. However, the idea isn't to set one side against the other, and the comScore report is careful not to jump to that conclusion either, reminding us that the desktop web is still an essential part of consumers habits, for
E-commerce
for example. One must therefore think in terms of synergy, while yet admitting that
a mobile app has become a necessity
, if not a priority, with a website being more often than not its desktop sidekick. With different purposes, websites are far from obsolete, but they need to adapt, with a reconsidered user experience to meet new user expectations.
In a nutshell, the key takeaway of this report is that it is getting difficult to picture
a business without an app
these days. Whether you are a digital sector start-up or a local business, the average client is the same, a smartphone always at hand, a connected user by nature, and it is on that precious acquisition channel that a business should engage with him, with an app and unique native features: push notifications, geoalerts,
coupons
,
loyalty card
.