6 Rules to Make Great Push Notifications!
Written by GoodBarber Team on
As you are already familiar with, you can manage your Push Notifications directly within your GoodBarber backend. But what are some of the key options at hand you should especially pay attention to? Read on for some useful tips to improve your communication.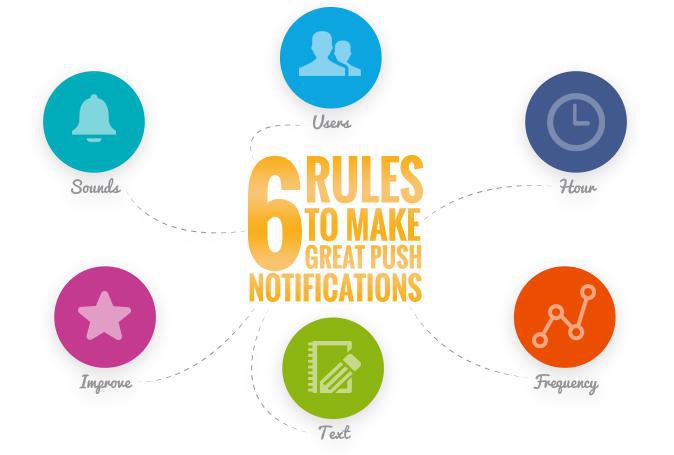 What is a push notification?
It's a short message sent directly to your users mobile device. It's a great way to trigger engagement, notify users of important news and much more. Most importantly, users don't have to be in the app or using their devices to receive them. As a result, push notifications are a direct and effective path of communication to reach your users at all times.
Check the time
Timing is crucial when sending a push notification to your users. Of course it all depends on the users your app is targeting: if you are a bar or restaurant your timing will be different from a
news website
or a
tourism business
! The best time to reach your users might be the late afternoon, when they are on the lookout for happy hour deals, in the morning,
during their daily commute when they want to catch up with the news of the day, during the weekend, when they are most likely to be planning their next getaway...
If your users live in different time zones or countries that's another data you will want to take into consideration. In the backend, we give you the opportunity to target your push notifications to specific users according to different criteria, one of which being their location. You just have to tick the box "send in local time" and the push notification will be sent at the right hour in each time zone!
Mind the frequency
An equally important piece of advice. You are all surely smartphone users, so you know how intrusive it can feel to receive A LOT of push notifications and, worst case scenario, irrelevant ones. Push notifications are just as invasive as they are powerful. If you don't want users to
delete your app
, use them wisely.
Remember that quality beats quantity. The ground rule is simple: send a push notification when you really have something to share.
Interesting news for your users might be an update of your app,
the publication of a new article, a discount. In any case, a
sk yourself how valuable the information will be to your users, if it is useful to your entire audience or if you need to target only a specific group for instance.
Write an attractive text
Keep it short and catchy. Imagine push notifications as similar to tweets, they need to be direct and get straight to the point. Your users must immediately understand the value they will get upon opening the push. Don't leave it up to your users to understand what you want from them. Use a clear Call To Action if you want a response.

With a discount for example, tell your users the amount and how to use it. Something that would go along the lines of: "20% off all items in our shop today with this code: PROMOCODE". If you are a content editor releasing a new article don't just say: "Check out our latest article", tell your users what it's about, be witty, make it sound inviting enough for them to visit your app.
Target your Users
You have a large choice of targeting options, just a click away, right in your backend. Make use of them.

In addition to the local time option mentioned earlier, you can target your users by device used, based on the last time they opened the app, etc. For instance, maybe you've already sent a push notification to tell your users to download the latest version of your app but not everyone has. If you don't want to spam those who have already completed the update, just tick the box "Who has never received an update" and send the push to them only.

Of course this requires that you customize your message according to your target. Don't waste your precious efforts by sending out a blunt or unclear message.
As you set up your targeting options, you can directly see the number of users that will be receiving your push notification, according to the options you choose.
The good news is GoodBarber also allows you to
schedule your push notifications
so that you can always be on point without having to constantly manage them. Last but not least,
users can
manage push settings
, for scheduled push notifications and decide which to subscribe to or not.
Track and Improve
As more and more people start using your app, take advantage of app usage statistics to
make your push notifications smarter
. As a GoodBarber user you will have lots of detailed statistics, right in your backend. Track them. Check which sections are opened the most, which articles get the most views and send push notifications accordingly.
Sounds
Finally, did you know that you can choose which sound to assign to your push notification? You created a
new event
in your app? Use the ringtone "ready".
Your app is about football
? Use the "sport" ringtone, your users will immediately identify the familiar sound of a referee's whistle when you send them a push.
In terms of strategy you can either always use the same ringtone, so that users recognize it instantly as coming from your app or, change the ringtone, to catch the users attention with an unexpected sound.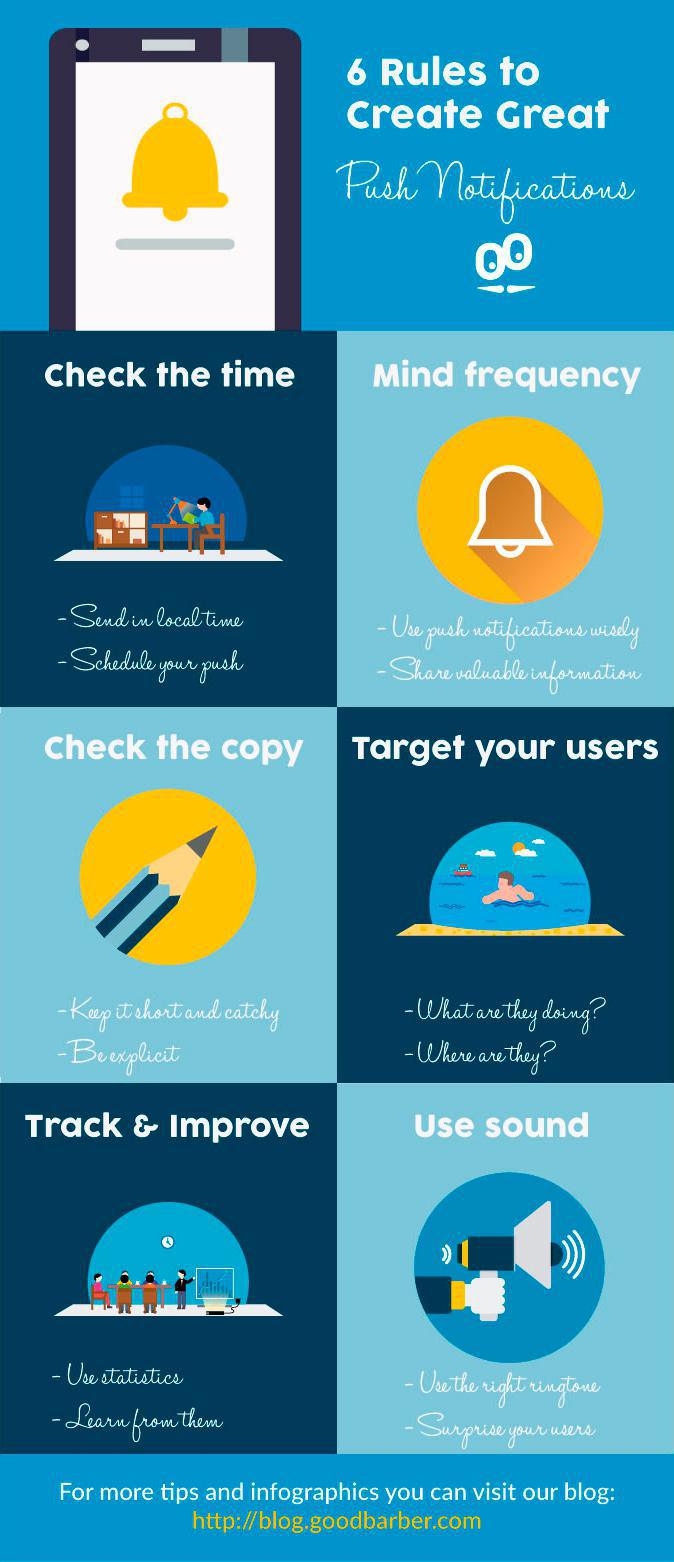 I hope this will help you make better use of push notifications with GoodBarber. Here are some additional articles to further increase your engagement: