5 tips to create the perfect app for your Football Fan Club!
Written by Sara Guiral on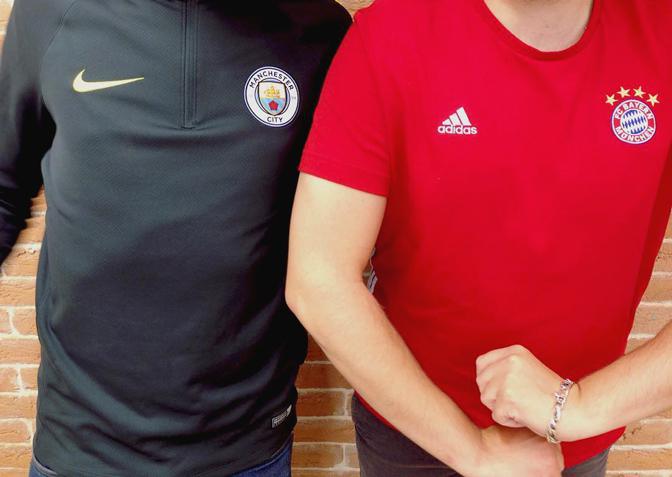 Several members of the #GBcrew are big football fans. There's even a weekly match, organized by our Lead Android Developer,
Sergio
. Recently,
Euro 2016
made for some excitement around the office, not only was it held in France, but also, with an office in Lisbon, the outcome of the competition was closely followed. What about you? Do you easily get caught up in the football spirit? If the answer is yes, let us explain to you how you can easily combine your passion for football and mobile apps, by creating a Beautiful App for your Supporters Club, without necessarily spending a huge amount of money.
You see, I'm from Barcelona, so football has always been an important part of my life. For as long as I can remember, me and my sister have been members of
"barças peña"
(Barcelona fan club).
Peña's
members share a strong
feeling of community
. Our common support for our club and shared passion bring us together.

It's because I'm familiar with the feeling that I can clame an app and its
social features
are the perfect medium to further bring a community together. So, let's see how to create an app to channel the enthusiasm of football lovers, shall we?
#1 Satisfy curiosity
Supporters usually want to know everything about their favorite football team. All the latest updates about the players, the games… If your Supporters Club has an existing website with all the latest news, it's easy as 1,2,3 to connect it inside your app.
With an app builder
like GoodBarber, just use one of our connectors (
Wordpress
, Blogger, RSS or even custom) and the victory is yours ;) If you don't have a website to begin with, don't worry! Our mCMS (Content Management System) is the ideal substitute player. You can create and publish content directly from the back office of your GoodBarber project, and share it with your community.
You can even keep in touch with your audience and
schedule push notifications
related to a specific section. Or, in real time, make use of manual push notifications for an out of the blue update that might come up just before the game. Better yet, make use of geo alerts and engage the supporters on location, with
Geofencing, the perfect feature for events
.
#2 Capture emotions
Some fans have most likely been supporting their favorite team since childhood. In that case, they probably know all the history of the team by heart, the players which have been part of it over the years, the cups won, etc. Encourage the supporters to share their knowledge directly with the community inside your app.

With a Submission section, you can let users add content to your app: text, photos and videos. With the stories they know, their experience and anecdotes, it will make your app all the more valuable. User Generated Content can play an important part of your content strategy and it's also useful to keep the fans engaged.
#3 Be useful
What matters to a fan is also knowing when and where the games take place, what are the upcoming events related to the Supporters Club... In short, everything. Therefore, our Calendar section should be a pivotal element of your app. In a sense a football app is the perfect exemplification of how
the digital and physical can blend together
, for the better.
By adding an Event section you can, once again, connect it to external sources (such as an existing Google Calendar) or use our mCMS. You can let users know when to meet up, with notifications. And last but not least, make sure your section is inviting, with our
choice of templates
.
#4 Be social
Part of the experience of watching a game is the sense of togetherness. It can be being present at the stadium, or in front of the TV but sharing one's appreciation of the team's effort on Twitter and Facebook. In the social media day and age, creating the app is only half of the job. If you want your app and community to be a success, aim for visibility.
To put yourself on the map, create an official
hashtag
for Twitter, to launch the game or for every time something important happens in your team. You can also introduce a hashtag to regroup all the selfies taken by fans with their favorite players. By federating the supporters on social media, inside the app, the Twitter section can refresh accordingly, making the conversation easier to follow. To make the magic happen, just put a filter with the hashtag in your Twitter section and then your app will display all the tweets with the designated hashtag.
#5 Keep things interesting
What's more fun and "patriotic" than football songs? Enable a Sound section and share the songs and anthems relevant to your team. You can also start a podcast to share the atmosphere of the game or interviews of fans, players, you name it. And of course, don't forget about the video section.
Fans will enjoy reliving the game with videos of the highlights of the match, the best goals.
Just create a playlist on your YouTube channel and connect it inside your app.
You want to provide exclusive content? Gain backstage access and share the players' practice with your community. You can publish it with our mCMS and reserve access to
logged in members only
.
These are only some of the actions you can take. At the end of the day, the game is yours to play. But, if you do create an app for your Club, feel free to reach out, we'll be happy to consider it for a showcase, among the other Sports Apps we've featured.
Adapted by Isabella Leland