How can Small Businesses Increase Profits during Special Seasons?
Written by GoodBarber Team on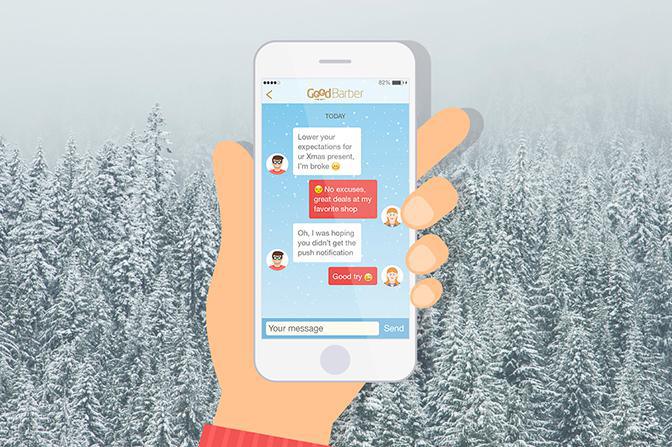 Special seasons and holidays are great for increasing profits and revenue in almost all business sectors. It's a fact that shoppers tend to spend more during special seasons and holidays. What a great opportunity for you! If your business is small, no need to feel intimidated by the bigger companies with a larger promotion budget than you—there's a lot of things you can do to increase your brand awareness. In this article, I will discuss what you should be doing if you want to position your product as a
customer
choice
.
Why are Special Seasons and Holidays so powerful?
Increase in demand is the answer! Special seasons and holidays make for a favourable context, consumers are more likely to search for a product and buy it. Whether it's looking for something unique or useful, answering customers' needs and being a part of celebrations around important dates is a great way to be remembered as a brand! Presents, discounts or even offering a service (last minute flowers or chocolates deliveries on Valentine's Day), where there is a need there is an opportunity for business.

So now, let's see what you can do to increase your reach and in return, the demand for your product, even if you are on a tight budget!
1. Plan ahead
If you want your holiday operation to be a success (for example at Christmas time), don't wait for December to come to begin planning your campaigns. Retailers for instance, start setting up their Christmas campaigns the Summer before. Even if you don't necessarily need to plan that much ahead of time, consider that some people do start their
Christmas shopping
before Halloween. That's when getting to know your users is key, to know when and how to engage them. Then comes organization and prioritization, such as creating a calendar of the most important holidays for your business. You might not have the resources, finances and / or energy to invest in every holiday, but, by knowing which dates to mark for you business and preparing in advance for those crucial moments, you'll see far greater results than if you're launching last minute actions every single holiday.
2. Reward your customers
Ask yourself these questions: What is the best-selling product or the most in-demand service of your company? What are your customers looking for? How can you catch their eye? Best-selling products will probably be the highest-demand, you can focus your campaigns on these staples, which stands you apart from your competitors. But, on top of that, consider
providing unique, special offers to your customers
—limited offers, discounts are obviously welcome that time of year. If you haven't tested it yet,
enable our Couponing section to boost your sales
this holiday season.
3. Strengthen your SEO
We've established that creating a campaign relevant to your customers is a must around important holidays, but did you know it can help strengthen your SEO ranking? If your campaign gets attention, your site will get more organic visits which can ultimately lead to better ranking. Just like a sponsored campaign on Facebook can generate more likes and improve your overall page visibility. With
ASO or App Store Optimization
you can also make sure that your app description is optimized, and
try Search Ads to get your iOS app discovered
by more people. Remember that leveraging multiple channels is, at the end of the day, the best way to get the word out about your product, and it works with SEO as well. So, don't be afraid to step up your keyword game around special seasons!
4. Use email marketing
Don't make the mistake of thinking that email marketing is getting old.
Customer data is money
, and that data you've been collecting throughout the year, through website registration, newsletter subscription, use it now, to
get to know your users
and reach them as potential customers. You are delivering coupons? Your customers will want to hear about it. As long as the information you are sending is relevant, email marketing can still play it's magic! Don't miss out on this opportunity.
5. Invest in native advertising
Native advertising
is also definitely worth a try. See if you can partner up with websites, blogs, or even other brand relevant to your product and advertise through them with dedicated posts. The deal can include a sponsored post as well as online banners, or splash screens in a related app. Sure it requires a little bit of creativity on your part, such as creating insightful and or entertaining content, it might even imply that you invest in the creation of dedicated material, such as an infographic or even better, invest in
the super power of the video
! Quality really is key with that strategy, but we promise you it will be worthwhile, na
tive ads do tend to create more engagement, making them a great investment.
Plus, it's certain to
delete annoying from your advertising strategy
!
6. Leverage social media
Last but not least, social media! Consider it the cornerstone of your strategy. Social media, and
Facebook
in particular, is now where most people spend their
digital time
. It's the new word of mouth. What you can do? Again, create campaigns and, most importantly, target them. Social should also be part of a larger content strategy. Try to craft content that is easily shared and "share" or "like" worthy. For instance, discounts or goodies are great to get users sharing your content with their friends and followers, thus generating more awareness around your
brand
.
7. And what about your mobile app?
Stay consistent: Sure,
desktop and mobile
are different when it comes to user experience. However, keeping a coherent approach in terms of design or even content strategy is important to ensure a consistent brand image.
Engage your users: Special times are especially great to
build a community around your app
. With a form section, Chat, UGC (User Generated Content), get users to interact with the app. People gravitate towards social apps so give them an opportunity to do be social within your app!
Circulate your own ads:
Activate seasonal ads in your beautiful app, using
our internal ad server
.

With GoodBarber, you have a lot of room for customization and monetization, make the most of it during special seasons!