Get your iOS app discovered with Search Ads, on the App Store soon
Written by Isabella Leland on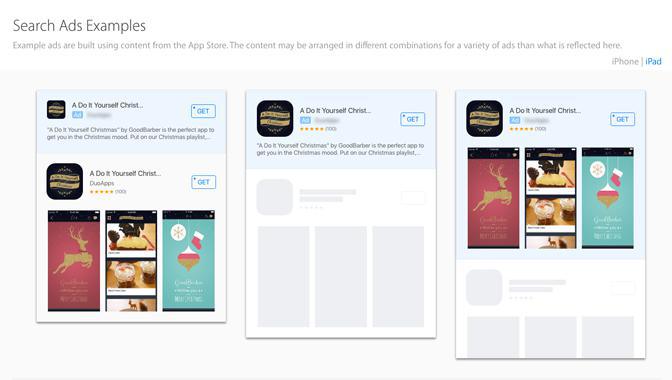 We told you we hadn't seen the last of
App Store improvements
. So, what's in store this time around? As of October 5, 2016, iOS publishers will be equipped with a brand new tool to improve the discoverability of their app: Search Ads.

If you are an iOS developer with a published app on the App Store, chances are you received an email with the subject line : "Search Ads is here. Get $100 credit". Incentive gesture aside (redemption details should be sent to your inbox as you set up your first campaign), what about this new opportunity?

Apple doesn't disappoint, with a user friendly experience. With a clutter free interface, the first steps towards creating a Search Ads campaign are intuitive. A new tool, which definitely makes app promotion easy. And, with no minimum spend setting, it's an encouragement for developers to try it out, even on a budget.
With a comprehensive dashboard, all the way from the set up of campaigns to reports, you might want to get ready to use your iTunes Connect credentials to not only publish your apps, but also monitor the promotion, with one or several campaigns.
A great addition to the
monetization
features already available in your GoodBarber back office, such as
native advertising
or external ad networks. Note that the Search Ads model is cost per tap, meaning you will be charged when a user taps on your ad.

Of course, there's always a but, and with advanced targeting features, to target Ad Groups for example (a collection of keywords), it's starting to sound like ASO, 2.0. Search results with ads built into them... If this reminds you of another tech company, raise your hand.
Now, for anyone concerned
about relevance issues, Apple has this answer ready: ad appearance will rely on metadata. All the more reason to make sure your App Store description is to the point and optimized. Sounds like Search Ads will boost the visibility of apps that already fit the criteria to stand out to begin with. Only time will tell if Apple's public commitment to relevance will keep the App Store from being taken over by big market players...
We will of course keep you up to date and study the evolution of Search Ads to help you make the most of it for your Beautiful App.
Until then, you can read more about Search Ads
here
. Let us know if you test it yourself (or
for your clients if you are reselling apps
) and share with us in the comments how you feel about this new rule of the game. Do you see it as an improvement? Or, are you afraid that it will make for an even fiercer competition with more money on the table? Let's hope that the reality will lie somewhere in the middle, of course the likes of Instagram or what not will always have bigger budgets, but there's still room to make your dent in the mobile app market. Experience has shown that
a well defined concept
can turn anyone into
an appreneur
.
Nota bene: For now, Search Ads is only be available for search results in the U.S.