App Store Optimization - Tips to optimize your app store listing
Written by Marie Pireddu on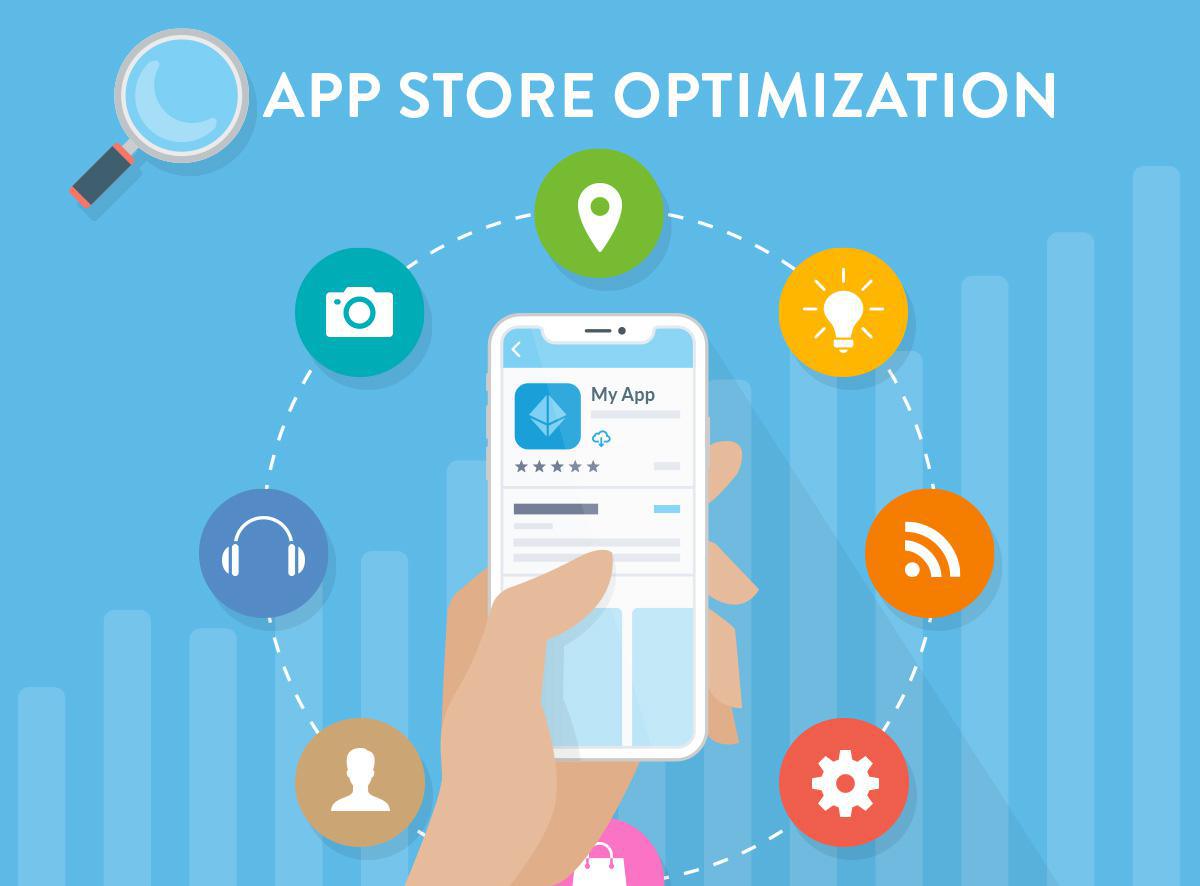 According to
Statista
almost 2 million apps are available in Apple App Store and a further 2,1 million apps are offered by Google Play Store, making it very likely that your app is facing a
tough competition
.
Therefore it's very important to start off right by
optimizing your app from the beginning
and spending time defining your ASO.
ASO stands for
App Store Optimization
. It's SEO for the app stores. Both processes share similarities like keyword optimization, backlinking and conversion optimization. The main differences between App Store Optimization and Search Engine Optimization are the ranking factors.
Following the ASO tips in this article will help you optimize the rank of your mobile apps in an app store's search results, drive more traffic to your app's pages on the stores and trigger the download of your app.

We'll focus on how to:
Maximize your exposure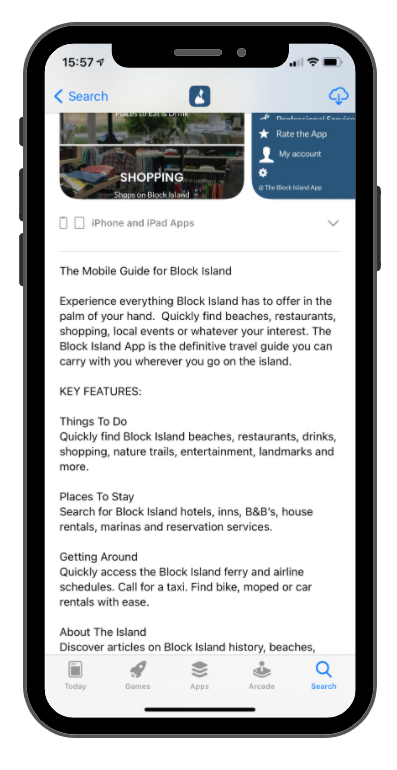 The higher your app ranks in search, the more people will see it. The main visibility factors are the title, description and keywords.
Title: In both Google Play and the App Store, the title is the most important element. This is the foundation of any optimization! The words you put in it act like keywords, so you should be sure to have included keywords with a high search traffic level and at the same time be sure the title has a good balance between keywords and branding. It must be descriptive and clear about what the app does. Google Play set the limit at 50 characters, the Apple App Store at 30. Use them wisely.
Description: The App Description is not only relevant for the users, but also for the app stores algorithm. Clearly and effectively explain what the app is, what it does, and a clear overview of its features. This is especially important in the Play Store: Google find the keywords to index your app in the first two/ three sentences of the description. The short description (in Google Play), also known as App Store promotional text, is the first text your users will see. It should promote the core features of your app using strategic keywords.
Keywords: To improve your search rankings, you need to know which keywords are relevant and used most often by your target audience. Searching for the right keywords is an ongoing process. They are especially important in the Apple App Store, as they are a key factor in search rankings. Make use of all the 100 characters available in this metadata field, don't repeat keyword and don't use your app name or brand name (it would be a waste of space since they will be taken into account only once).
Optimize your conversion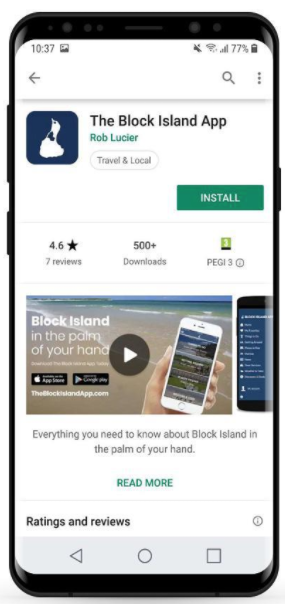 Your app has gained exposure and is now visible in the search. How do you convince potential users to download your app?
The main factors here are the app icon, screenshots and videos, reviews and rankings.
Icon: It's the first impression your app makes on your potential users. The design has to be very sleek and simple and it must be representative of your logo or brand. Stick to image and avoid text unless absolutely necessary. With so many different choices available to users, a unique icon gives you the opportunity to catch potential users eyes.
Screenshots and videos: Have you ever bought something you have never seen? Humans are visual creatures, they like to see what the app they are going to download looks like. The first two/ three screenshots are the most important. Use this to your advantage and upload the screenshots of the most beautiful details of your app. Let them tell the visual story of your app. People love videos! They are more interactive and more attractive than a wall of words. Take this opportunity to create a video showcase of your app and choose the most beautiful elements and features, things that will make the audience think: "I have to have this app!" Beware of the Stores specifics: in the App Store, the video auto-plays in mute while in Google Play it will open in a YouTube external link.
Reviews and ratings: The ratings and the reviews of the app are important factors, not only for ASO but also from a conversion perspective: on average 59 % of people usually or always check ratings before downloading a new app. The total app downloads certainly affect ASO. The better your rating, the more relevant your app is considered by the stores and the higher it ranks. It is recommended to answer those reviews. Indeed, not only can the reviews help you work out what needs to be fixed faster but by replying correctly to them it will help you connect with your users and improve your ratings. A few tips to help you answer effectively to your reviews: reply in a timely manner and use their name, always answer the ones mentioning a bug, crash or fix and tell them which action you have taken, don't forget to acknowledge the good reviews too and finally never argue! ;)
Stay up to date
Update your app regularly: keep your app fresh and edgy by updating it every 3 to 4 months. Not only it will help in solving any bugs, implement software update or new features but also it will keep your users engaged. Apps which are a constant work in progress always score more highly in the rankings of app stores.
As it is good practice to update your app regularly, it is as important to update the metadata (this field can only be modified when you submit a new version of your app to Stores). Both Stores give you access to statistics from which you can deduce if your texts, keywords, and screenshots are effective. By analyzing the dashboards and custom reports available on your Google Play console and App Store connect, you can get an idea of your app performance. You will be able to see for example the impact of changing the subtitle or refreshing your icon has on your downloads or ratings and help you narrow it down to the best listings possible.
Update keywords : take the opportunity of the update to review your keywords. As we said previously, searching for keywords is an ongoing process. The words of user reviews are indexed by the app stores search engines. Research your competition, analyze their reviews. You may find new keywords you didn't think of before
Another good practice is to update the screenshots to showcase new features to your users. Make the best of the " What's new " field by not only listing bug fixes but also by highlighting new features and encouraging positive reviews.
Recap: the 6 main factors to focus on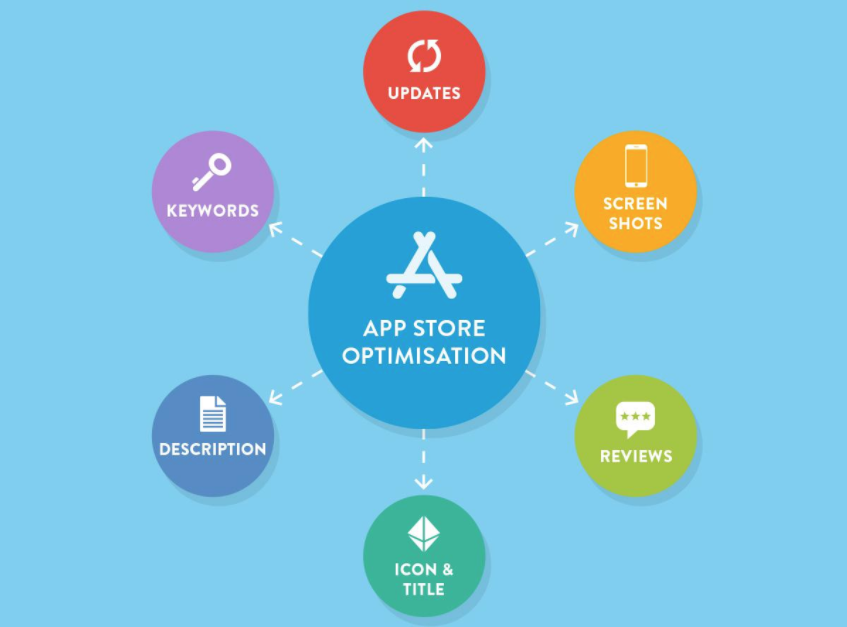 Summing up, app store optimization should be focused on 6 major factors:
1. Icon & Title
2. Description
3. Keywords
4. Screenshots
5. User Reviews and Ratings
6. App updates

With an increasing choice of apps available on the Stores, it is crucial to make ASO a vital part of your marketing strategy.
Following the tips in this article and spending some time and effort on improving your app ASO will enable you to reap the benefits in the long run, and keep those organic downloads coming in.
FAQ
App Store Optimization (ASO) is the process of improving app visibility within the app stores and increasing app conversion rates. Each Store follows a few different ranking factors. The areas to focus your ASO efforts are your App Name, App Title, App Icon, App Screenshots, and App Rating.
With more than 2 million apps available on the App Store and a further 2,1 million on Google Play, it's difficult to stand out. ASO will help you stand out from the crowd, grow in an organic way and increase the conversion rate
How many keywords can you have in the App Store?
​
Keywords are especially important in the
Apple App Store
, as they are a key factor in search rankings. 100 characters are available in this metadata field, but there are a few keywords rules to follow: don't repeat keywords and don't use your app name or brand name
Related Articles