Increase downloads with custom product pages in the new App Store.
Written by Marie Pireddu on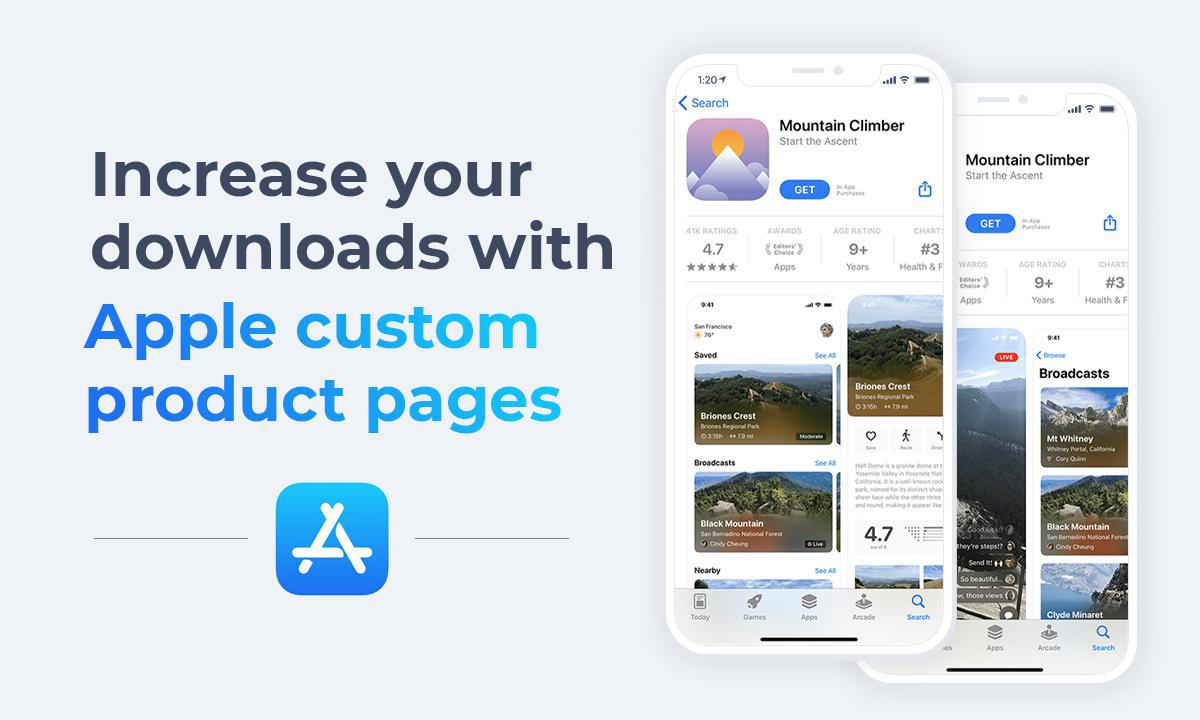 At the WWDC 2021 on June 7th, Apple announced new features about iOS 15 that will affect important aspects of mobile apps and the Apple App Store, from an app marketing strategy and ASO perspective.

Indeed, App Store Connect will soon be offering with the Custom Product pages (CPP) new capabilities for App Store's app product pages. These will offer new opportunities to make product pages more relevant and engaging for potential new users.

Let's explore Custom Product Pages a bit further.
What are Custom Product Pages?
At the moment, the product page is the "Home page" of your app. This is where your potential users land when searching your app on the Store. It displays all the
key elements
(metadata, visuals, reviews, etc) for the user to discover your app and convince them to download it.
Apple's new iOS 15 Custom Product Pages (CPP) are letting app owners create different versions of the app's page in the App Store.
You can personalize your app preview videos, screenshots, and promotional text, based on segmented audiences. It allows you to create up to 35 custom product pages, and each CPP will also have its own set of analytics.
These 35 custom product pages will be accessible through a unique Apple App Store URL that you can use to drive specific audiences to. No more "all-size-fits-all" messaging but the right message to the right audience!
If to make a comparison, these CCP are similar to landing pages. But right in the App Store!
A landing page (on the web,) is a page that's dedicated to a specific feature, a product, or a special offer. And nothing else. It's meant to convert your leads into clients. Your potential clients will usually "land" on the page from an email or an ad.
Another great advantage of these pages is that you don't need to wait for an app update to add a new page. You can create news pages at any time in App Store Connect and submit them for review independent of your app updates.
These new pages can have a high impact on your app store marketing and help you increase your conversion rates.
How to turn your custom pages into more downloads?
What's great about the custom pages is that they each have their own URL, allowing you to send traffic from customized ads or campaigns for separate audiences to each custom page. The key here is to segment your users into groups and highlight what's most important to them in your app. You know your audience by now and know what interests them.
Here are 4 use cases ideas for your app:
1. Highlighting different features.
For example, a
newspaper app
could benefit from highlighting the different ways they use to share their content: podcasts, videos, or articles depending on their different listeners' groups' affinities. They can then target different demographics.
2. Highlighting different promotions or products.
This is perfect for a retailer with a
Shopping App.
Custom pages can be a good way to bring focus to a limited edition or a special offer. For example, our Shopping App, Urban Shango, added a new New York-themed sneakers collection. A custom page dedicated to this collection, and promoted on social media with the direct URL to the page could encourage potential shoppers to download your app to easily purchase their new favorite sneakers.
3. Creating pages based on Location:
If your app is a
travel guide
for example and you're presenting multiple cities or countries, you could send your users to a custom page dedicated to that specific city or country. If your users are looking for an app to solve their problem, they are more likely to download the app that highlights exactly what they're looking for, instead of a general-looking one.
4. Pages to push in-app options:
Let's say, for example, you're a content creator. You may cover in your app different topics: lifestyle, travel, cooking, fashion, etc. Your audience might follow you for different reasons. You could create custom pages focused on each persona (the foodie, the travel lover) and push different sections of your app and even highlight the content reserved to subscribers.
How can you promote your custom product pages?
As each custom page has its own URL, it's quite easy to promote them.

Paid Ads are the easiest way but you can find many other ways. The power of the URL is that it can easily be added to many marketing support and platforms.

Email marketing: Create a strategic newsletter in which you can insert a link to a specific CPP is not only a way to bring in new users but also to point existing ones to a new feature or product, increasing your chance to boost your retention rate.

Social Media: Social networks are a business' most powerful platform for promoting their app, brand, products, etc. For example, change up the link in your Instagram bio to take users to a specific CPP corresponding to that audience.


Apple has stated that the success of each custom product page can be monitored in App Analytics and that retention data and average revenue can be measured for each product page. We'll have to see exactly which data will be available.
Custom product pages are definitely an exciting development for marketers and iOS developers alike. With App Store Optimization (
ASO
) becoming more and more crucial for
app marketing,
it's interesting to see Apple offering tools to help with it. We can't wait to see how this new feature will help you increase your downloads!
Related Articles