Mobile App Marketing 101
Written by Marie Pireddu on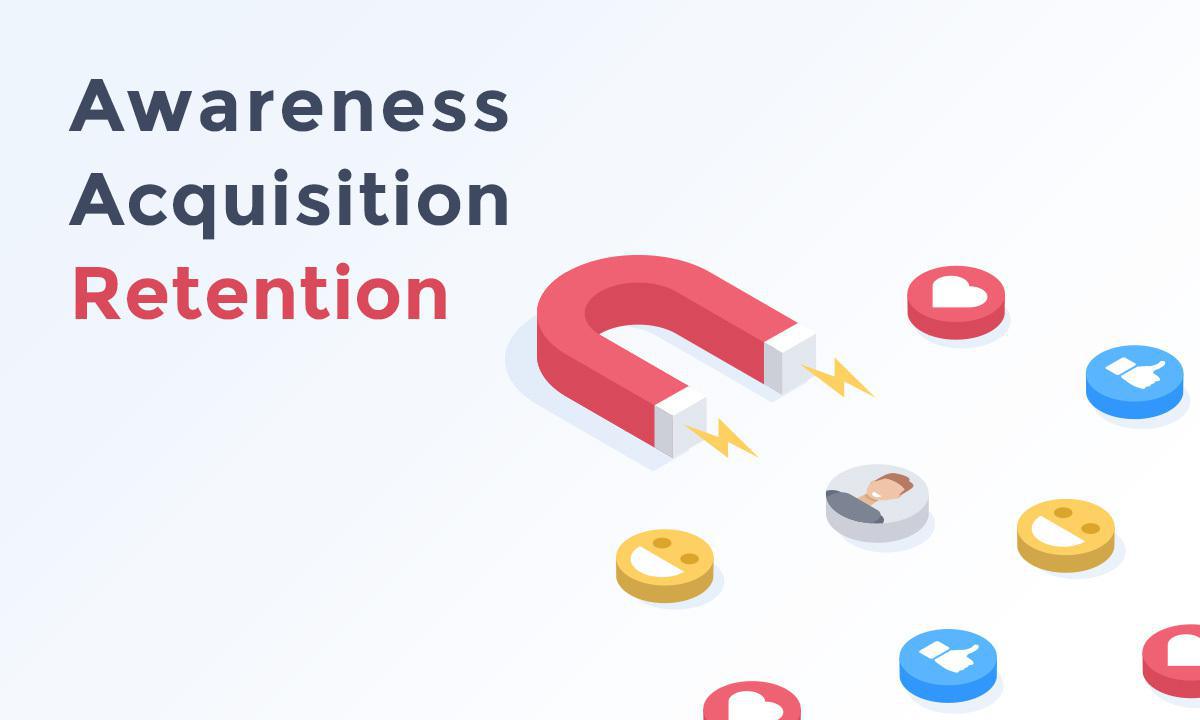 A common mistake among mobile app owners is to leave the marketing side of their project to the end or at least to when the app development is well advanced. And this generally leads to failure.
With the number of available apps for download from the world's leading app stores totaling over four million, the competition to get users' attention is tough.

Having a beautiful, well-designed app won't be enough if you don't have a well-thought marketing strategy from the day you put your app idea in production.

In this article, we'll cover the three stages of a mobile app marketing strategy and the metrics to measure to drive long-term success

What is mobile app marketing?
Mobile App marketing is all the marketing actions/ campaigns you will create to engage with your users during the 3 different stages of their journey:
Awareness: this is when you attract your targeted users to your app
Acquisition or conversion: when your targeted users download your app
Retention: You have your users, now you need to keep them happy and engage or they will easily uninstall your app.

Let's now see in detail which marketing actions to take in each of these stages.
1. Awareness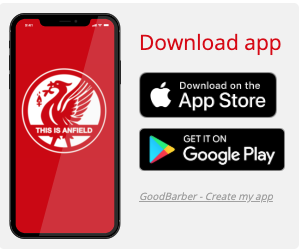 This part of your marketing plan happens before your app is launched. The goal is to create a buzz, build visibility.
There are multiple ways to attract your targeted users and let them know about your upcoming project.
(Note: this implies that you've already done your research and know your target audience, their behaviors, and preferences)
Set a launch date:
When planning the launch of your app, don't forget to take into consideration the publication process of each Store. The App Store has a strict review process that can take a few days and require you to make some modifications to your app. Plan ahead for any setbacks. Publication on Google Play is usually faster, but if you're publishing an app for the first time, it can also take a few days before your app is published. You can find more info on the publication process for these Stores
here.
Also, make sure that your launch doesn't compete with another big event ;)
Promote on social media
: Social media is a cost-efficient way to increase the visibility of your app. Indeed, over 1 billion people use various social media platforms daily, which allows you to gain access to a large audience.
If you haven't done it yet, create an account for your brand. Facebook and Instagram are most commonly used, with Twitter too. But you don't have to be on all platforms. Select the ones you know your target audience prefers.
And remember, it takes five to seven interactions for a person to remember a brand. So be present. Create entertaining and engaging content. On Instagram for example, you can post daily Stories, be consistently visible, and build a following. Once you've set a date for the launch, you will already have a following to announce when the app they've been waiting for is finally coming out.
(If you're using GoodBarber, you will be able to easily share your published app on social media)
One of the other advantages of social media is that you can engage directly with your audience thanks to comments and direct messages.
You can also join groups on Facebook or Linkedin. Start by being present and share relevant content that will build your authority. Become a valued member of the group
before
the launch of your app. Most of them have set days for self-promotion and you will be able to announce the launch of your app to an already engaged audience ;)
You can find more info on the importance of social media for your app in this article.
Landing page or website:
Even though a lot of downloads come directly from the Stores, a large amount of traffic is still driven through the web.
If you already have a website, you can use it to keep people updated about your app. Talking about your upcoming app will builds hype and continues to attract people even before the app is actually launched.
If you don't have a website, you can create a simple landing page with all the info and the latest update on your app. You can use tools like
Unbounce
. When creating the landing page, remember to use keywords, that the page must be easy to navigate and optimized for mobile. Take advantage of website analytics tools like Google Analytics to track its performance.
Bonus: you can use the landing page to collect emails and used them to send an email to announce the launch of any new features, monthly newsletter, etc.

If you're using GoodBarber, once your app published you will be able to share your app on your website with custom widgets with both Google and Apple buttons integrated.
Contact influencers, bloggers:
33 percent of users say they downloaded an application because it was recommended by people they trust or follow online. So, find the right influencer for your niche with active followers matching your targeted audience and make an attractive offer. The most popular influencers constantly receive offers. Make your offer stand out by offering exclusive access to your app or products for example.
Also, reach out to bloggers to write about, review your app, and maybe secure backlinks.
All this takes time, so really plan this early to get responses on time for your launch.
Set up a content marketing strategy:
With the correct content marketing strategy, you will be able to build trust and authority amongst your target audience, builds relationships and a community around your brand, therefore increasing engagements. Start writing a blog before your app is published. Share some sneak-peek the app, talk about some of the features, what your app will bring to its users, etc.
You can find out of to create a content marketing strategy in
this article.
The goal is to get to create a buzz, a following so you can get an important number of downloads on day 1 to boost the algorithm.
2. Conversion
Your app is now complete, you've connected with your audience who is awaiting the launch of your app.
Before sending it to the Stores, comes one important part of your marketing strategy:
App Store Optimization (ASO)
ASO is pretty much the SEO of the Stores. The main differences between App Store Optimization and Search Engine Optimization are the ranking factors.
On the Stores, the main ranking factors are the title, the description, and keywords.
The title is the most important element. The words you put in it act like keywords, so you should be sure to have included keywords with a high search traffic level and at the same time be sure the title has a good balance between keywords and branding.
The App Description is not only relevant for the users, but also for the app stores algorithm. Clearly explain what the app is, what it does, and give a clear overview of its features.
To improve your search rankings, you need to know which keywords are relevant and used most often by your target audience. They are especially important in the Apple App Store, as they are a key factor in search rankings.
You can find all the tips to optimize your app ranking in this
article


Your app is now published, time to work on boosting the downloads. We'll cover 4 ways to do that.
Paid advertising: You can now start rolling out ads on social platforms to get the first boost in downloads. Facebook is a great platform to start with (and you can also set these ads for Instagram from the same interface). Thanks to its larger and more varied audience (nearly 2.5 billion users), it has proven to be a highly effective platform when looking into increasing app installs. It is also cheaper and allows you to collect data on your users. To find out how to create Facebook Install Ads, head over to this article
App review sites: you can solicit reviews from websites that review apps professionally. There are many websites specializing in that. Amon the top ones: PreApps, AppAdvice (for iOS apps only), FeedMyApp, and for the more techies ProductHunt, Mashable.
Participate in competitions: Participate in all types of competitions. If you are at the beginning of your launch, the goal is to make yourself known. These contests can help you meet partners, referrals, get press articles all sorts of exposure. There are lots of different Apps contests for you to find the ones that will bring you the most visibility.
Here are some examples:
This is a great option to consider in your marketing plan. Being featured offers a greater potential for your app to increase visibility and downloads. Every day, a free or paid app is reviewed by professional App Store curators . This means that Apple receives thousands of pitches. So you need to be persuasive and craft a convincing pitch that outlines what your app does and how it's unique.


Referrals can definitely be an efficient way to increase your app downloads. Create partnerships with others and offer them a commission or reward for every download they bring. It's a win-win situation. You can even offer your users a referral bonus to promote your app
They are many other ways to boost your app downloads, from online marketing, to more traditional offline options. Discover all our tips to increase your app downloads in this
article.
​
3.Retention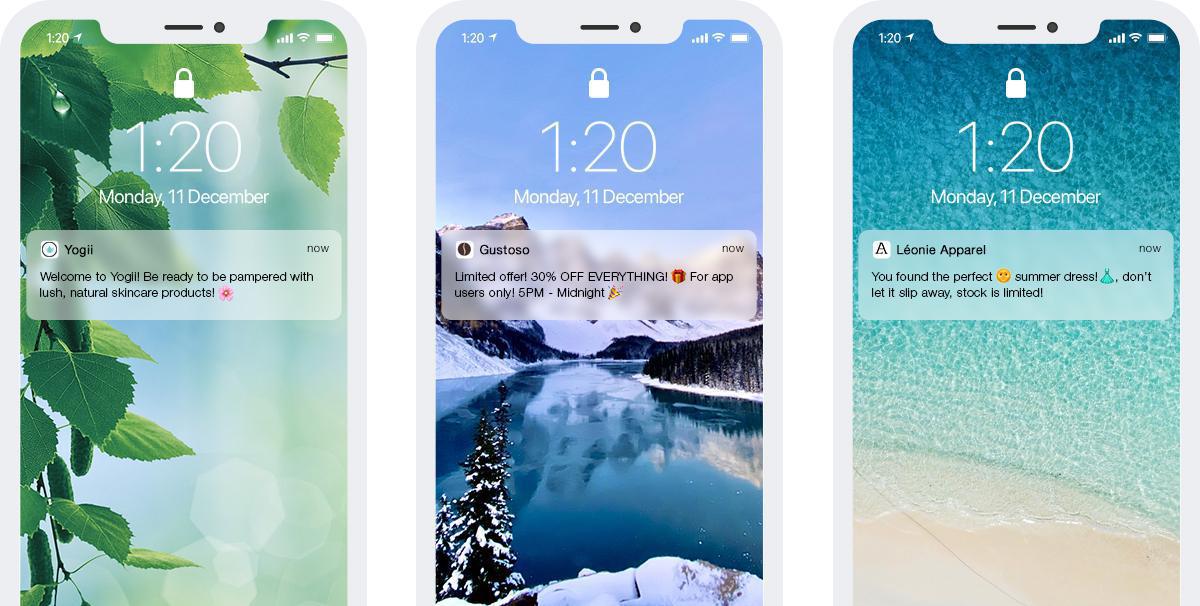 After all the efforts and finally having gained users, you may think your work is done. Well, it's not. If no one is using the app, losing interest, or worse, deletes your app, then all your effort would be wasted. This is why you now need to focus on the retention part of your marketing strategy and convert your users into lifelong users. Also, the higher the retention, the higher your app will rank on the Stores. Here are some approaches to improve retention:
Push notifications: They are one of the greatest tools for mobile app promotion. They have a higher opening rate than emails (3X) and allow you to interact directly with your users. They have been shown to increase user retention and a user who accepted to receive notifications will most likely be more engaged.
But be careful how you use them, too many push notifications can have the opposite effect. As they said, "The good thing about notifications is they remind your users that your app is installed. A bad thing about notifications is they remind your users that your app is installed."
You can find out the best practice to make the most of push notification in this
article
If you're using GoodBarber, you can set up scheduled push notifications and determine exactly the action to be taken upon open the notification.
Ask your users for feedback: Having people using your app constantly is a good sign. It's always good practice to ask these users for feedback and ask them for a review. Social proof is one of the strongest decision factors for people when deciding to purchase a product and even downloading an app. The more positive the ratings are for your app, the better chance it has of being downloaded.
It is also an important ranking factor on the App Store and Google Play. App stores aim to display apps that users will be happy with.
These reviews and feedback will also help you improve your app and your users will be happy to see their suggestions taken into consideration.

​Build Loyalty: By offering a loyalty program or rewards, your users will feel appreciated, recognized. Rewarding your users for their loyalty and frequent engagement can help distinguish your app from other competitors. When you offer valuable rewards, users will be interested in being a part of your community and become loyal ambassadors.
GoodBarber offers a Loyalty Card add-on as well as a Club Card to help you reward your most loyal users and increase your retention rate.
Key Metrics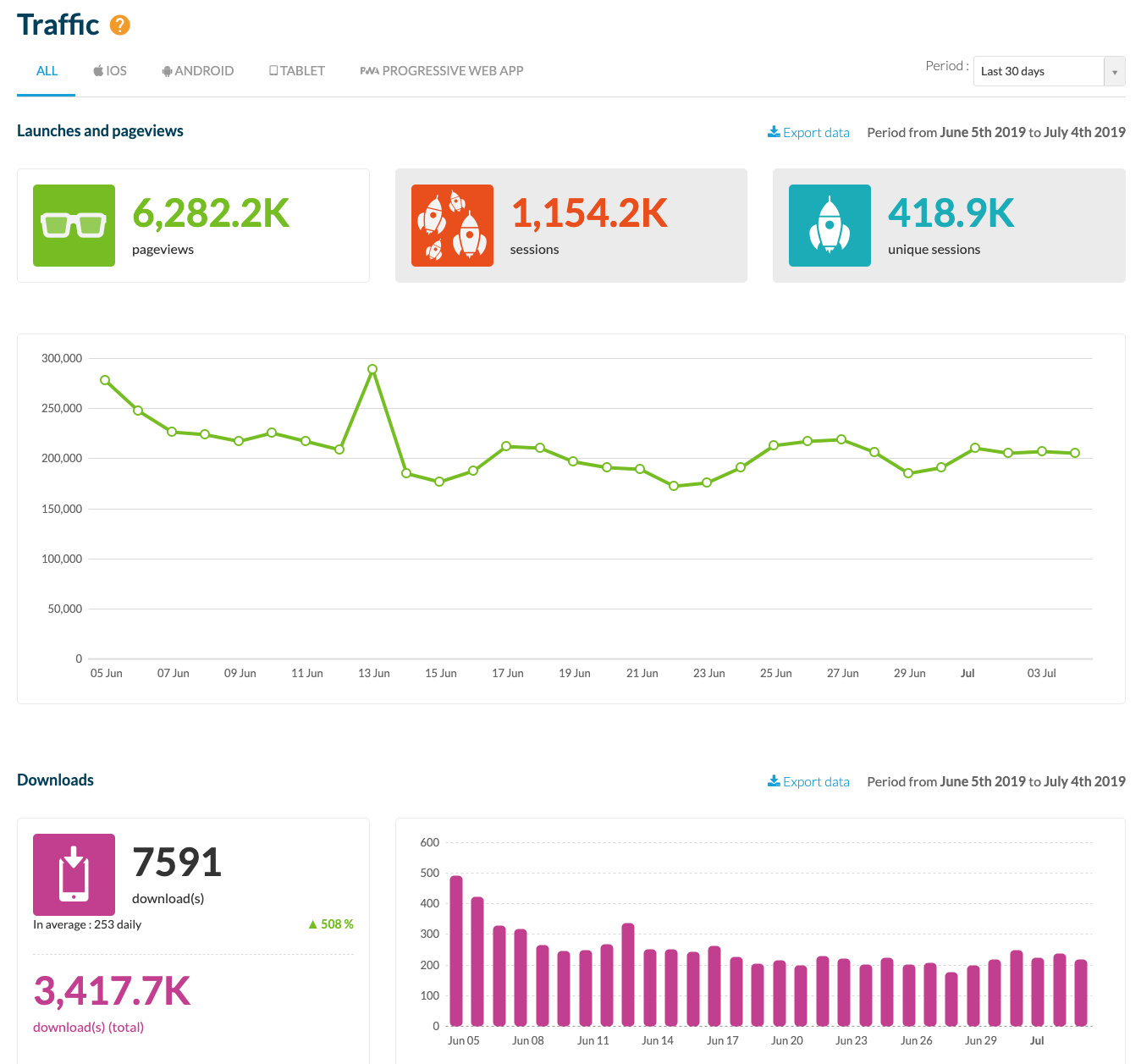 The only way to know if your marketing strategy is working is to set goals and track key metrics. Some important mobile app marketing key metrics are:
Churn rate: how many of your users have uninstalled the app

Daily active users (DAUs) or any other period of time, monthly active users for example. This will let you know how people are using your app.

Session length: this can help you determine how engaging your app is.

Cost per acquisition.
If you're using GoodBarber, you will have access to a dashboard to view some key statics all in one place.
Also, our engineers have already taken care of the implementation of Google Analytics for
Firebase
. All you have to do is follow the different configuration steps from the Firebase console
(https://console.firebase.google.com/
) to start collecting events in your app and sending them to Firebase.
From there you can determine which part of your marketing plan worked best, what didn't work and adjust your strategy accordingly.
Pre-launch and post-launch, there is a lot to do to set up a complete mobile app marketing strategy. But by planning ahead and following these tips, you will increase your app visibility, boost your downloads and maintain a high retention rate, setting you ahead of your competition.