Increase your downloads with Facebook Install Ads
Written by Marie Pireddu on
With an ever-growing app ecosystem, more than 5 million apps available between the two main platforms (Google Play and App Store), businesses are facing a new challenge. Not only do they need people to discover their app, but they have to target the right people. The right customers who will engage with their app over time.
This is where Facebook comes into play. Thanks to its
larger and more varied audience
(nearly 2.5 billions users), it has proven to be a highly effective platform when looking into increasing app installs.
Why use Facebook App Installs?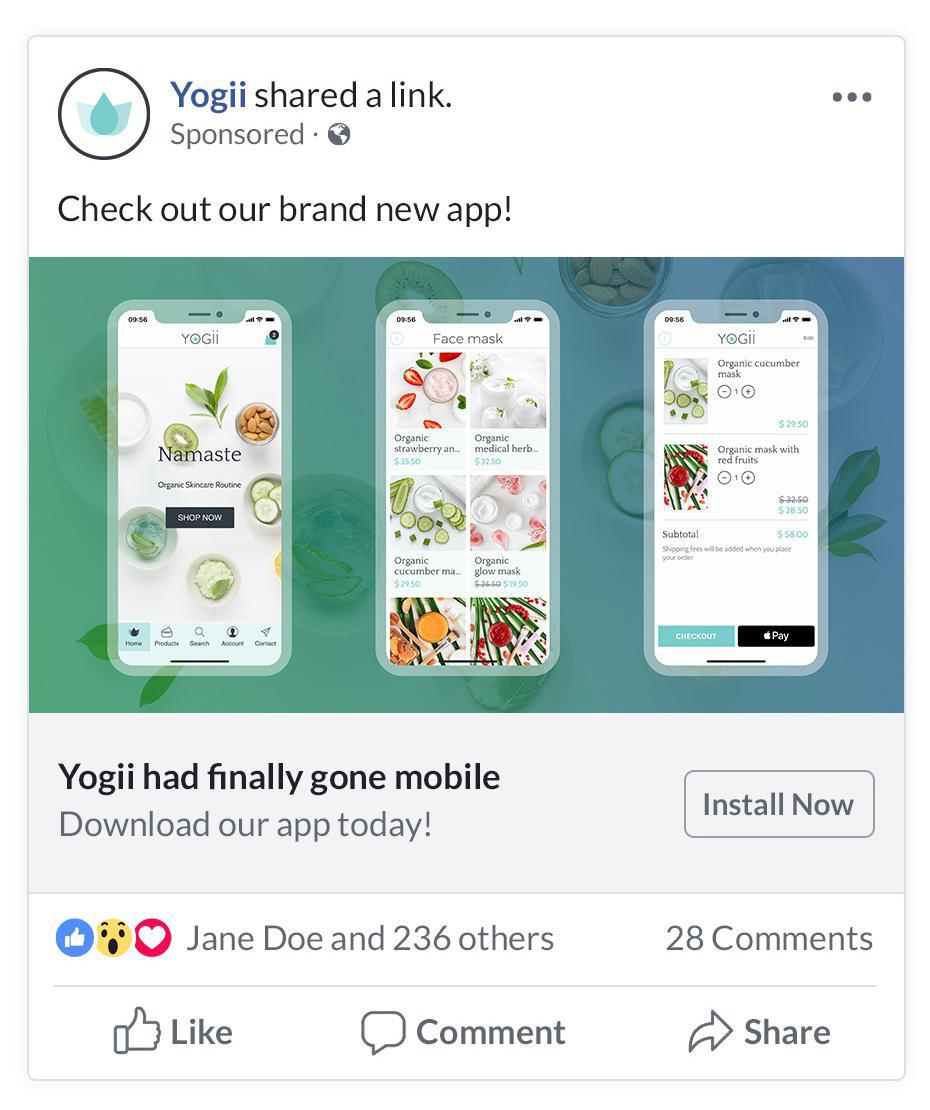 You will be able to collect key data on your users and access your app performance statistics with Facebook Analytics.
To make a profit. Aren't we all in it to make money ;) Social media marketing is an efficient and cheaper way to promote your app to a targeted audience. Also by collecting data and consequently improving your app, you will be able after a while to have a positive ROI on your ads campaigns.
Create your mobile install ads campaign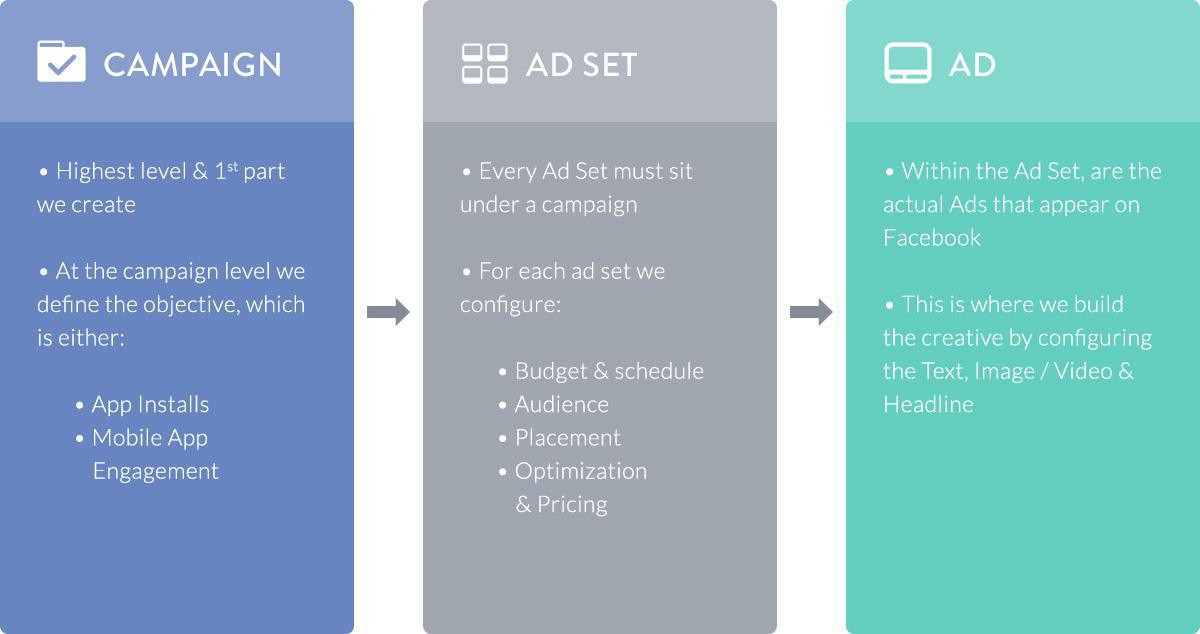 You've got the SDK installed and created a new app on Facebook Business Manager, it's time to create your ad campaign.
The first thing to do is to go to the Facebook Ad Manager. You can do that by clicking the link in the menu on your Facebook home page.
Alternatively, you can use this link to go there directly:
https://www.facebook.com/ads/manage/
Facebook app install campaigns are structured as follows:
Campaigns. This is where you set your objectives and global budget. In this case, get app installs.
Ad Sets: for each campaign, you can have 1 or more ad sets. This is where you set your targeting options, bids type and how you will pay for your advertising. Multiple sets will allow you to target multiple audiences
Ads: This is where you set up the ads that will be displayed on Facebook. You can have multiple ads under each set.
Once you're set up your campaign in the Ad Manager dashboard, you can configure the ad set.
Select the platforms (iOS, Android, Windows, etc) and the minimum supported operating system.
Target your audience: you can define your audience by
- Setting up location, gender, and age. People must match all 3 criteria.
Then set up the detailed targeting:
- Demographic (education, financial, parents, etc).
- Interest (target people who have expressed an interest or like a page)
- Behaviour (digital activities, Travel, Mobile device users, etc)
In the advanced setting field, to be part of your audience, a person only needs to match one of your criteria.
Facebook gives you the option to narrow further your audience. You can add other criteria of demographics, interest, and behavior. In this case, people need to match all the criteria.
If you've decided to have multiple Ad sets (which you enabled in your campaign details), you need to set your budget. Two options are available: daily budget or lifetime budget.
With the daily budget, once you hit the daily limit, Facebook will stop showing your ad.
With the lifetime budget, you must set a start date and an end date to your campaign.
Ad Placement: Facebook gives you the option to show your ads to all devices but for the purpose of a campaign focused on app installs, it is recommended to select "mobile only". Users are more inclined to download an app if they can do it only in one click on their mobile device. With this option, your ads will be placed in the newsfeed or in the "instant articles".
Schedule: this determines how long your ads will run. You can choose to have your campaign ongoing or run between a certain date range.
Optimizing for Installs
Optimizing is pretty much telling Facebook what you would like it to optimize its algorithm to achieve.
In the ad set, when picking your bid type, you can choose to have your campaign optimize for installs by selecting App Installs as your optimization method. This is the recommended approach if your goal is to maximize the reach of your application.
Increase downloads
App Event Optimization
App event optimization is the ability to display mobile app install ads to people likely to take a specific action in your app. For example, if you are looking to acquire people most likely to make a purchase in your app, you can choose to run mobile app install ads that would optimize for the purchases event.
The value of using app event optimization is that, beyond new installations for your app, you will also acquire people who are likely to take a specific action that is of value to your app or business. For example, if you are running a fundraiser, you can optimize on the Donate event. You can choose from any of the standard
app events
.
How to create a high converting install ad?
Creative
No matter the formats you use, choose compelling text, images, and calls to action. Use creative that:
Shows your app on a mobile device. For example, use the carousel format to show several specific functions or products or an image of someone using your app on a mobile device. It has been proven that this type of image helps drive conversion.
Showcases what your app does.
Demonstrates the value of your app.
Drives the action you care about.
With Facebook ads, you can add up to 5 images that will be displayed in a carousel. The recommended image size is 1200 x 628 px and can't contain more than 20% text. You can use each image to showcase an important feature of your app.
It is preferable to use high-quality screenshots, keep a minimal design and uniform color scheme. Unless your app is a game, clashy colors will not look good.
Also, remember your users will most likely be on a small screen. Make sure your images aren't too heavy or detailed, in order to keep their integrity.
You can customize two different areas of text: the headline and the main body.
The headline is the part that sits right below the images. You can use up to 25 characters. Make good use of it, don't repeat words or simply enter the name of your app again. Try to clearly convey in a few words what your app does and capture potential users' attention.
The body is the part that sits right above the image, you can use up to 90 characters. This is where you convince people to download your app. That they need your app.
Tip:
ask a question, use a hard-hitting statement or social proof. Social proof is one of the most effective tools of persuasion in marketing.
If you decide to go for a video instead (they usually work well on social media advertising), make sure that it is of high quality. It might be best to use the services of a professional.
A strong call-to-action button (CTA). Ultimately you need to tell your users what to do. choose an action related to the purpose of your app. For a Shopping App, it could be "Shop now", or "Install Now" if you are offering a service for example. Facebook offers 11 different options (Book now, Shop now, Play game, etc)
Deferred deep links: they send people directly to the information they're interested in when they open your app for the first time.
Right targeting is the key with Facebook Ads:
The first thing you have to do before launching your first mobile app install ad campaign is to create an accurate portrait of your targeted audience.
Once you have identified the needs of your audience, you have to figure out how to reach them. The advantage of the Facebook ad platform is its rich data about users all around the world. Using Facebook tools for segmentation by demographic, geographic, behavioral indicators and interests, you can target your audience with laser precision.
But be careful of not narrowing your audience too much.
Custom and Lookalike audience:
What are Custom Audiences
: Custom audience are users who have performed a specific action with your app. For example, installed the app, subscribed, made a purchase, etc.
When creating your custom audience, you can set all the parameters you need. You also add custom events you may already have created.
This type of campaign will also help you in the long run when you want to engage your users. You can then run different campaigns off an audience that is already highly receptive to your app.
Once you've run custom audiences campaigns, you will be able to run lookalike audience campaigns to connect with new users who are likely to be interested in your app.
What are Lookalike Audiences:
Lookalike is a Facebook algorithm that analyzes your audience and delivers advertisements to users that are similar to yours in terms of behavior, interests, and other characteristics. For this algorithm to be efficient, it is recommended to use it when you already have an important user base. Indeed, the more data you have, the more accurate your targeting will be.
For this, there are two different custom audiences you can use to create lookalike audiences who will be more likely to install your app
- One based on a custom audience of those who have installed your app,
- One based on a custom audience of those who have made in-app purchases or who have high engagement.
Using these two audiences can help you target not only users similar to anyone who's downloaded your app but also to target your most high-value customers who continue to engage with it.
On the other hand, you can also create a Lookalike of users who are unlikely to convert and exclude them from your Facebook app install campaign. This way you can refocus your resources on those who are most likely to engage with your app.
A&B testing
Now that you have created your ads campaigns, it is time to start testing.
Create different ad sets, and run the same ad on different audiences with different parameters.
Try different ads as well.
When the results start coming in, you will be able to analyze the data and narrow it down to which ads, audience, ad sets are performing the best.
A successful mobile app can bring a lot to your business.
And Facebook App installs ads are a great marketing tool helping you reach a wider audience and increase your downloads.
It is an ongoing project. Take the time to analyse your data and improve your ads as needed.
With the right audience and the right strategy, you're on your way to success.
Related Articles