How to write your eCommerce Content Marketing Plan?
Written by Marie Pireddu on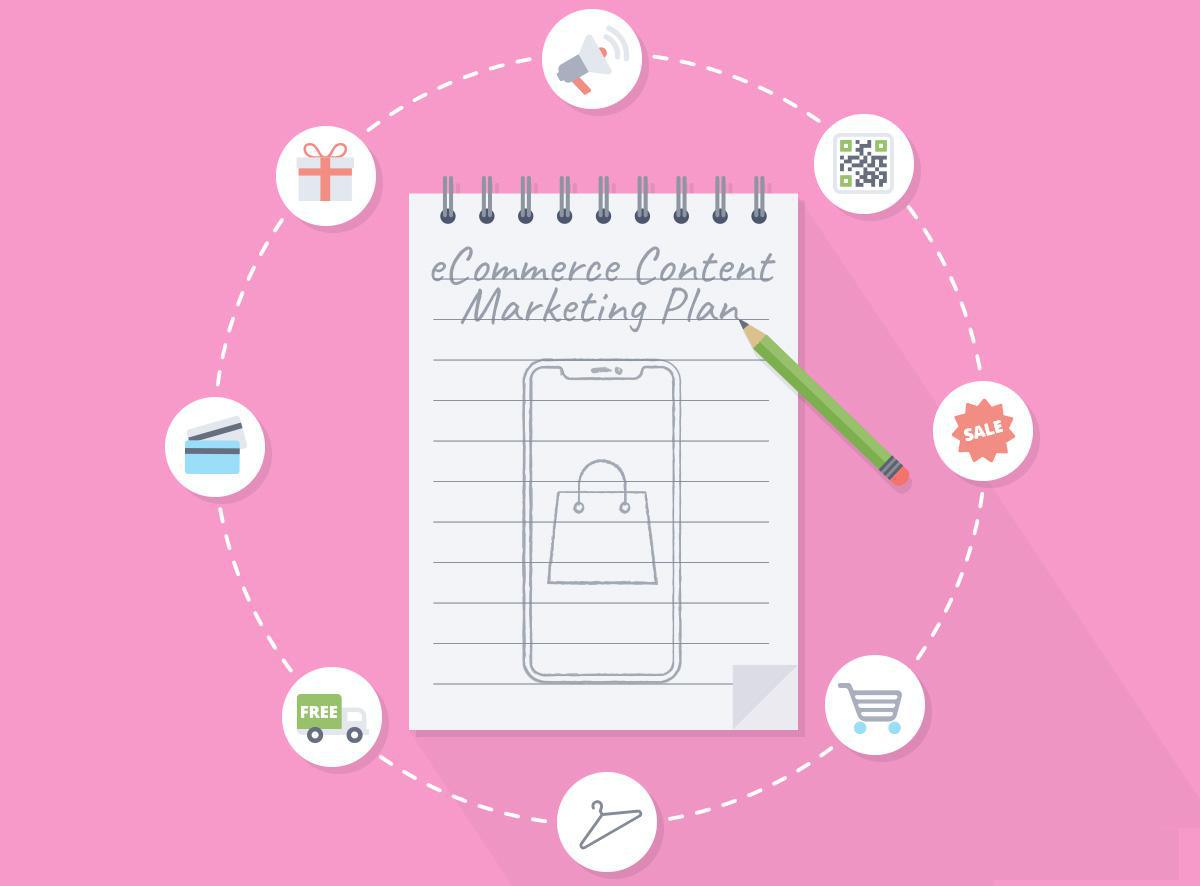 What is content marketing?
It's a strategy of producing and publishing information for your clients that build trust and authority amongst your target audience, it builds relationships and community around your brand, therefore increasing engagements and helping boost sales.
Brands using content marketing have an
average conversion rate of 2.9%,
while the average rate for brands not using it is 0.5%
You can choose between different platforms for your Content marketing strategy: emails, blog posts, YouTube videos etc... You can adapt depending on your skills and needs.
No matter the Content Marketing Platform chosen, the process remains the same: produce content that people want and effectively distribute it to be found via organic search or social media.
1. Set your goals
First and foremost, you need to know exactly what you are looking for. Ask yourself why you should be producing content: Brand awareness, increase traffic, conversion rate? Knowing the "why" behind your strategy is the first step towards success.

Then set specific goals that are measurable, simple, clear and timely. Don't simply aim for "more". Here are a few examples:
- Blog traffic of 20,000 visits per month
- 10,000 app downloads
- Get 15,000 email subscribers by August 2020 etc..
2. Know your clients
"Get closer than ever to your customers. So close that you tell them what they need even before they realize it themselves" Steve Jobs

To distribute the right information, it is important to figure out who your target audience is. If who your target audience is, is not crystal clear, you won't know how to reach them and your marketing plan won't be successful. You also need to find out where they are, where they hang out. It will also help you figure out what platforms are the best places to share your content. One option would be to send your users a short survey asking for their preferences ( Facebook, Twitter, Instagram, Blogs etc..)
You can also use Google Analytics to see where your users are coming from.
3. Decide what to share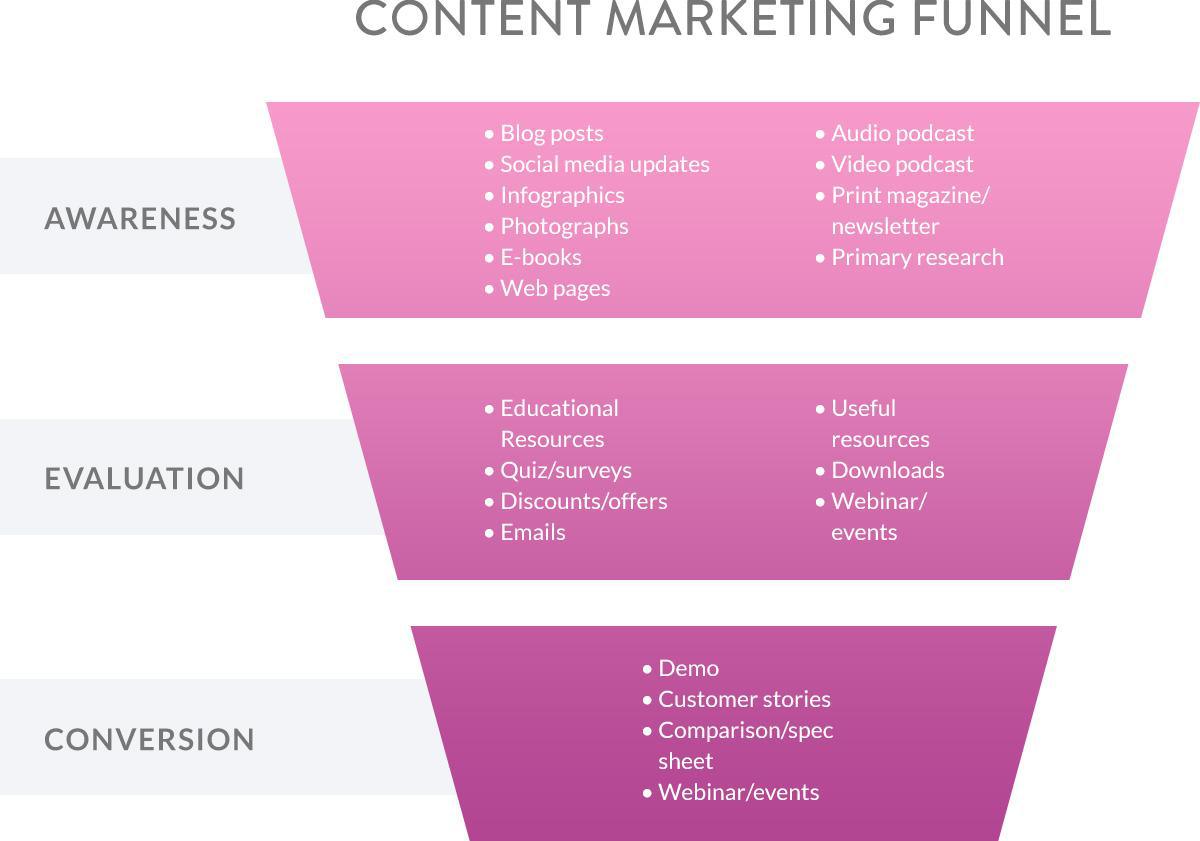 Once you've completed the 2 previous steps, you can now start creating truly useful content. Sharing content that can provide information and answer questions is a great way to build trust. But first, you need to do some more research.

Research your competition. You can find the weaknesses in the reviews posted by their users, Learn from the problems highlighted by them. You'll find out that most of the time your clients know the answer to their problem.

Research Keywords. Look for keyword phrases that your potential clients use as well as the organic keywords of your competition. You can use tools like Ahrefs, Semrush or Moz to help you in your research. In the end, you want to have enough keywords to fill your content calendar.

The type of content you share will also depend on which stage of the marketing funnel, your audience is.
Story telling: For many brands in the consumer market, especially in e-commerce, one important alternative is to tell stories that sell your audience on the lifestyle of your brand. Storytelling is very powerful, as most people want to see themselves as the hero in their own story. Associating your brand with these kinds of stories does a lot for building brand image, loyalty, and appeal. How to become a great Storyteller? Remember these 4 principles:
Great Storytellers collaborate. Ask fellow peers for ideas. Look at other articles written on the topic. It will help you find gaps in your and in their content.
- They know who they want to enchante
- They match the experience to the content
- They don't let the medium distract them from the story
People love visuals. Infographics could be an easy (and cheaper) way to provide info to your clients. 72% of marketers use them. Also, infographics tend to get more engagement on social media than any other form of content. This comes in the form of likes, comments, and shares. The more social media users engage your post, the more visibility it gets – exponentially increasing your infographic's reach (and traffic to your site).
FAQs are another great way to provide this info.
Share your clients' stories or case studies. People love to hear from their peers and love sharing their photos, videos or giving reviews. UGC is an authentic and easy way to find content. Take for example Coca Cola. By adding names to their bottles, people from all over the world share images of themselves with bottles that had their name on it.
Case studies
will highlight how your products or services helped meet your clients' needs. People with the same needs who read or watch these case studies will be more likely to purchase your product or service.
You can also use your blog to create research studies or white papers as resources for customers who want to know more. A case study might cover how your specific product has helped customers.
A research study shows how that type of product helps customers. These articles will help you establish your authority in this sector and build trust, giving you an edge over your competition.
Videos on product pages. As we covered in another article, people can't touch or feel the products you're offering before they buy it. So they rely on visuals instead and your videos can tell a full story. 90% of users say that videos have an impact on their buying decisions. Another advantage of videos is that they can be shared on multiple platforms: your blog, social media, emails. Remember, with GoodBarber Shopping App, your product pages are indexed by Google.
If you don't have the time or resources, try a faster approach.
Guest bloggers. If you are not ready to write your own content yet, you can open up to guest bloggers. When looking for other writers, be very clear and specific on your expectations.
On the other hand, you can also offer to guest post on other blogs. Guest posting on blogs or similar websites is a great way to get more traffic. Search for blogs that write about your niche and ask them if they accept guest posts. If they accept it's a great way to get backlinks.
Share Curated content. The basic idea is to take some (or all) of content created by someone else and feature it along with other related content. (Don't forget to provide credit.). Find out what content is proven, really works. Reddit & Quora are useful tools to find topics.
Even something as simple as a link to a guide in a post for more information could be considered curated content.
You're finding content that you know your readers will be interested in and then connecting them to it. Another benefit of curated content, is that people appreciate being featured, which gives you an "in" to develop a relationship with them.
Email marketing. Your Ecommerce website or app already gives you opportunities to send emails to your clients: order confirmation, shipping in progress, order delivered, abandoned cart emails, etc… Why not use these emails to drive more conversions? Offer a discount on the next order, recommend other products based on what they bought ..
4. Promote your content
Once you've created great content, the work doesn't stop there. You need to promote it. Otherwise all your efforts would be wasted. Promoting your content is as important as the content creation. Remember the "marketing " part of Content Marketing?
How to actively promote your content:
Social media: it won't be enough to simply post your content once. Posts on social media have a limited lifetime. Chances are, your audience might have missed it the first time you posted it. Or you only reached a small percentage of your audience. So how to extend the lifetime and effectiveness of your posts?
- Post at optimal times. You can use social media analytics tools to understand when the majority of your audience is most active on social media and where they are.
- Post the same content multiple times. You might be hesitant to post the same content again, but as explained above, if you only reached a small percentage of your audience the first time, the majority may have not seen it yet. Also, even though you're posting the same piece of content again, it doesn't mean that your message must remain the same. You can optimize your message by changing the title, asking a question, share a quote.
Promote your content by repurposing it on different platforms. Turn it into an infographic, a YouTube video. Videos are very popular with mobile users .
You can buy paid ads on social media (Facebook, Instagram) or search engines (Google Adwords).
Influencer marketing: Having an influencer mention your content is a great way to bring notoriety and recognition to your brand.
As covered earlier, you've normally already focused on keywords. But this is an ongoing process. Once you've gained some traffic, optimize your articles with more competitive keywords.
Internal links are also important. They allow your clients or potential users to click to other relevant articles. The longer a user stays on your site, the more they get to know and trust it. Internal links help Google understand what topics you cover and index it accordingly. Link your new content with your most popular content.
Be consistent. Keep posting regularly no matter how many people are engaging with it. Content freshness is an important criteria for search engines when determining pertinence.
To be successful, eCommerce marketing plan needs to be adapted to your sector.
Know your target audience, find out how to reach them and create high quality content by finding the right balance between a traditional approach (content to help solve a problem) and lifestyle appeal (Storytelling).