Meet the GoodBarber team in Lisbon, we're hiring iOS and Android developers!
Written by Dumè Siacci on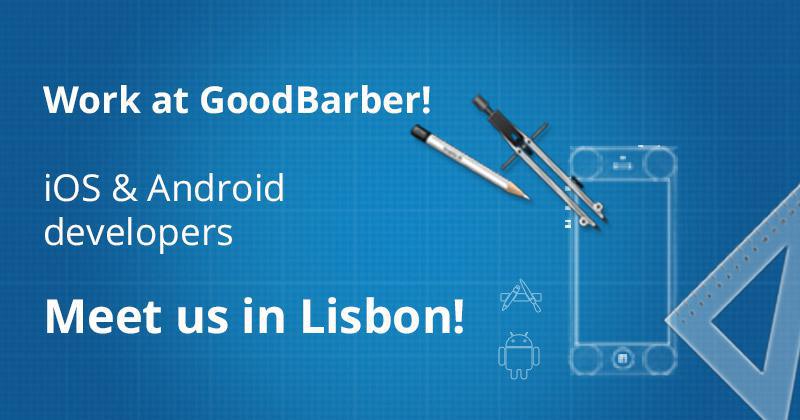 Part of the team will be in Lisbon, Portugal from June 3rd to June 5th. We'll be attending the
Lisbon Investment Summit
, which is expected to be a great event.
We'll also have some free time and we would love to meet some great developers ready to join our team.
Interested in being one of them? Take a look at our open positions, and contact us if you would like to meet up.
Senior iOS Developer & Senior Android Developer positions
You can find our detailed job offers on LinkedIn:
Senior iOS Developer
and
Senior Android Developer
Our mobile engineering team is looking for experienced iOS & Android engineers to help build, maintain, and improve our engine to create native apps. You will be part of a fast-paced team driving ongoing product advancement. You won't just be working on an app, but the engine that will be used to create thousands of apps. This challenging and exciting project will allow you to grow and greatly improve as a developer. The ideal candidate is comfortable in a flexible start-up environment and will bring an energetic, fun, and creative approach to their work.
These positions include a training period of 6 months in Ajaccio, Corsica (travels and accommodations are fully covered). Then you can choose to either continue working from Ajaccio or work remotely.
These positions come with all of our usual working conditions:
- Attractive salary to be negotiated according to experience
- Full health care insurance coverage
- Relocation packages (travel & accomodation coverage)
- Choose your own working setup policy
- Free tea, coffee and fruit at the office
Feel free to contact us for any details about these job offers!
You can find our detailed job offers on LinkedIn:
Senior iOS Developer
and
Senior Android Developer
We're looking forward to meet you in Lisbon :)