Resellers: How to use social media to boost your acquisition?
Written by Christophe Spinetti on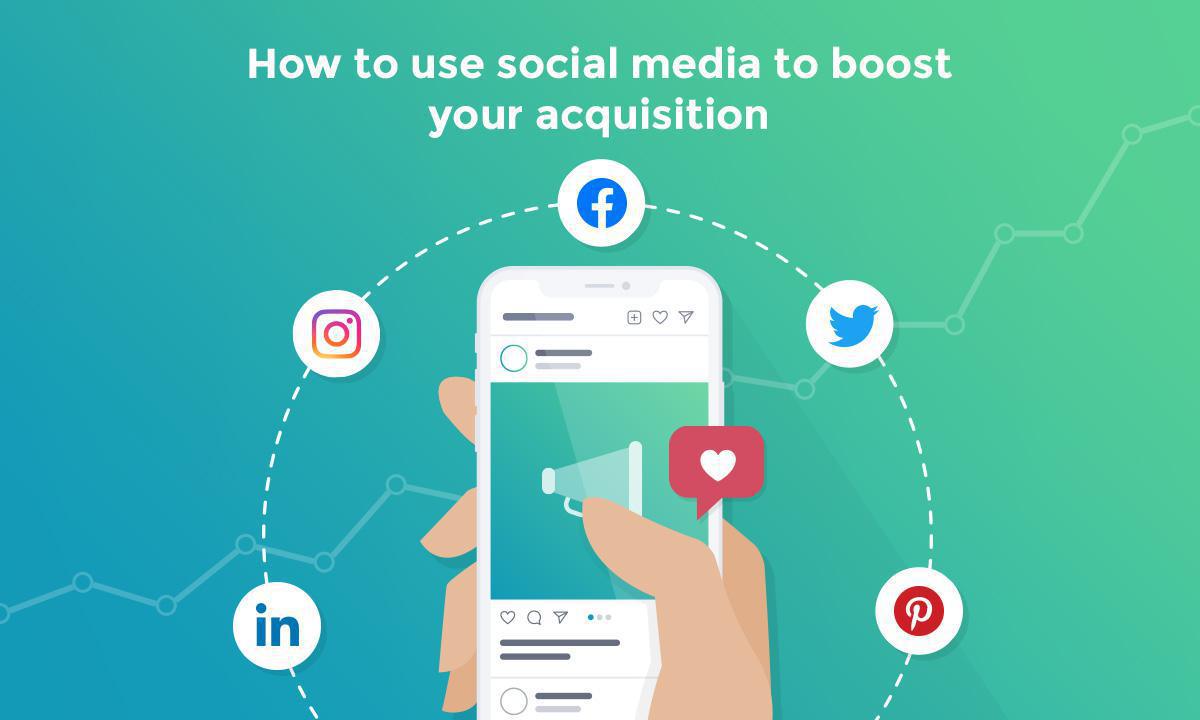 As a reseller, your main goal is to find clients to sell apps to. In our
Agency Spotlight
+spotlight/ series, you'll find examples of successful Resellers who give ideas on their acquisition strategy. Although we know that word of mouth and business development are important in your business, we are convinced that social media can help you generate even more interesting leads. We've worked with our Traffic Manager, Michaël Vergamini, to present you with strategies to boost your acquisition using social media:
1/ Don't forget the basics
As an agency, your goal is obviously to get future clients to contact you and take an interest in your business. Whatever network you are present on, your pages must be up to date and animated.

Include as much information as possible:
Address, email, phone, website... It seems obvious but sometimes when your clients or leads are looking to reach you, they quickly switch to your page on their favorite social platform. If any information is missing or if the page is not up to date, it will cause frustration. If you can't keep your information up to date, you might as well not create a page. It would have the opposite effect.

Take care of your images and logos:
Your audience is solicited from all over the different social platforms. Poor quality images and designs that aren't attractive won't have the expected results. Of course, try to post news regularly, talk about the expertise of your team... Your audience will love "behind the scene" posts, especially on Instagram. You can also use social media to post urgent information, success stories, specific problems...

Respond to inquiries:
Sending a message on Facebook Messenger regarding the use of a product or service has almost become a reflex for your clients. You must therefore take into account the messages on social media and respond seriously and promptly. Be particularly careful with public comments and messages. We advise you to ALWAYS respond to them. Even if it's criticism. In the case of a virulent message on social media, react as professionally as possible, remaining factual and above all, do not get into an argument with the person. If the discussion is likely to be uncontrollable, just comment by saying that you have contacted the person in a private message, so as not to create a chain of aggressive responses on a public channel. Criticism, if handled well, can be productive and you can sometimes take advantage of it to turn an unhappy client into a loyal supporter of your agency.
2/ Define your target and objectives
Facebook has more than 2.7 billion active users, Instagram more than 1 billion. Whatever your target is, it's surely present on a social network. Nevertheless, it's not enough to create a page on one of them and wait for contacts to flood in. To stand out from the crowd, we advise you to set up an advertising strategy. But before that, here are the questions to ask yourself:

Who do you want to reach?
If you are active in a particular niche, it will be easy to know which user groups to reach for your ads. Normally, it's easy to isolate and target a particular audience on social platforms. However, you can use social media to broaden that target. GoodBarber offers more than 500 features and there are surely other areas of business that you can reach with GoodBarber apps. If you're not known by this new target, you can use social networks to test the field. For example, during the Covid19 crisis, many Resellers who were only using Classic apps decided to launch Click&Collect apps, whose demand increased suddenly. Dedicating a small advertising budget on social networks to capture this new clientele can be a good strategy.

Why reach this target?
As said before, either you have a business specialization or references on a particular target. You will want to capitalize on this target and use your credibility to try to find new clients on your core business. However, it's difficult to sell an app directly via an ad on social media. Advertising will not lead you to a specific product page as if you were selling a pair of shoes or a cap... So you need to define in advance if you just want to get contacts for your sales team, show your expertise by publishing white papers or simply bring traffic to your website and increase visibility. To be honest, the most interesting thing is to try to get contacts for your sales team ;)

What will be the Objectives / KPIs to follow?
Depending on your strategy, you can define which KPIs (Key Performance Indicators) you will follow. Then you'll have to choose your CTA (click-to-Action). CTA is the action that is triggered after your lead clicks on your ad. If your CTA is a download button, you will of course check the downloads this ad generates. But before that, you'll have to count the number of times your ad has been displayed. And to check its profitability, you'll have to track the turnover made by clients who have clicked on the ad.

Here are the most common KPIs:
Number of displays
CPM (Cost per Print/Display)
Number of clicks
Click Rate - CTR (No. of clicks/no. of views)
CPC (Cost per Click)
Number of downloads
Number of leads generated
Number of clients obtained as a result of the ad
Lead/Client Conversion Rates
Average revenue from advertising clients
Etc....
3/ Choose your platform according to your target and your objectives
There are many social networks, some generalist, some very specialized. You can of course choose to create strategies on specialized or targeted networks. Nevertheless, we will go through the most common and the ones with the most users in order to guide you in the best way if you have never done campaigns on social networks.
Facebook / Instagram:
You can now do both at the same time via the Business Manager. Facebook offers you a very high degree of targeting accuracy and allows you to do awareness, traffic acquisition campaigns, or performance (lead acquisition). Many formats are possible (single image, carousel, videos, stories...). It's the most accessible platform and will therefore be able to suit small budgets as well as the most important ones. Facebook is the largest social network in the world (2.7 billion users). Instagram has 1 billion users. They are generalist networks but they have so much data about their users that they can allow you to reach a large or very specific target.
Linkedin:
The professional network par excellence. It has 760 million users worldwide. The audience is extremely specific and therefore very qualitative. This network is really business-oriented. Users are there to do business and are therefore receptive to contacts and targeted advertising. The main disadvantage is that advertising is very expensive on Linkedin. It's possible to advertise with images, carousels, and videos.
Pinterest:
A social network that despite its 422 million users is not the preferred platform to sell apps. In fact, advertising on Pinterest is more advisable for sellers of physical goods (clothing, shoes, decorative objects, jewelry etc.) and especially in the context of awareness campaigns (to make your brand known). On the other hand, you may be quite interested if you run campaigns for your clients who have Shopping Apps. It's also a good social network to work organically (to be recognized by search engines). Moreover, if you've designed beautiful apps or
created demo apps
you can take advantage to showcase them on this platform.
Twitter:
Twitter has lost some interest over the years. Indeed its audience is stagnating at about 330 million users. This is well below Instagram and Facebook. It's therefore now slightly less impactful and relevant to advertise on this social network. In terms of targeting, there are still a lot of possibilities. And as for Facebook and Instagram, the advantage is that you can control the campaigns, and consequently adapt the expenses to all types of budgets.
4/ Prepare your campaigns
Once you've chosen your objectives, defined your KPIs, and selected the platforms on which you are going to advertise, you'll need to launch the campaigns. Here are a few tips:

Define your budget:
Thanks to your platform audience assessments, you'll be able to know how many people you can potentially reach. Based on this, you'll be able to decide what budget to spend on your campaigns. Keep in mind that the more accurate an audience is, the more expensive it is to reach.

Be creative:
Each platform has its own requirements. On Facebook, for example, it's recommended not to put too much text in your images or more generally to use colorful visuals to attract the attention of the users. In any case, make sure you're aware of them and comply with them. Also, try to adapt your creations to the platform you use. If you're not a graphic designer or don't have one in your team, you can use software such as PhotoShop or Canva. Some platforms such as Facebook have an ad builder that allows you to create ads quickly and easily. Nevertheless, if you really don't feel comfortable, it's worth using a freelance graphic designer from time to time. As we saw above, social media users are overwhelmed with images. To be efficient, your images must be of great quality.

Work on your message:
It's important to define a clear, concise, precise, and catchy message. Users' attention on social networks is very limited. They have to understand your message in a fraction of a second. And if it's a bit provocative or punchy it will more easily catch the attention of your lead.

A/B Testing:
When you're going to be in front of your screen to create your ad you'll sometimes have to decide between such and such message or such and such image. You know your business and your sales arguments well. You'll be tempted to put as much information as possible. But as we saw previously, the message has to be precise and concise. There's the dilemma. So make the right decision. Create 2 or more ads and put them in competition with each other. Most platforms offer this possibility. This will allow you to see which message is the most effective. You can repeat these tests over and over again.

Think carefully about the after-click (Call-to-Action):
What do you want to send your target to? The ideal is to create a Landing Page. It's a page with a specific design and content, which is not visible on your site, but which is in line with your advertising, in order to attract your lead in an identified channel. We advise you not to overload this page and to put only key information. This way the visitor will find the info more easily and convert more easily (fill out a form, request a demo, request a quote etc...). If you send the lead back to your site he may be lost in a mass of information and lose the point.
IMPORTANT: The landing page must be optimized for mobile. Do test this. Browsing on social media mainly done on mobile ... But you already knew that ;)
5/ Optimize and measure the results of your campaigns
Finally, after following our advice, and once your campaigns are launched, there's still work to be done. Indeed then begins the optimization and follow-up of the campaign. You must follow your campaign in order to optimize it and make sure it performs. Once this is done, you'll then be able to review the campaign and see its return.

Follow the KPIs:
You need to create dashboards in addition to the dashboards provided by the platform tracking tools, especially if you choose to run campaigns on different networks. Using Google Docs is a good practice. It's convenient, reliable, and free. It will allow you to keep a history of all your campaigns and compare them. The goal is to know what works in terms of audience, format, and message. If you've followed our advice in the previous chapter and have been doing A/B testing, you'll have to decide at some point which ad to keep and which ad to replace. You should also be diligent about keeping to budgets so that you don't get overwhelmed. On the contrary, if you see that you cannot spend your budgets, it's because the audience is poorly chosen or too small. A good follow-up is decisive in the success or failure of a campaign.

Analyze the phases of the acquisition funnel:
Following the different KPIs will allow you to set up an acquisition funnel divided into several stages. Accurate analysis of the numbers at each stage will reveal when you're performing best and where you need to improve. By dividing the phases, the analysis will be simpler, faster and you will quickly put your finger on the blocking points, or on the contrary the indicators that have good performance.

Don't forget the ROI (return on investment):
Measuring KPIs at the top of the funnel (impressions, clicks...) can be good for morale if the numbers are good. Unless you are doing awareness campaigns or tactical campaigns to counter competitors, normally the final goal is still to generate revenue. Of course, there will be a period of time between the time the lead clicks on your ad, becomes a lead, is contacted by your sales team and finally buys an app. It's therefore imperative to measure the effectiveness of your campaigns by tracking data to know the number of leads and clients reported, the acquisition costs, and finally calculate your ROI.
Conclusion
Driving acquisition through social media requires work and investment. We know that many Resellers only use their sales team to acquire clients, and this is a good strategy. Social networks will not replace them. But they can come in to support during difficult times, help redirect your client targeting or simply provide the team with new leads.

Finally, don't forget that you regularly have to advise and train your clients on digital tools. If you become a master of advertising strategies on social media for your agency, you'll be able to capitalize on this expertise by offering a new service to your clients. Think about it, it's a good business opportunity for you ;)
Still not a Reseller?
Here's how to try out our platform for free
1/ First, you need a Content App! Create a trial version here:
https://www.goodbarber.com/create/content
2/ Fill in the Reseller form directly in your back office by going to Add-ons > Services > Reseller then select either the Reseller Classic or Reseller Classic&Shopping plan.
3/ Login to the Reseller dashboard here :
https://www.goodbarber.com/reseller/manage/
Article originally written: 04/24/2017
Article updated: 01/22/2021