Responding to the #1 Sales Rejection : It's too Expensive!
Written by Christophe Spinettiii on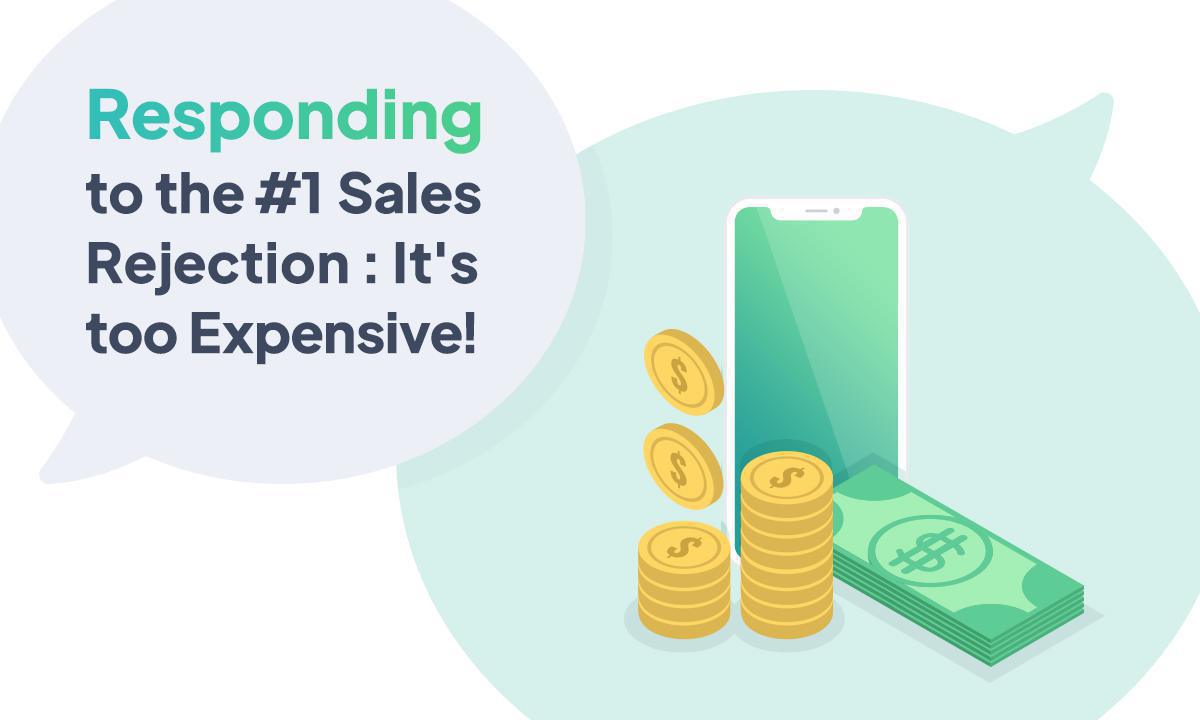 One of the biggest challenges agencies face is managing to convince certain clients that a mobile application is a worthwhile financial investment. For small businesses with limited funds, an app is not considered a necessity for their business strategy, but more of an expendable luxury. How do you convince your audience that they really need an app, even if the cost seems too high?

1. A reasonable investment
2. An optimal return on investment

1. A reasonable investment
The
most common objection
from your leads will probably be the famous: "it's too expensive". When you are told that your service is too expensive, the first thing to do is to check that your solution corresponds to what your client expects. It is, therefore, necessary to move on from the price itself and check point by point that the lead has understood your offer and that it fits with the needs of their company. Indeed, if the product is not adapted, it is useless to enter into negotiations. Once all this is validated, a client who always tells you that it is too expensive will want to lower the price because it does not fit into their budget. One of the techniques, in this case, is to compare the price of your service with other services. Indeed, a custom app costs on average 25.000€ just for the creation. You have to add to that the annual maintenance and hosting.
As a GoodBarber Reseller, you benefit from a fixed subscription no matter how many apps you create. This way, you can provide your clients with a powerful app at more competitive rates than that. However, this is not about selling off your skills and savoir-faire. But, thanks to GoodBarber's low cost and time-saving software, you can position yourself at a lower rate than your competition... and fit into your lead's budget. You can even compete with website vendors. If your lead is hesitating between creating an app and a website, you can offer them GoodBarber's all-in-one solution with the integrated Progressive Web App. Since you don't have to create the app with 3 different tools (iOS, Android and Web), you can offer the package at an affordable price. This way, they will be able to consider your offer even if you are a bit more expensive because they will have an app and a site at the same time.
You also have to take into account that your lead will think that the mobile will not bring them much traffic and even that it is superfluous compared to a website alone. If you find yourself in front of people who are not yet very comfortable with technology, you may have difficulties convincing them. However, if you put them in front of indisputable figures, they will be forced to admit that mobile traffic is the most important nowadays. And no matter what industry they are in, you can tell them that their audience or customers are on mobile. More than 50% of the world's web traffic is on mobile, $143 billion will be spent on smartphones in 2020 and each smartphone user spends about 4 hours a day on mobile. Mobile is not a gadget or a fad. Your clients will be sensitive to these kinds of figures because they will realize that they need to reach their customers where they are and that is on the mobile.
Finally, you will also have the possibility to negotiate your rates on certain criteria. For example, you can offer packages that will allow your clients to manage their investments. You can also offer tiered pricing, with paying options on features (
see chapter 2
) or services. For example, if you sell an eCommerce app to one of your clients and they don't already have a database with all the products., you will have to integrate the products into the app one by one. You can
give your client access to the back office
of the app so that they can enter the data themselves. This will save you a lot of time and you will be able to give them a discount on the service.
Finally, you can also propose to be paid afterward. It is riskier but if you are sure of the future success of the app, it can allow you to show your client that you are confident in your service and thus make them accept your rates more easily. Remember, an app is an advanced technological tool. It takes a certain expertise to create an app and to publish it on the stores. It requires skills and time. So we advise you not to undersell your services. You are experts with specific skills. It's harder to build an app than a website, so don't forget to value your services. If a client negotiates, you can give them discounts or facilities but always in exchange for an effort on their part.
2. An optimal return on investment
Once you have desecrated the price and shown the interest for your client to have an app, you can enter the field of return on investment. And in this case, don't hesitate to get into the details of the numbers. Here are the features offered by GoodBarber that will help you make your clients' apps profitable, and thus show them that it's a profitable investment.

Internal ad server

Your client can monetize their content with advertising. There are two ways to include advertising in your app: external ad networks (AdMob, Facebook..) or create your campaigns via the internal ad server.


External ad networks are a good option for some projects, but their disadvantage is that you cannot choose in advance exactly which ads will appear in your application. For small businesses, it usually makes more sense for them to team up with other local brands to create mutually beneficial campaigns that offer maximum relevance to app users.

For example, imagine a coffee shop that regularly hires a live band to come in and play, and perhaps even feature them in their app as background music. Why not display a banner to announce ticket sales for that band's next show? Both parties benefit: the cafe earns some extra money from the campaign, and the band promotes their concert to what is likely their target audience.

Loyalty Cards and Couponing

With the loyalty card or couponing options, your clients will be able to set up customer loyalty tools. The goal here is to offer a digital version of the eternal stamp card. The loyalty card in the app allows, after a certain number of points accumulated, to win a gift. The end-user can validate their points in 3 ways: by validating a QR code, by going to a defined geographical area, or by sharing a post on social networks. For couponing, it's even simpler, the business manager (your client) creates coupons with discounts or gifts based on criteria they choose in advance. All the owners of the app will be able to access the coupon and validate it in the physical store.

The main purpose of these options is to create buzz around a business, to build customer loyalty and to attract them physically to the establishment. In addition to being efficient (who still keeps paper loyalty cards?), these options offer an optimal user experience and above all give a modern image to the merchant.

When commercial features such as loyalty card and couponing are activated, another menu is opened in the backend called "Statistics". Here you will find an estimate of the revenue generated by the features as well as statistics on user activity with these features. And as we saw above, you can activate this option for free as a test, and once the results are in, you charge for the service. It's a way to get your foot in the door, and your client will be happy to save money upfront.

User base and push notifications

Enabling the "Authentication" option allows users to register and create a profile in the application. This opens the door to a lot of information. Adding custom fields at the registration stage (beyond the standard age and location) can more closely define and qualify users' interests and preferences, their lifetime value to the business, the likelihood of them becoming clients, etc.

Once the user base starts to grow and your client has a solid inventory of data in the backend, this list can be exported. The export can be used to create mailing lists and in other communication strategies. And thus generate additional revenue for their company.

Push notifications are a very effective marketing tool. Indeed, the users of the app have to give their permission to receive push notifications. We can therefore think that they are asking for information or good deals. The reach of a promotional Push is much more effective than an email or an SMS for example. Your clients will be very satisfied with the return rates for their marketing actions via the app.

eCommerce

The essence of eCommerce apps is to sell products. So, your client will immediately see the return on investment they can get from them. As we have seen above, the revenue generated by apps is constantly growing. This phenomenon has been increased with the different lockdowns around the world. Indeed, studies show that the smartphone is used to relax while the computer is synonymous with work. So people are shopping in their downtime via their smartphones. With an eCommerce app, your client is guaranteed to reach their customers wherever they are. But that's not all. With the sales optimization options offered by GoodBarber, you'll show your clients that the investment is worth it. For example, abandoned cart tracking allows you to send a reminder push to every client who has an open cart in their app. And sending a push is more effective than an email, remember ;) There are also several payment options: Credit card (Visa, Mastercard, American Express..), Apple Pay and Paypal. Finally, you can offer options such as quick buy, which offers the possibility to add a product to the cart from the home page, or the "buy again" option which facilitates recurring purchases.

If your client is a local business, you can offer several options: delivery by zip code, choice of delivery times, offline payment (for those who want to pay cash to the delivery person for example) and click and collect (so that your clients can book online and come and pick up their parcels in the store).

Finally, with our new integration with Zapier, you will be able to make eCommerce apps interact with your clients' existing tools and make them more efficient.

All these options are designed for business and bring in more money through the app. If the app is profitable, your clients will no longer tell you that your service is too expensive ;)

Conclusion
The purpose of this article is of course to give you ideas or answers when your client tells you that it is too expensive to own an app. As you can see, the idea is to compare the price with other services and show the return on investment. Of course, payment facilities or discounts will also help you close the sale. In the "return on investment" part we talked about all the options present in GoodBarber that allow you to create value with the app. And it's not over yet. In the next few weeks, some new options will offer your clients new opportunities to generate revenue from their app. Stay tuned ;)