Shopping website or Shopping app?
Written by Marie Pireddu on
If you are reading this article, chances are you already know that Mobile is no longer a trend in eCommerce but an accepted standard in the online shopping journey. And while most retailers have invested in mobile responsive website, quite a few still wonder if they need a Shopping App.

Let's see what are the pros and cons of each platform and how you can use them for your business.
Mobile Website
Today, Mobile sites are still the first choice for a lot of retailers. While this seems to be the easiest answer to their need of presence on mobile, is it the best?
More affordable:
Mobile site development is more time and cost-effective than the development of an app, especially if you want to be present on different platforms. A single Mobile website is reachable across many different types of devices, contrary to mobile apps which needs to be developed for each OS. The maintenance of the mobile site is also less contraignant
Easily accessible:
any shopper can access it directly via a browser on any device. No need to download anything (and therefore no deletion either ;) ).
Still receives a lot of traffic:
retailers mobile sites generate more traffic than their apps. Indeed most users still find stores by using their browser thanks to their accessibility. They are also easily shareable amongst users: A simple URL is enough and can be sent by SMS for example.
Limited User experience
:A mobile site is slower than an app and doesn't offer all the extra features possible with a Native app (geo location, push notifications etc…)
Limited conversion:
It's a fact. Mobile web sites convert less than Shopping App. A less intuitive navigation, extra steps to checkout can frustrate visitors who will click away from the site rapidly.
High cart abandonment
: One of the main reasons people leave before finalizing their purchase? Having to enter their credentials every time. That step is enough to scare away your potential buyers.
Why a Mobile Site : a mobile website is a great tool to generate brand awareness and get users familiar with your shop. Its easy accessibility and availability across different platforms, allows you to share your content to a wide range of people.
Shopping App
More recently, Shopping apps are beginning to emerge the technology attracting the favor of customers. But do they have all the answers to retailer's need?
The numbers don't lie:
70% des clients prefer les Shopping App*
According to comScore data, a retailer's app shoppers, although fewer, cumulatively spent more time with the retailer than mobile web shoppers.
Repeat orders:
Shoppers are twice as likely to return to a mobile ecommerce app within thirty days than to desktop.
Conversion
: If a retailer owns an app, it will convert 3 times more than their site. With an app, shoppers view more than 4.2X more products compared to a site and the easy checkout process facilitates the the purchase.
User experience:
mobile apps are much faster than mobile website and offer a more intuitive user interface, making it easy to complete tasks. For example, they retain user data, enabling one click checkout. The shopping journey is fluid and seamless.
Digital Wallets
: payment options such as Apple Pay, Google Pay provide a much faster and seamless checkout experience lowering cart abandonment.
Higher cart average:
With key points such as easy navigation while browsing products ((4.2X more products are viewed on an app compared to a site) and Digital Wallets, Customers spend on average twice as much when shopping on an app compared to a website.
Convincing potential users to download the app:
the difficult part with an app that people need to trust your brand before they decide to download your app. While with a website there are no commitment, it can take longer for a user to finally decide to add your icon to their Home screen.
Expensive:
Whether you are knowledgeable in programming language (both for iOS and Android) or hiring an Agency, it can be time consuming and expensive to develop a native app. That's where app builders like GoodBarber come in play. They are a much more affordable option and give you the opportunity to create a native app without needing any coding knowledge.
Choosing the right tool to develop your native app:
If you decided to use an app builder, make sure that the solution offer the features you need and is present across platforms (Android, iOS). GoodBarber uses the best technology to create your native app specifically for each OS.
In any case, always keep the user experience in mind. If your app doesn't perform well, it will quickly be deleted by your shoppers.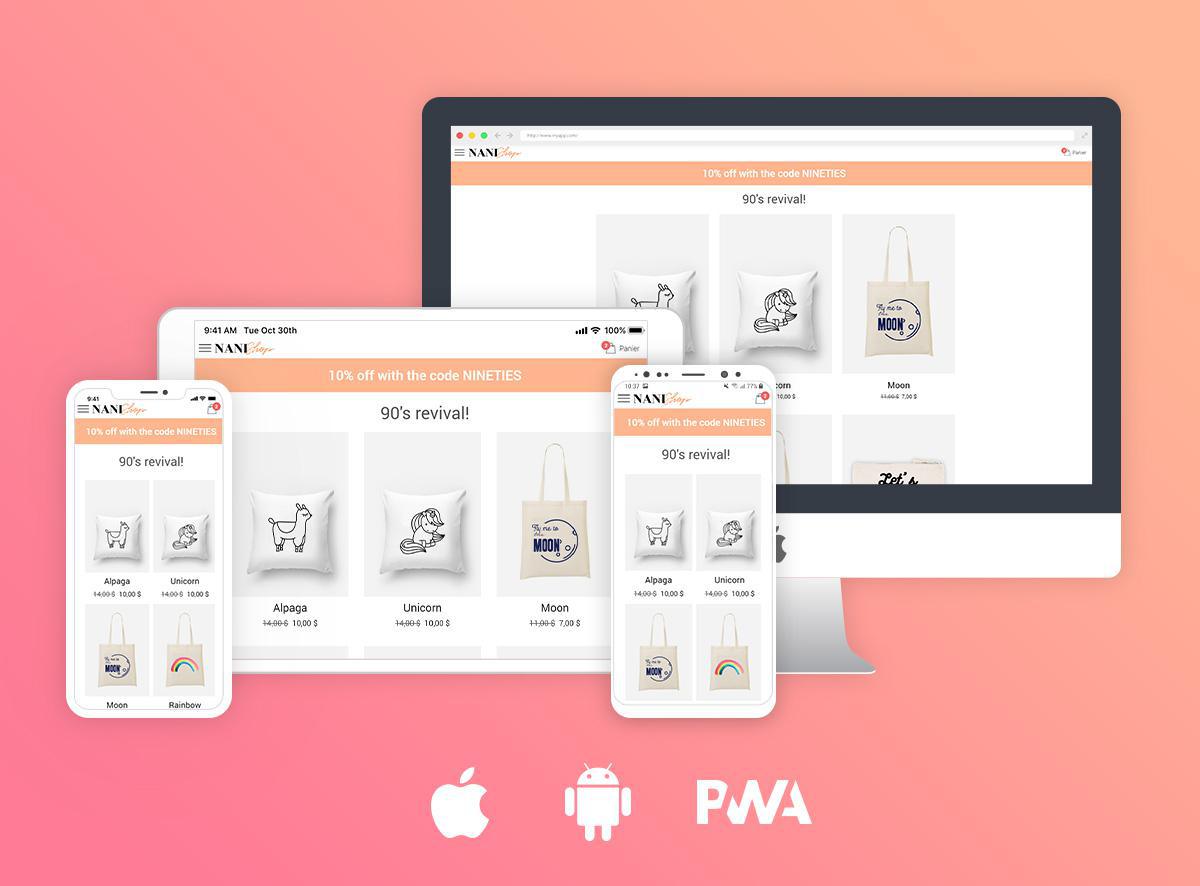 Why an App: While it might be difficult to get through the hurdle of the download, once users have your icon on their device, your app will help you gain loyal clients. With integrated features such as push notifications, one-click payment and a user friendly navigation, you can increase your client retention and boost your sales.
The best solution: get them both
In many ways, mobile apps and mobile sites are complementary. So why choose?
With GoodBarber, you can have it all - An All-in-one platform that covers 100% of the market (web, iOS and Android). Your native app gives you access to advanced features (push notifications, camera access, geolocation etc) while your PWA complements your native app ensuring you to reach an extended audience.
With your Progressive Web App:
Create brand awareness and be easily searchable for potential shoppers. Your PWA is developed with a code optimized to be indexed by bots and all the product pages of your PWA are indexables helping you obtain favorable SEO. With good SEO, your Progressive Web App will come up as one of the first results returned by the search engines when a potential shopper types the keywords you're aiming to be positioned around.
With your Native App:
build a community and create loyalty amongst your clients to increase your sales. With the integration of Digital Wallets and the Auto login feature, checkout couldn't be an easier or faster.
With GoodBarber compete with the big brands on all platforms. Create a beautiful app with cutting edge design and provide your clients with the best shopping experience possible on mobile.
Still hesitating?
Try it for free
Related Articles