The Thalas Expedition shares their around-the-world journey with an app
Written by Marie Pireddu on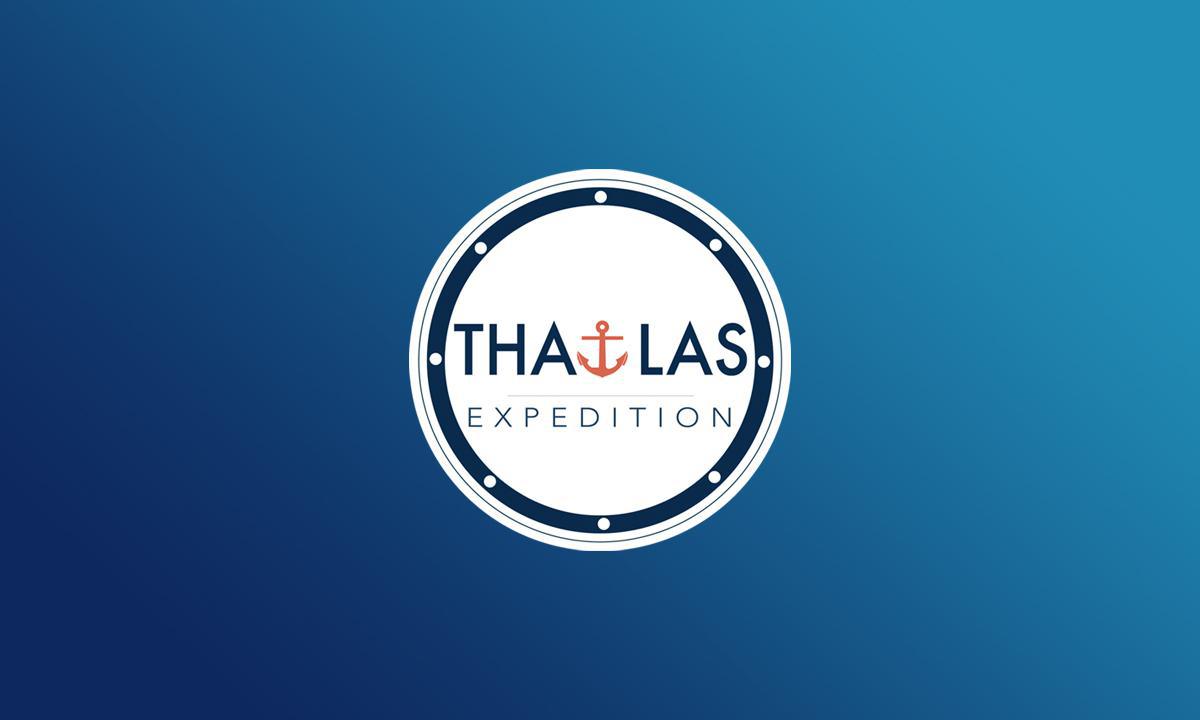 This month's Success Story is the Thalas expedition. We had to pleasure to meet the app owner and expedition leader Thomas Capiten and visit their boat during their stop in Ajaccio's harbor along their Mediterranean tour.
About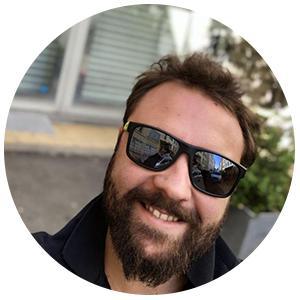 Preparations for the Thalas Expedition started in 2015, spearheaded by Thomas Capiten and his wife Audrey. The goal of Thalas Expedition is to go on three sailing missions. The first, in the French Mediterranean, has just been completed by Thomas, his wife, and two daughters. The second mission is slated for 2022 to sail all around the Mediterranean basin. The third in 2023 will be a five-year around-the-world trip. A purpose-built catamaran is under construction, 22 meters long, 10.5 meters wide, and due to be delivered in 2022. It will have a 20 square meters lab on board. The team - scientists as well as passionate explorers - will change in the course of the missions.

The goal of these missions is educational: to show younger generations the wonder and mysteries of our oceans and seas. It focuses primarily on the importance of these fragile ecosystems, the dangers they face, and, more positively, on the lengths to which various people and organizations are going to preserve our marine environments.


The role of Thalas is to meet these "heroes of the ocean and seas" each one unique, specializing in different fields, working at a local level while collectively working towards saving the oceans and seas.


Thomas explains that the big problem today is that, if you ask people what is the ocean or the sea, their reply will be water, salt, seaweed, fish, and boats sailing on them. That is fine but few will add - plastic. Most people are unaware that plastic waste has become a significant feature of marine environments. This is especially relevant in the food chain. Plastic breaks down into microparticles, becoming "inert plankton" eaten by fish and then by us, thus finding their way into human bodies. People need to be educated that the oceans and seas consist of a multitude of biodiverse ecosystems that are all interconnected. If you modify one, the rest in some way become modified too.


Telling people - adults and particularly children - not to throw away plastic but to recycle it and to try to reduce using plastics in general, is easy, but do they do it? More important is to show them what happens when plastic winds up in the oceans and seas and to demonstrate what can be done - and is being done by the "heroes" - to meet the challenge. In short to inspire generations, old and new, to act now!


In the course of their round-the-world expedition, the idea is to discover 50 "heroes". Thomas is passionate that he does not want to create a documentary-style reportage, but rather to share a real expedition where his followers will discover the Thalas "heroes" at the same time as he does. "One must go into the unknown and discover. We already have a few "heroes" to start with; for example people who work with sea turtles, coral, and scientific research centers, but the idea is that every hero will lead to the next "hero" discovery."

The Challenge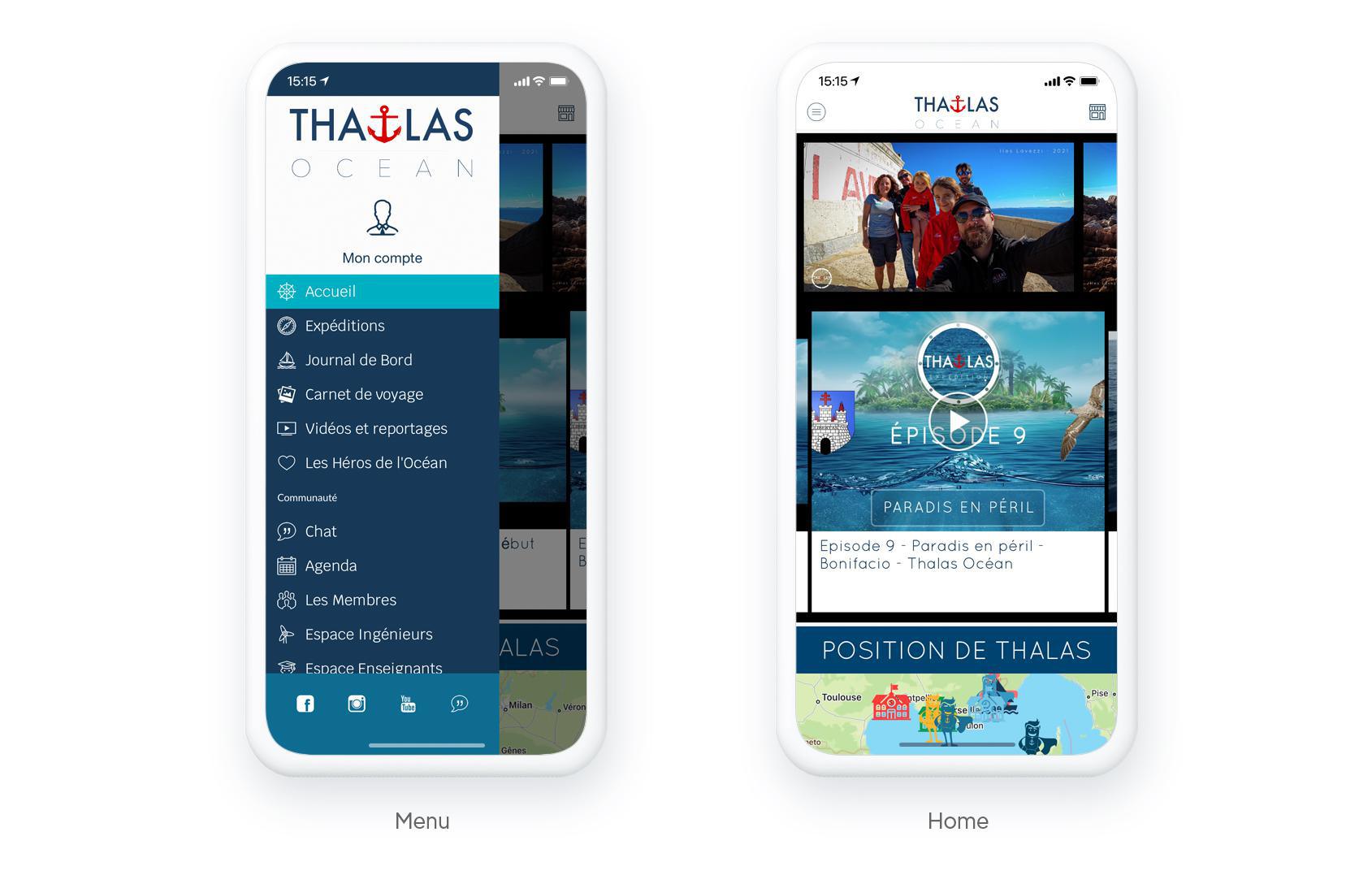 Thomas does not wish to be entirely dependent on social media to share his discoveries and "heroes": too often they have their own agenda and are open to the insertion of fake news and other distortions as well as being beholden to their ever-changing algorithms.

Thomas was looking for the best way to share the Thalas Expedition with his followers and the 800 schools that have so far signed up to follow this amazing adventure. Planning to work with several different media formats – from video to blogging and interviews, he realized a website would not be the best medium and far too limiting.

Thalas is specifically targeting a younger audience, mostly students. He asked himself what would be the best way to get students to be involved. The ultimate goal is ultimately to set up a Thalas community, where users may interact together – and more importantly create initiatives to meet and organize beach and river clean-ups, and competitions.

The Solution
The perfect solution he thought would be an app. Before he started Thalas he had a start-up and had looked for a way to help the suppliers he worked with. He researched and found GoodBarber to be the best solution for his clients to find the right supplier based on location, using the geofencing feature on an app. Although he closed his company in 2018, his introduction to and work with GoodBarber was so positive that he had no doubt this was the way forward for Thalas!

By creating the Thalas app using GoodBarber he had a perfect solution giving him full control of his messaging and content and avoiding total reliance on social media.

In addition, younger generations are phone savvy and are more inclined to use apps and be connected on their phones. "An app powered by GoodBarber was truly the best solution for us - with no downside."

There are so many great features using GoodBarber Thomas is reticent to single out just one. He particularly appreciates the content synchronization, the adaptive pages for video, and the ease of uploading different media and discovering new features when and where he needs them.

A future step will be to add an e-commerce app that will sell Thalas Expedition merchandise. Of course, all products will be ethically made and sustainable to help further finance this incredible voyage.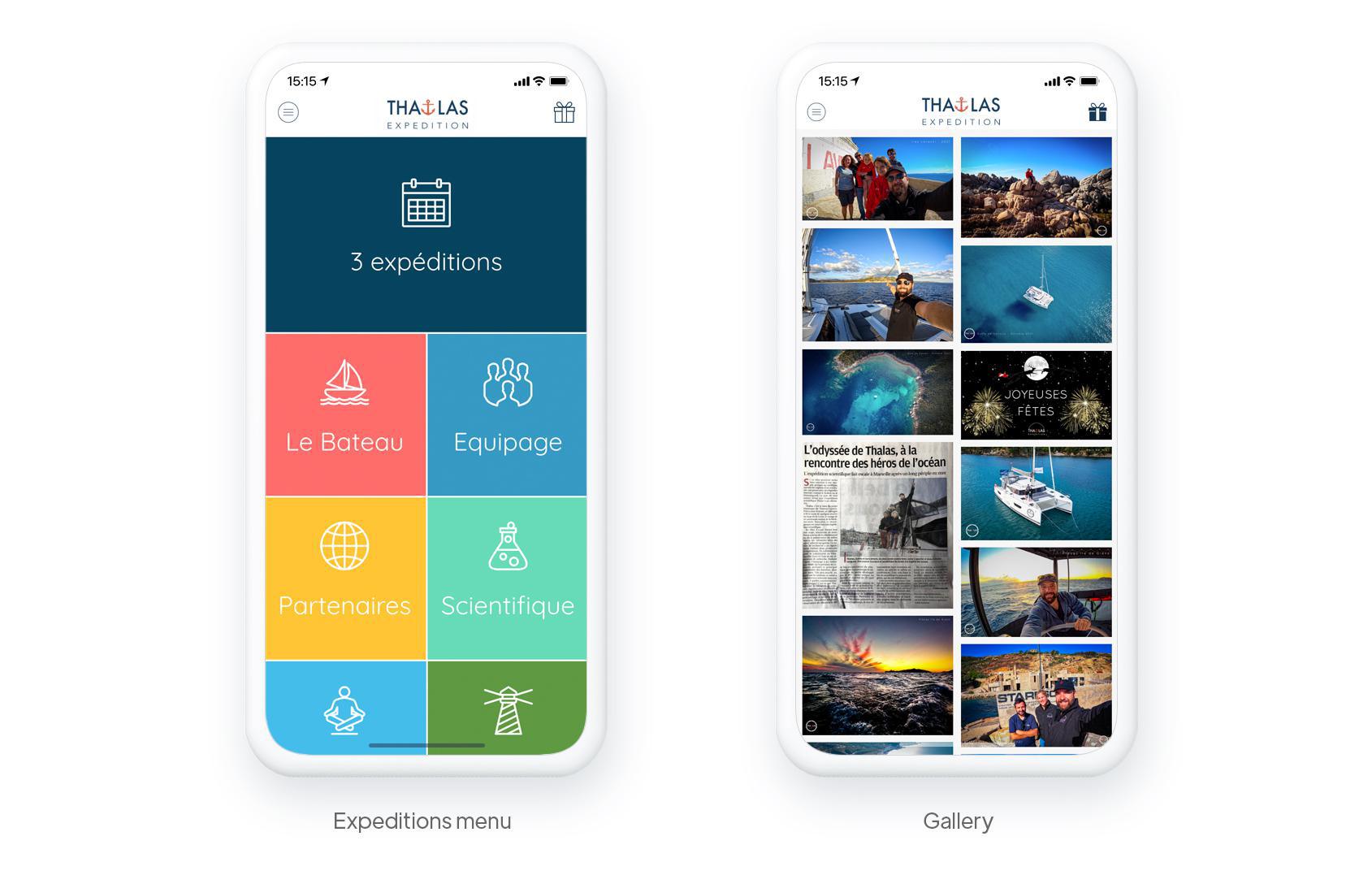 "Using GoodBarber I was able to easily create an app, one where I was able to combine all the mediums I wanted to use together, and it is just perfect!"
- Thomas Capiten, Owner & Expedition Leader



Thalas Expedition is available on the App Store and Google Play.