What happened during the 2014 Web Summit?
Written by Arianna Testi on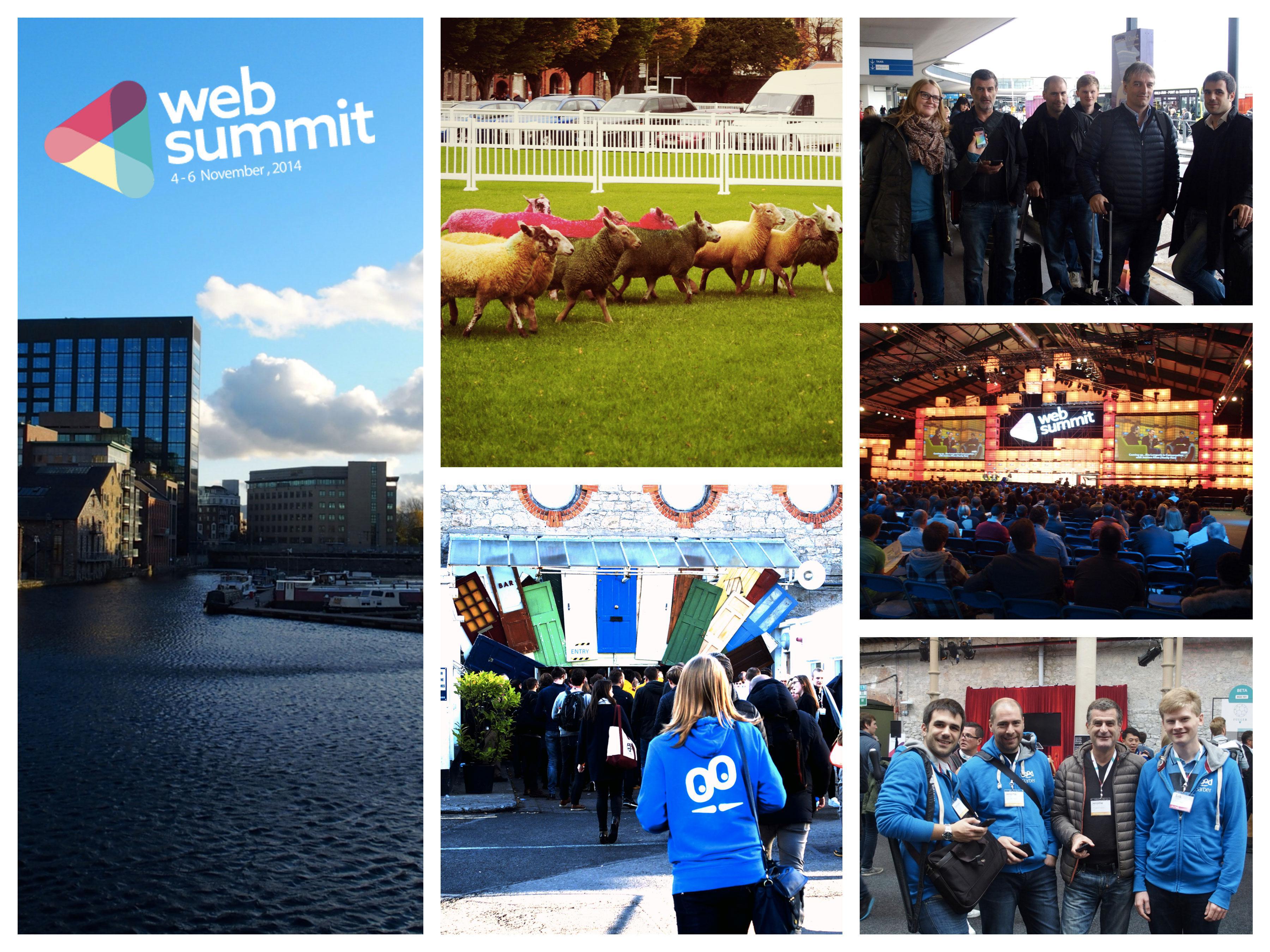 Hey GoodBarbers,
We just came back from Dublin, where we participated in this year's
Web Summit
.
Lots of things happened! Too many, probably, for one single article.
So here are some photos and the experiences of our team.
Enjoy!
Jerome Granados says :
A very big event, a source of inspiration.

It was my first time at the Web Summit . I decided to attend this event last year, right after Leweb, because I found it was no longer as big as it used to be. Friends in the industry told me I should go to Dublin, and they were right.

The Web Summit 2014 was huge. During 3 days, we had the opportunity to talk to thousands of startups, developers, journalists, investors … I like events because it's the occasion to feel the pulse of the industry. Almost everyone gathers at the summit. It's an opportunity to get in touch with people we know through the web, and to meet new ones.

But most importantly, the Web Summit gave me inspiration. This year, startups dealing with social, finance and research were the most thriving. I came back re-energized and happy and eager to put all this energy into GoodBarber!

Dominique Siacci says:
As for the rest of the team, this my first participation in the Web Summit, and my first time in Ireland.

I love to go to these kind of events as I love to pitch and demo our product — and obviously listen to feedback about it.

It's also the time to meet with people of our industry coming from all over the world (I personally met with people from more than 15 countries).

The event itself was really big (my Fitbit says that I've taken 93000 steps over 4 days, probably twice as many as I do usually!) and full of innovative, very inspiring people. We also met friends living abroad that we don't see very often.

We didn't have much time to attend the conferences, but there were a lot of great speakers (some well known — you should have seen the line to attend Bono's talk — and some less well known) ; but as always I'll try to watch the replay of the conferences of some very inspiring speakers now that I'm back home.

Arianna Testi says:
Ireland, the land of green grass, of great pubs and beers, and lucky leprechauns and four-leafed clovers.
My time in Dublin has definitely been lucky.
The
Web Summit
, was a huge and amazing event this year, full of people with new ideas and, more importantly, the right energy to implement them.
It took place in the two main buildings of the RDS, the "Town" and the "Village", where every day each booth was assigned to new expositors of the beta and alpha projects.
The main trend of the
Web Summit 2014
was social sharing; Lots of different ways to enable people to create connections, share ideas, products and experiences.
I'm happy to have seen many Italians there, and had the possibility to present GoodBarber to some important Italian influencers.
Now it's time for me to put all the energy and the inspiration collected in Dublin into GoodBarber… Soon you will see the effect of the leprechauns ;)
Erik Rossen says:
For anyone interested in the newest developments in tech, the Web Summit really is a great experience. It's an opportunity to see and be seen, and exchange with like minded people from around Europe and the World. Not only were there hundreds of innovative companies, but also a very impressive list of speakers including some of the best-known names in tech with some very interesting insights and observations.

Knowing that you just might turn out to be one the first to have heard of what will turn out to be a great success story is exciting, and there was definitely lots to be excited about: from loudspeakers that run on candles to inspection drones to the latest developments in health apps all the way to innovative ideas in finance: It would impossible to say what I was most impressed by - although I'm happy to say that judging from the buzz around our stand, GoodBarber definitely ended up on the shortlist of some of the other visitors!
Katrina Bertacci says:
So, we just came back from the Web Summit. I have to say, it's been a blast!
We were running around from 8 in the morning till 6 and then every evening it was out clubbing with all the other attendees of the web summit because as they say, you make the best encounters over a great pint of Guinness. I hope the Dubliners didn't mind us invading the whole city at night ;)

Having grown from 400 attendees in the first gathering in 2011 to 22 000 this year, you can imagine what a hustle and bustle it was! A meter of space to present your business and about one minute to make a killer pitch that leaves a lasting impression (we all hope). Running after the people with badges of the right color that indicate they who they are( startups, journalists or investors), or just strolling through the thousands of other booths and hearing what the other startups have to say. Some interesting and some where you think, will they really make it?
That's what is so impressive about the Web Summit, there really was everyone, young people and startups from the whole world gathered to pitch their idea hoping to make it big.

I met so many interesting people, whether it was people I already knew virtually and had the chance to meet them face to face, or new people with which I instantly connected and with whom I believe there will be a longer friendship. We definitely got a great response about GoodBarber, lots of people that were curious about how our product could be so simple and yet powerful and there were other startups with great ideas to work together to develop mind blowing new features. But no more on that, I don't want to spill the beans ;)

The best startupper at the web summit (besides GoodBarber)? A young Portuguese who developed Codacy, a software that automatically cleans codes, and gathered funds of over 500 000 dollars!