What's new at GoodBarber? January 2021
Written by Mathieu Fancello on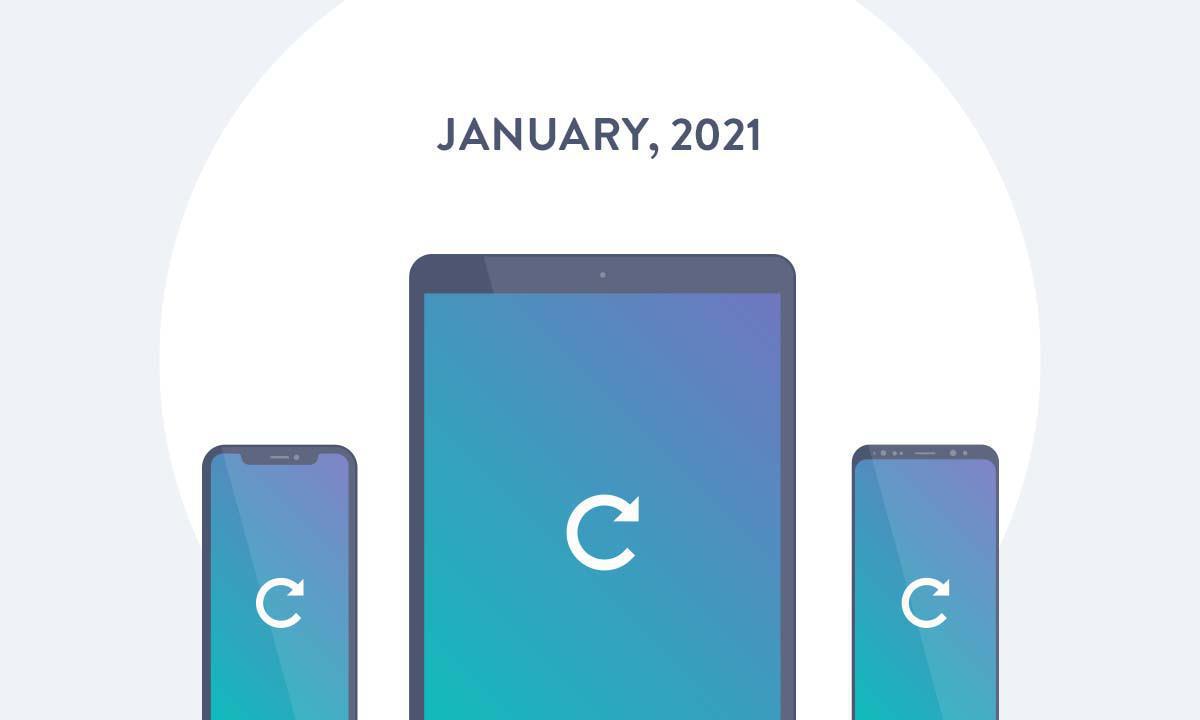 To start off the year, we are pleased to introduce a new feature that will delight owners of Shopping Apps:
Time Slots!
This new add-on allows you to give your clients the possibility to choose time slots for their local delivery or in-store pick-up.
Don't wait to try this new add-on that will allow you to:
Increase customer satisfaction by allowing them to choose when to receive their order.
Manage your prep time by limiting the number of orders per day and per time slot.
Build loyalty and increase recurring orders by meeting delivery expectations and providing excellent customer service.
You'll find below a summary of the improvements and updates made during the month of January 2021
GoodBarber Shopping App
General


Create time slots to propose to your clients for their delivery.


Export your clients and leads list in a .csv file, and create the best marketing campaigns.


Home section


All widgets are now well displayed in right-to-left languages. iOS Android PWA


In widgets with the Navigation Grid template, fixed an issue that caused a background color displayed on cells even when it should be transparent. Android


Product detail page


Fixed an issue that could cause a crash of the application when the user was adding a product to the bag. Android


Fixed an issue that could cause the pay button to stay disabled. iOS


Fixed an issue that caused the pay button to stay disabled when the user was choosing the Local Pickup delivery method. PWA


Collections list section


In template 1, fixed an issue that caused the collection title not being aligned on the left. iOS


Grid navigation mode


Fixed an issue that could cause the logo being cropped. iOS


Fixed an issue that could cause some section links not working. iOS


Blog add-on


In detail views, fixed an issue that caused weird height on Instagram embeds. iOS


Store locator add-on


In detail views, fixed an issue that caused weird height on Instagram embeds. iOS


Contact form add-on


If you create a mandatory field Checkbox, Dropdown or Radio button, to avoid any errors you can't select a default value anymore. If your users forget to complete this field, they will be notified. iOS Android PWA


Fixed an issue that caused some design glitches when the user was copying a long text in a multi-line field. iOS PWA


Other fixes and improvements


Fixed an issue that could cause a crash of the application. Android

GoodBarber Classic App
Home section


All widgets are now well displayed in right-to-left languages. iOS Android PWA


In widgets HTML, fixed an issue that caused some links being opened in the widget & not opening another screen. iOS


In widgets with the Navigation Grid template, fixed an issue that caused a background color displayed on cells even when it should be transparent. Android


Article section


In detail views, fixed an issue that caused weird height on Instagram embeds. iOS


Video section


In detail views, fixed an issue that caused weird height on Instagram embeds. iOS


Sound section


In detail views, fixed an issue that caused weird height on Instagram embeds. iOS


Map section


In detail views, fixed an issue that caused weird height on Instagram embeds. iOS


Event section


In detail views, fixed an issue that caused weird height on Instagram embeds. iOS


Search section


UI Accessibility has been improved following the EU directive regarding the Web Accessibility recommendations. PWA


In detail views, fixed an issue that caused some buttons being hidden. Android


Fixed an issue that caused the search not working when the user was clicking on a recent search. PWA


Form section


If you create a mandatory field Checkbox, Dropdown or Radio button, to avoid any errors you can't select a default value anymore. If your users forget to complete this field, they will be notified. iOS Android PWA


Fixed an issue that caused some design glitches when the user was copying a long text in a multi-line field. iOS


Fixed an issue that caused the user to be able to send the form even if the sending limit has been reached. iOS PWA


Menu section


UI Accessibility has been improved following the EU directive regarding the Web Accessibility recommendations. PWA


Fixed an issue that caused links to redirect to the Home page. PWA


Fixed an issue on Safari that used to block the opening of the Custom URL or ClickTo section target on another tab. PWA


Grid navigation mode


Fixed an issue that could cause the logo being cropped. iOS


Fixed an issue that could cause some section links not working. iOS


Authentication add-on


You can now allow your users to add external links to their profiles. iOS Android PWA


You can now allow your users to link their Snapchat and Whatsapp account to their profile. iOS Android PWA


UI Accessibility has been improved following the EU directive regarding the Web Accessibility recommendations. PWA


In the push notification history page, fixed an issue that caused separators being hidden. iOS


The Facebook Login SDK has been updated to the 8.0 version. iOS


Chat add-on


It's now possible to customise the default thumbnail in the Chat section. iOS Android PWA


Loyalty card add-on


UI Accessibility has been improved following the EU directive regarding the Web Accessibility recommendations. PWA


Couponing Add-on

Analyze your couponing campaigns by exporting data on your redeemed coupons.


Internal ad network add-on


Fixed an issue that caused black border on ad banners. iOS


Live+ add-on :


UI Accessibility has been improved following the EU directive regarding the Web Accessibility recommendations.

PWA

​You can now activate a Sleep mode. Your users will be able to set a time that will count down and then automatically stop the live

Developer add-on


In Plugin sections, fixed an issue that caused PDF files not to be displayed. Android


Other fixes and improvements


Fixed an issue that could cause a crash of the application.

Android