What's new at GoodBarber? November 2021
Written by Mathieu Poli on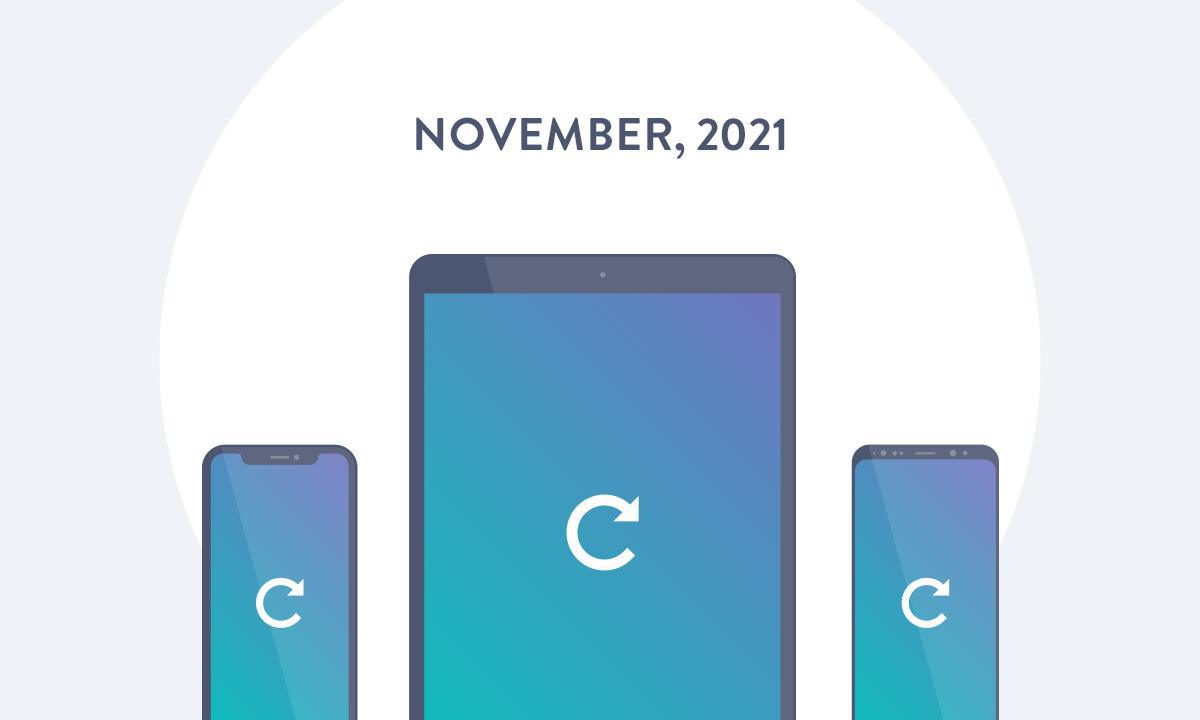 This month we're releasing a few of your favorite classic features to our Shopping App platform. You can now connect your WordPress blog or create your own blog feed, add a KLM section or create your own map feed.
We've also added
new triggers and actions
to our Zapier connector.
All these upgrades are the perfect addition to your Shopping App to make the very busy end-of-year shopping season a success.
You will find below the summary of the improvements and updates made during the month of November 2021:
GoodBarber Shopping App
General


It's now possible to display an RSS feed in your Shopping app.


It's now possible to display your WordPress blog in your Shopping app.


It's now possible to create your own Blog feed in your Shopping app.


It's now possible to add KML files to your Shopping app.


You can now add a KML section in your Shop application.


It's now possible to create your own Map feed in your Shopping app.


Bag section


Right to left languages are now managed in all screens of the section. iOS Android PWA


Checkout page


Right to left languages are now managed in all screens of the checkout process. iOS Android PWA


Fixed an issue that could cause the error animation missing on the client note field. iOS


Fixed an issue that caused payments with Paypal not working. Android


Fixed an issue that caused delivery slots not being refreshed when the selected one is not available anymore. Android


Blog add-on


In the detail view, fixed an issue that caused the opening of images in the web browser. Android


Store locator add-on


In detail view, fixed an issue that caused visual glitches. iOS


In the detail view, fixed an issue that could cause the distance being displayed on the address. iOS


In the detail view, fixed an issue that caused the opening of images in the web browser. Android


In the detail view, the distance is now displayed below the image. Android


Other fixes and improvements


Countly Stats SDK has been updated to the 21.11.0 version. iOS


The Google Maps SDK has been updated to the 18.0.0 version. Android


Fixed an issue that caused a crash at launch of the app. iOS


Fixed an issue that could cause a loading view still being displayed after coming back from another application. iOS


Fixed an issue that could cause some links not working in the app. Android

GoodBarber Classic App
Article section


Fixed an issue that caused the opening of images in the web browser. Android


Event section


When you choose the "Now" mention display, ongoing events are now sorted by the start date. iOS Android PWA


Fixed an issue that could cause some events being displayed several times in the list.


Map section


In detail view, fixed an issue that caused visual glitches. iOS


In the detail view, fixed an issue that could cause the distance being displayed on the address. iOS


In the detail view, fixed an issue that caused the opening of images in the web browser. Android


Sound section


You can now disable the display of the mini-player by adding in the section the JSON property "miniPlayer/enabled" set to 1. iOS Android PWA


You can now add the Artist/Author name in the list view. iOS Android PWA


You can now enable or disable the autoplay and auto-loop in your podcast sections. iOS Android PWA


Fixed an issue that caused the current sound playing icon not being displayed. iOS


Search section


Fixed a crash of the application when the user is trying to search sounds.


Bookmarks section


Fixed an issue that caused thumbnails being displayed even when they are disabled. iOS


Fixed an issue that could cause a crash when an expired event is in the bookmarks. Android


About section


Fixed an issue that caused the opening of images in the web browser. Android


Live+ add-on


You can now disable the display of the mini player by adding in the section the JSON property "miniPlayer/enabled" set to 1. iOS Android PWA


Authentication add-on


You can now allow your users to link their Youtube and TikTok account to their profile. iOS Android PWA


Fixed an issue that could cause the mail received to change the password not opening the app. iOS


Loyalty card add-on


Fixed an issue that caused a crash of the application when the user was trying to open the Gifts page. Android


Other fixes and improvements


Countly Stats SDK has been updated to the 21.11.0 version. iOS


The Google Maps SDK has been updated to the 18.0.0 version. Android


Fixed an issue that caused a crash at launch of the app. iOS


Fixed an issue that could cause a loading view still being displayed after coming back from another application. iOS


Fixed an issue that could cause the tracking permission pop up not displayed at the opening of the app. iOS


Fixed an issue that could cause some links not working in the app. Android