How to create a promotional email campaign thanks to our new Promocode trigger for Zapier
Written by Marie Pireddu on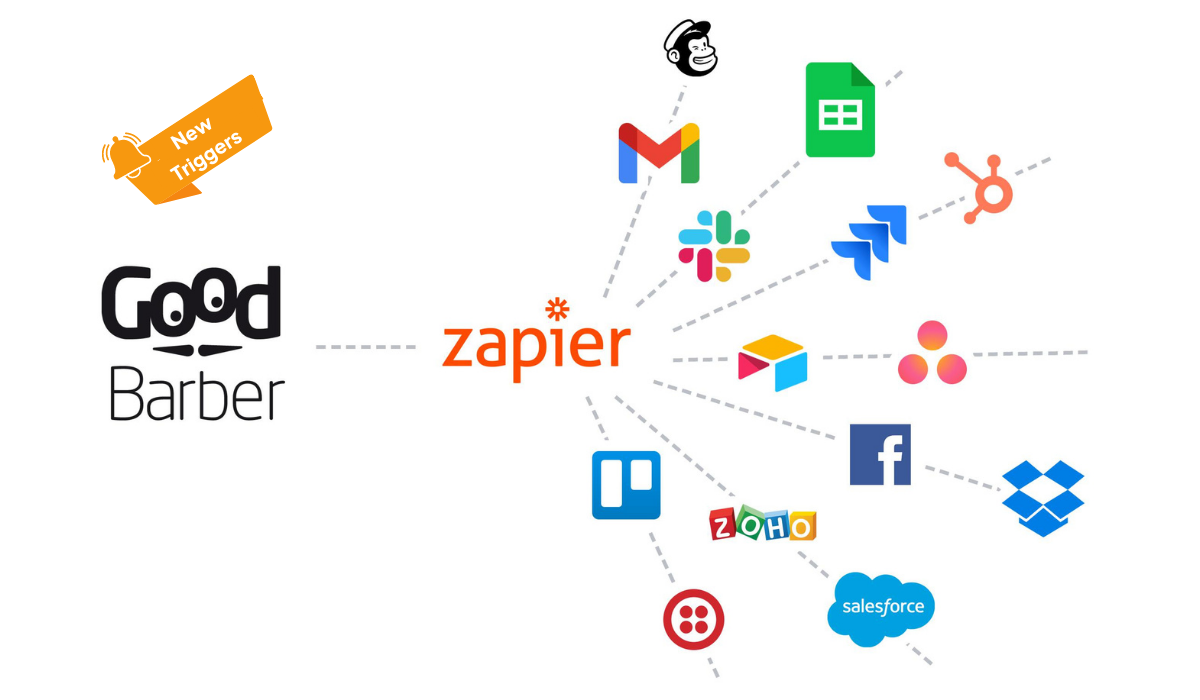 Last month, we launched our
new Zapier add-on
. With the new tool, Shopping App owners could gain time and increase productivity by connecting their GoodBarber app to other apps to deal with repetitive tasks.
As you already know, our team is constantly working on improving our tool and providing you the best platform out there. So, since last month, we've already added new triggers and actions to offer your more solutions to run your business efficiently.
You'll find
new triggers for promocodes, abandoned orders
, and
new triggers and actions for your product catalog.
In this article, we'll focus on the promocode triggers.
1. Create your email campaign
As mentioned above, new triggers are now available for when you create or update a promocode in your GoodBarber back office.
This comes at the perfect time for creating email campaigns for the end-of-year holidays.
Let's take the example of Urban Shango, a trendy footwear retailer, specializing in sports footwear. As part of their Cyber Monday marketing plan, they want to send an email to their clients and leads a discount code for a special 50% off on all their collections (except the Sales section).
They use Mailchimp to manage their email marketing and have already created their email sequence and the different segment tags to target specific clients and leads groups.
Here are the best email marketing practices they followed:
- They created a bonus offer: while the Black Friday special offer was for certain collections only, for Cyber Monday they offer their discount on all the collections, including the Limited edition.
- They created a sense of urgency: they emphasized on the quantity of the product: "When they're gone, they're gone!". The majority of discounts during after Thanksgiving sales period usually last only a few days, adding already a sense of urgency with the deadline. The owners chose to focus on the number of products available instead.
You can find more tips on email marketing in this
article
2. Set up your zap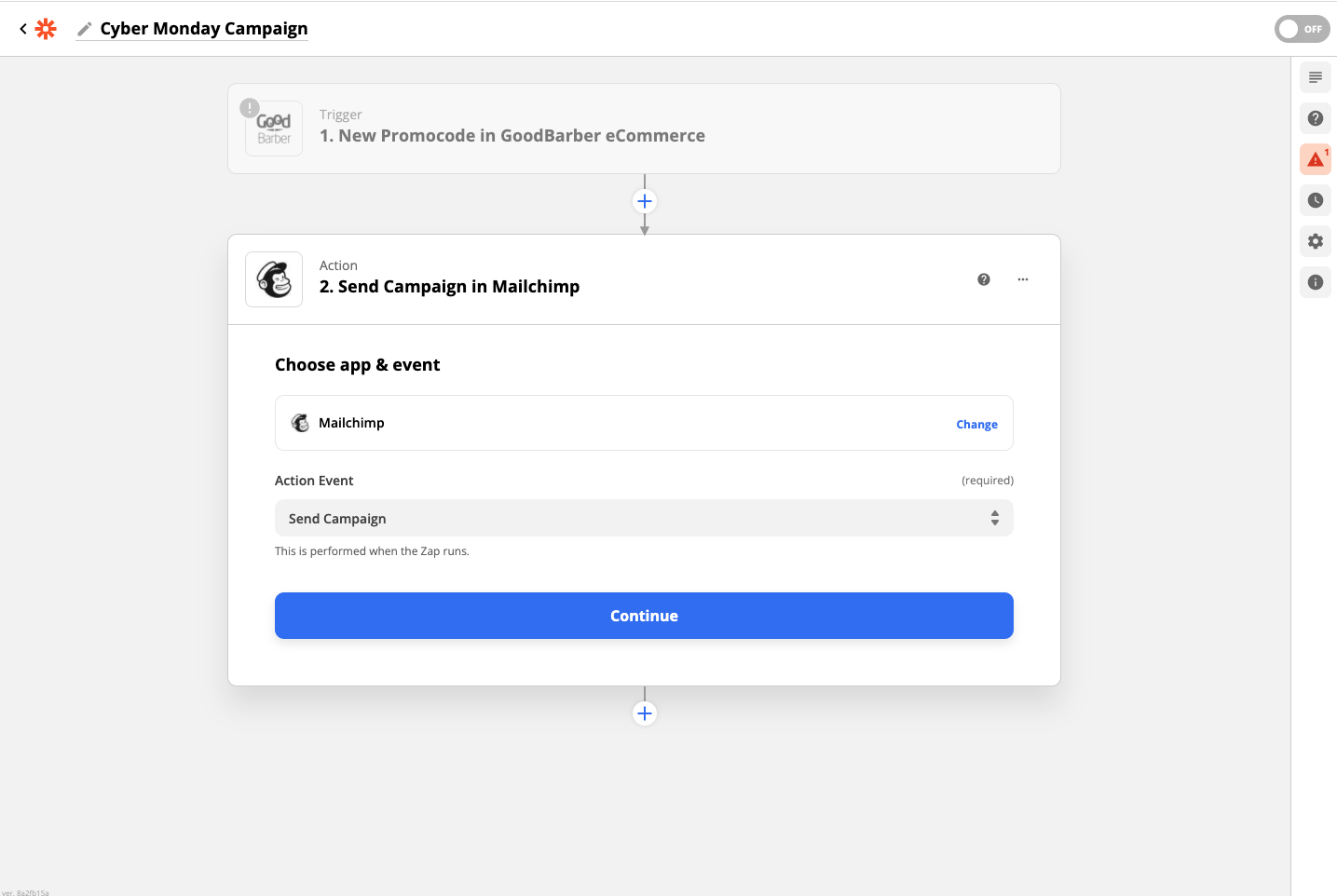 Now that their email campaign is taken care of, time to create a zap in Zapier to connect their GoodBarber Shopping app and Mailchimp.
The zap is as follow:

- The trigger is the creation of a new promocode in GoodBarber
- The action is sending the campaign in Mailchimp.

So, when they create the Cyber Monday code in their GoodBarber back office, it will trigger the sending of the associated campaign in Mailchimp. The email will be sent to the audience they tagged in this email. In this case, all clients and leads.


Note: for future promocode, they can keep this zap and only update the Mailchimp campaign to be associated with the new promocode.

3. Create your promocode in your GoodBarber back office
Let's see now the creation of the discount in Urban Shango back office.

From the menu Marketing > Discount > Discount list > create a discount, the owners generate a code for this specific campaign and configure all the conditions to apply:

- offer time period: in this case, the code is valid for Cyber Week, so until Sunday
- maximum number of use: it's limited to one use per client
- type of discount: you can choose between offering a specific amount off or a percentage. For this offer, it's a 50% discount.


4. Analyze your results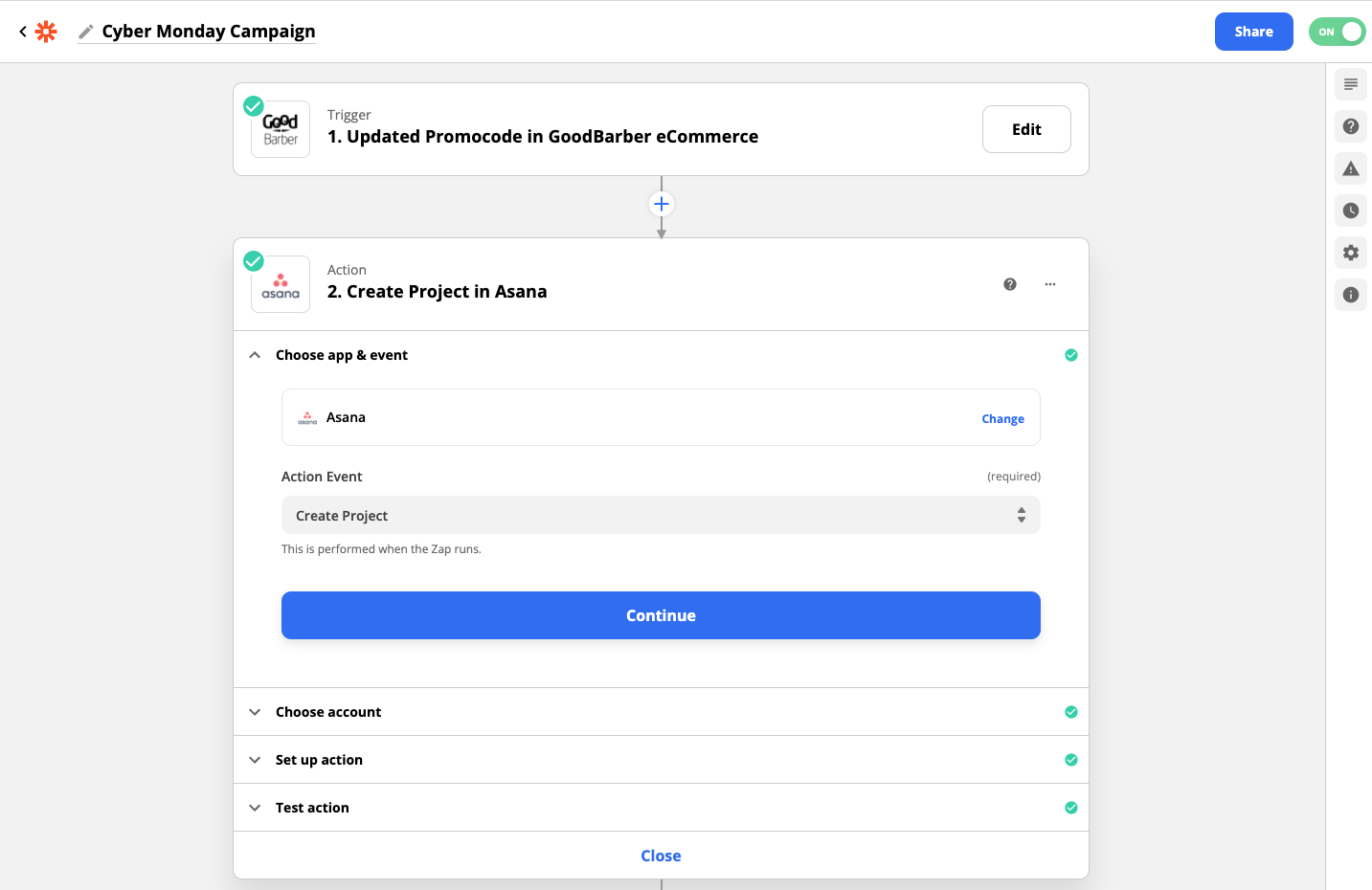 Once Cyber Monday is over, it's time to scrutinize your results to gain insights for future campaigns.

To make sure that they take to time to really sit down and analyze their results, the owners of Urban Shango have created a zap using the update promocode trigger.
They use Asana as a work management software and each time a promocode is updated it creates a project on their dashboard. In this project, they detailed exactly which KPI to look for and what are the next actions to take.
There are several useful KPIs to track to improve the success of your future campaigns:
Profit. This is generally the primary objective. How much did you make from this campaign? Measure this year's profit against your goals and previous year's results. Did an increase in sales translate to more profit?

Promotion. Which campaigns performed the best? how did it compare to the Black Friday promotion, to last year campaign if you offered a different discount (for example a fixed amount off instead of a percentage).

Channels. What channels drove the most sales and profits? Did the email campaign have a better conversion rate than your social media campaigns. How did your paid ads do?

Customer acquisition. Your campaign worked well and generated immediate sales, but what about new customers? How likely are they to return? What can you do to turn them into new loyal clients?

Offline vs. online sales. if you also have a physical store, how did the separate online and offline promotions do? Did the percentage of online and offline sales change this year? Try to understand trends in overall behavior of your shoppers (average cart amount online vs. offline, and compare the profit margin of each, etc)


Black Friday and Cyber Monday are the start of the long end-of-year shopping season. You still have a whole month of big shopping and sales opportunities for your Shopping App ahead of you.
Creating automation for some of your marketing tasks can help gain a lot of time, time you can then focus on providing the best shopping experience for your clients and leads.
Stay tuned for more upcoming articles on how to take advantage of our Zapier Add-on