Manage the accounts of your editorial team
As the owner of your app, your account status is Administrator / Website owner.
Depending on your offer, as an admin you have the possibility to create a team and give access to the back office of your project to contributors of your choice.

Standard plan: 1 team member
Premium plan: up to 3 team members
Pro plan: unlimited team members
Reseller plan:unlimited team members

To transfer the ownership of your project to an existing Account ID or to manage your Account ID, please refer to our dedicated online helps: Transfer the ownership of your app & GoodBarber Account ID management
1. Go to the left menu Settings > Other settings > Team > List
2. Click the "New team member" tab.
3. Enter the email address or the account ID of your new team member
Warning: Be sure to use a valid email address.
4. Click "Add".

Your new team member will receive an email, from which they must follow the procedure to activate their Account ID and access the back office.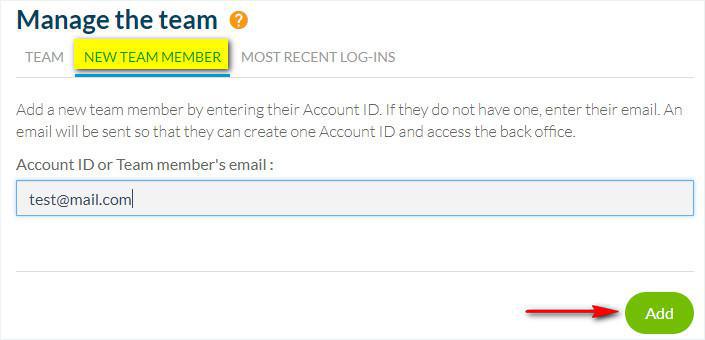 Set the user access rights of your team members
There are two profile types: Administrator or User.

An Administrator profile grants access to the entire back office: Get Started, Design, Content, Publish, Users, Audience, Settings, Add-ons, and Other pages menus.

A User profile has a more restricted access. They can access just to Content, Users, and Audience menus.

For both profiles, you can customize access rights.
1. Click on the name of your team member
2. Select or un-select the tabs of the back office listed*
3. Select the language of the back office for your user
4. Click Save.

*Content rights:
CMS + User generated content: includes all CMS, About and Form sections. You can define precisely which section is accessible by this team member.
Sections Management: includes other content sections of the app.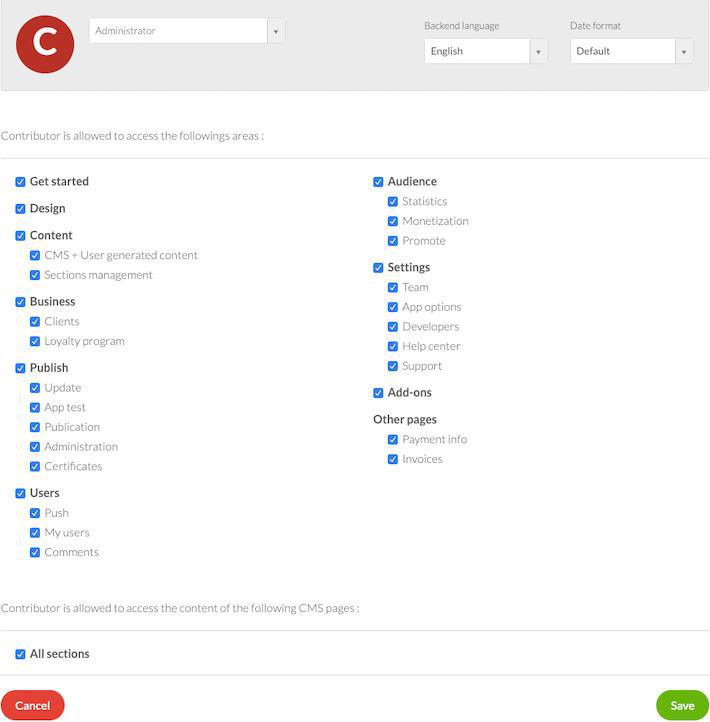 On their end, the new Administrator or User must accept your invitation to activate their account.
Until then, their status will read as "Account ID not yet valid".

If necessary, you have the option to "Accept the invitation in his place" if the account ID already exists (if the user is already registered in GoodBarber) or "Resend an invitation".
More articles