Multi-Language apps
The language of the app is managed from the menu: Settings > Preferences > Application language .

It is the language in which all generic texts and automatic messages will appear in your app.
​Only one general language can be defined per app.
The language of the app does not automatically adapt to the language of the end-user's device or to the country.

To offer content in different languages with GoodBarber, the best option is creating one app per language.

However, GoodBarber does provide 2 possible ways to make the content of your app available in different languages:

1/ Create one app per language
2/ In one same app, create a Menu section per language
For each additional language version of an application, you will receive a 50% discount on each new language project.
This discount is based on your initial subscription for your original application.

How to take advantage of this offer:
1. First create your new project and contact the support team from the backend before you pay for the new project.
2. Specify the backend of the original app in your message and request the discount
3. Subscribe for this new app after the discounted invoice has been created on the new project in a different language.

Here is an example:
1. You create one application in English for which you choose the Full subscription ($576/year).
2. You create a new app, that's the same, but in Spanish.
3. You contact the support before you subscribe, from the backend of the Spanish app.
In your message, you specify the backend URL of the English app (the original app) and request the 50% discount for multi-language.
4. Our team generates an invoice with a 50% discount on the Full plan.

You will pay:
- $576/year for the original app in English
- $288/year (instead of $576/year) for the second app in Spanish

If you decide to create a new version in French, for example, you must follow the same steps to get the 50% discount.
You will also pay $288/year (instead of $576/year) for that application in a new language.

Warning for the iOS version

Similar apps in a different language are considered as a form of spam by Apple, as stated in the Guideline 4.3 - Spam:
"Don't create multiple Bundle IDs of the same app. If your app has different versions for specific locations, sports teams, universities, etc., consider submitting a single app and provide the variations using in-app purchase. Also, avoid piling on to a category that is already saturated; the App Store has enough fart, burp, flashlight, and Kama Sutra apps already. Spamming the store may lead to your removal from the Developer Program."

Remember that you must always use the technical possibilities provided by GoodBarber within the limits of what the guidelines of the stores allow.
Content sections in different languages
You can create different content sections in each of the different languages and regroup them under a Menu section as in the example shown below.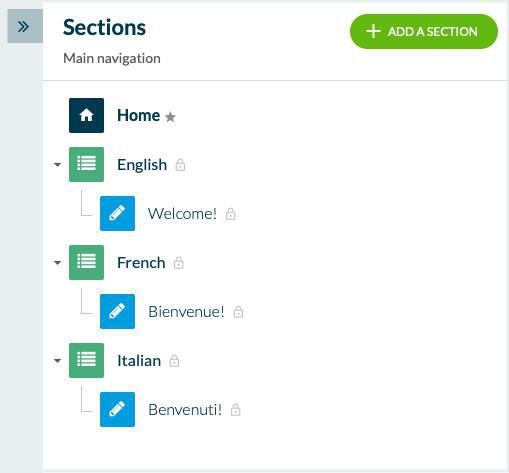 You can manage your various Menu sections from the Home Page or from the Navigation menu .

The purpose is to let your users see immediately upon opening the app that several languages are available.
See the example below with a Slate navigation menu.