3 reasons you should regularly update your app on the Stores
Written by Marie Pireddu on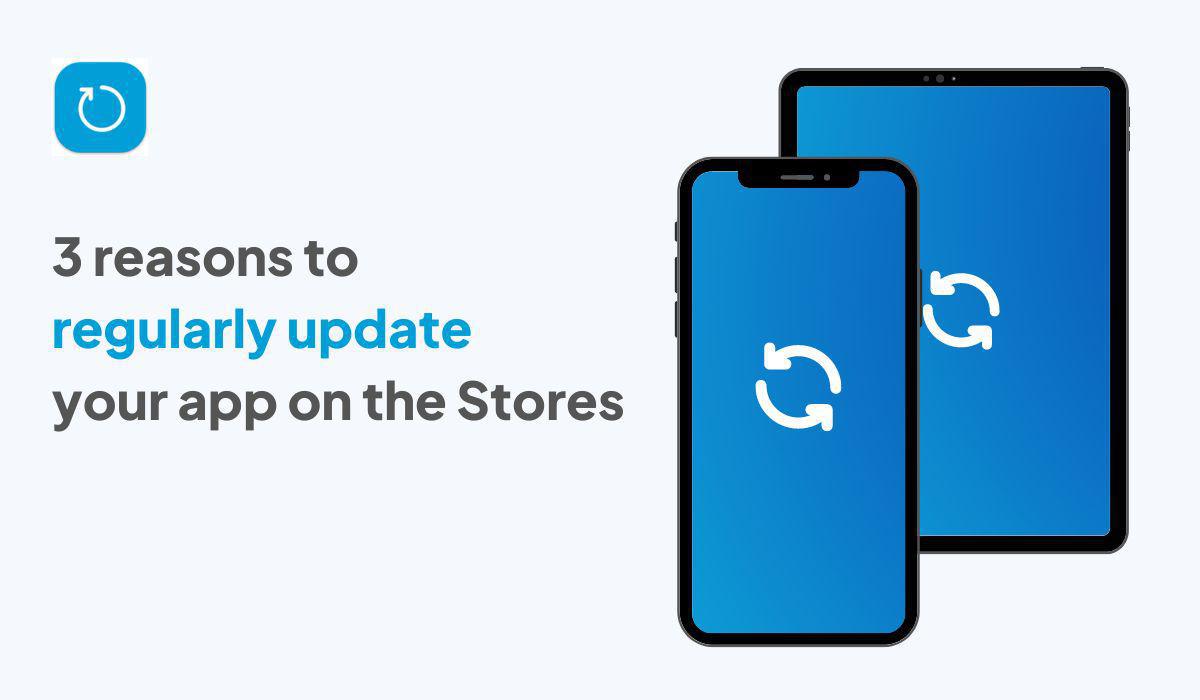 You took the leap, and created and launched a beautiful mobile app. Well done! Now all your work is done and you can sit back, relax, and let the app do its work to gain you, customers, build loyalty, and increase sales. Right?
Well..... No. The work has just begun, actually. Your mobile app is only as good as its latest version, which means you need regular updates to keep your app "fresh" and relevant.

Let's see the three main reasons to update your app:
Reason #1: Apple Store and Google Play love it
Apple and Google definitely prefer to see apps get updated,
even more so if those updates coincide with their major OS releases. To keep up with their standards and maintain their ecosystem safe for their users and always offer high-quality apps, both Stores have taken measures to remind app owners of the importance to update their apps.
Apple removes from the App Store any apps that haven't been updated often enough. They started doing this in 2016 when warned developers that they would have 30 days to update their app before it got taken down. Recently, it appears that they have been widely removing outdated apps.
Google Play is also cracking down on outdated apps by not only removing old apps from the Store but also in certain cases closing the developer account.
Also, keep in mind that apps with rare updates are considered bad quality and therefore have lower rankings.
Reason #2: Keep your users happy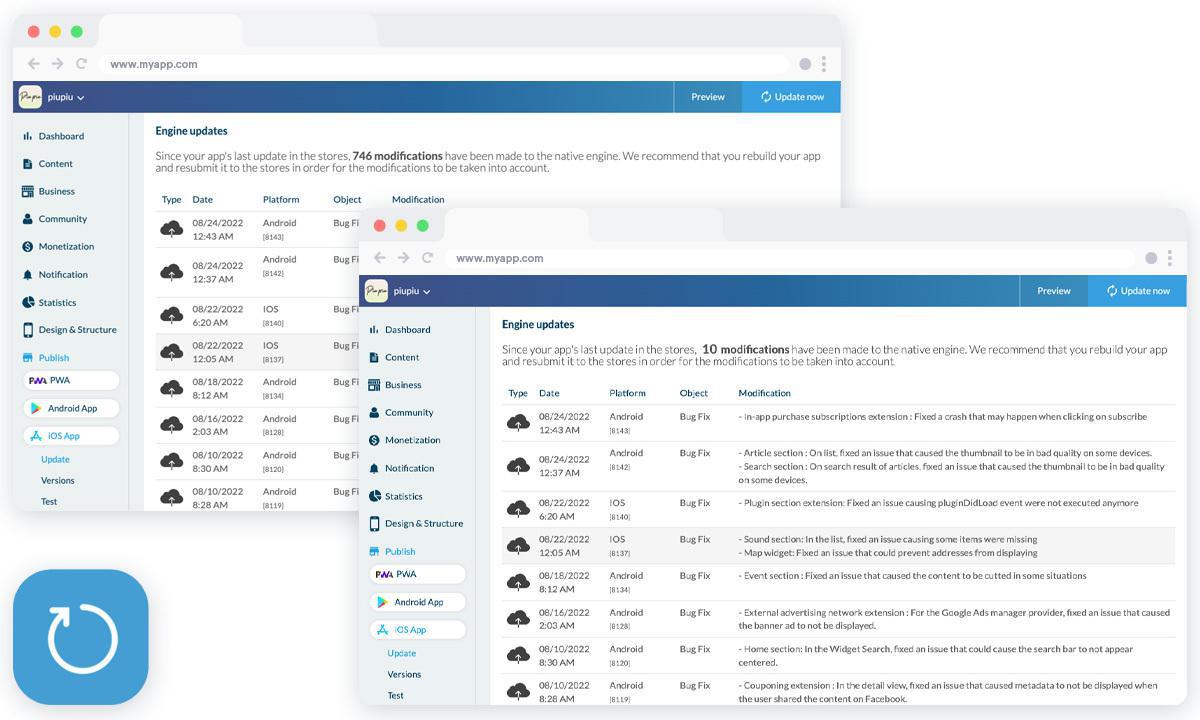 There are always ways to improve your app. Your users will for sure give you feedback and tell you what they're looking for. By implementing the changes your users ask for, you will show that you care about quality. This will not only increase engagement but also make your users happy and consequently more loyal.
Here are a few examples of updates that can benefit your app:
Add new features:
People love new things, and for mobile apps, this means new features. Adding new features is an important part of the evolution of your app. Your users may grow bored of your app if it remains the same for a while. We regularly add new features to our tool to enhance your app. Our
Extensions Store
offers more than
90+ extensions
and our
Service+
team is also here to create
custom features based on your needs.
Always pay attention to your users' feedback to find out which features they might be looking for.
Remove old features:
An update is also the opportunity to remove old features that may not perform well or until you find a way to optimize their use.
Fix bugs:
our teams are regularly fixing issues on the platform. You can find every month the lists of all fixes and improvements made on our changelog on the blog, but also in your app back office > dashboard > what's new.
Improve users' experience:
We're not talking here of major changes to your app design unless you're doing a total rebranding. But small tweaks here and there can bring a lot to your users' experience. For example, changing the style of your thumbnails to a more modern and trendy round shape will give your app a more modern and sleek look. As for new features, our designers and developers often add new style elements to our platform such as
new header heights
or new
button styles
Follow the latest OS updates:
A good reason to regularly update your app is to keep up with software and hardware advances. Every time a device's operating system is updated, chances are that you'll need to update your mobile app. Our developers are on top of these updates and our continuous maintenance endure that our platform is in line with the latest OS updates.
In your back office, you can see what has been updated by our developers, and which new features or modifications you've made to your app require sending a new version to the Stores.
Reason #3: Increase your visibility on the Stores
An update is a great opportunity to increase your visibility on the App Store and Google Play.
Indeed, the metadata in your stores' listings can only be modified when you submit a new version of your app to Stores. In this metadata, the main visibility factors are the title, description, and keywords.
Both Stores give you access to statistics where you can see if your texts, keywords, and screenshots also are effective. You will be able to see for example the impact of changing, for example, the subtitle on your downloads.

So take this opportunity to update your keywords. As we said previously, searching for keywords is an ongoing process: Research your competition, and analyze their reviews. You may find new keywords you didn't think of during the first submission or last update.

Another good practice is to update the screenshots to showcase new features to your users. Make the best of the " What's new " field by not only listing bug fixes but also by highlighting new features and encouraging positive reviews.

Once your update is done, don't forget to let your users know about it!
App updates can be one of the best marketing tools at your disposal. Users give up on apps every single day. Remember, your app is competing with thousands of others and with shorter attention spans, it can be very easy to forget about even the most popular of apps over time. Regular updates can help an app get more attention. Updating your app is a great opportunity for sending a new push notification. You can remind users that your app is still on their smartphone, and nudge them back to check out its new features.



There are no magic numbers to how often you should update your app. However, our developers recommend doing it 3 to 4 times per year.
Frequent updates show that you are committed to the app, which can help you maintain a loyal following and stay in good standing with the app stores.