5 eCommerce Trends to watch in 2022
Written by GoodBarber Team on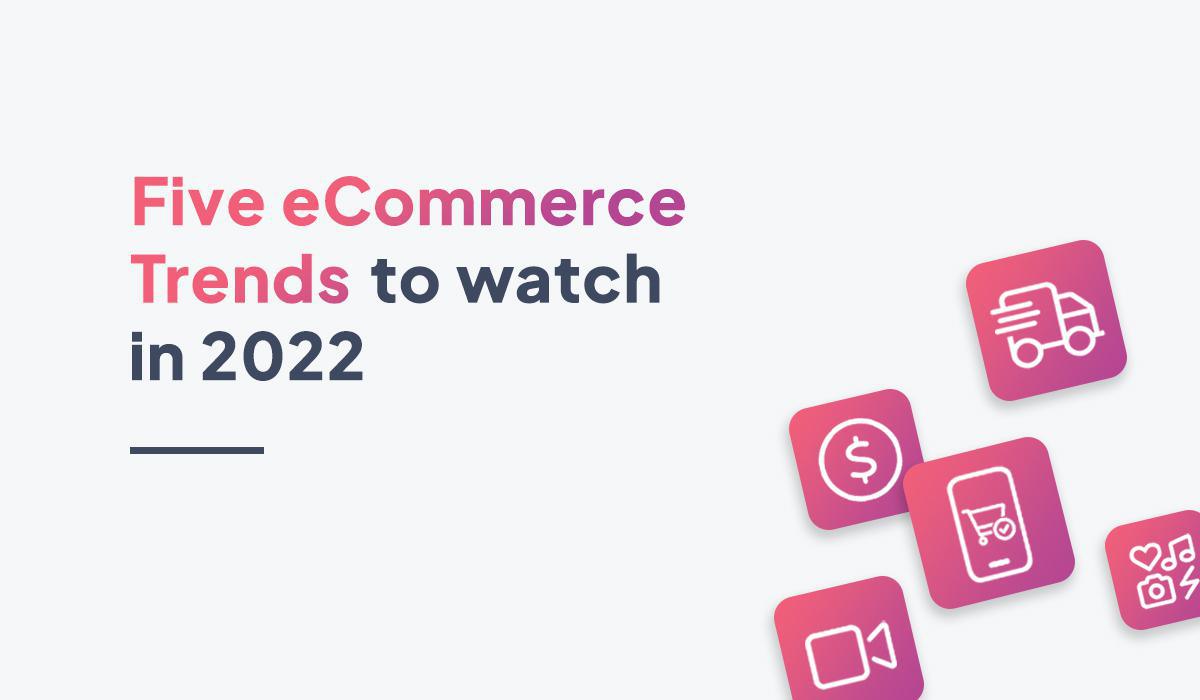 Even before the pandemic hit, e-commerce was an exponentially growing industry, with giants such as Amazon, Alibaba, JD, and Pinduoduo witnessing significant growth across the globe. However, as the pandemic forced everyone to stay at home and live a remote life, the e-commerce industry has grown rapidly, becoming an essential aspect of our daily lives. Moving over just apparel and electronics, consumers now order anything and everything online. But it was not all about the big guys, as the pandemic fueled small businesses entered the market and observed remarkable growth.

However, as 2021 rolled in, the industry witnessed significant changes in adoption and operations. With considerable privacy concerns, law changes, and uncertainty about logistics due to multiple variants, sellers had to resort to novel ways to ensure they could maximize their profits without losing out on customers.

But as we enter the third year with the pandemic, the global e-commerce industry is still contemplating what the year will bring. However, one thing is sure, the growth that we have witnessed in the last two years might be insignificant as to what year might showcase. Therefore, it becomes imperative for your brand or business to be prepared for the trends that might dominate the year for online commerce.

Here are 5 e-commerce trends that might define the way of online shopping in 2022 :

Flexible And Faster Delivery
Multi-Option Payment
Embracing Mobile Commerce
Using Videos For Products Marketing
Combine Social Media With Shopping
Flexible And Faster Delivery
A significant reason people prefer online shopping is the convenience of the delivery reaching their homes. While home delivery is excellent on its own, many shoppers are now moving towards brands that offer flexible delivery options and faster delivery times. For example, shoppers want same-day delivery for essential items but want their groceries delivered instantly.

Many shoppers have also shown interest in flexible delivery times to match their schedules. To cater to the growing demand, companies are now partnering with various organizations, including retailers, wholesalers, and delivery drivers. However, one more solution to the demand is the growing D2C, or direct-to-consumer market, enabling businesses to deal with the consumer directly and remove all intermediaries. As consumers receive products directly from the company, they get lower prices while companies get a higher margin. The D2C market is booming, and it is expected to reach $175 billion in the United States and £120 billion in the United Kingdom by 2023 (Source: Statista ).

Multi-Option Payment
Gone are the days when you could support one or two major debit and credit cards and run an online business. With alternative payment options coming into the picture, online companies have to add multi-option payment support for all customers. Even though major card providers such as Visa and Mastercard are still the preferred option of most shoppers, alternative payment methods are gaining speed.

Alternative payment methods include global payment platforms such as PayPal and Stripe, mobile-based payment applications such as Venmo and Samsung Pay, QR code-based payment, and of course, the new-age payments — cryptocurrencies. While there have been speculations about the market volatility of cryptocurrencies, many giants have started accepting them, including Starbucks, Microsoft, and Overstock.

Alternative payment methods are growing, and businesses that stay with limited options may lose out a considerable chunk of their sales. In fact, a report on online payment methods states that by 2025, contactless and e-commerce payments will account for half of the total wallet spending (Source: Yahoo ). Therefore it might be time to start accepting multiple payment options to provide a smooth experience to your shoppers.

Embracing Mobile Commerce
Mobile commerce, m-commerce, or mcommerce, is the process that involves shopping through a mobile device (or tablet). On the other hand, e-commerce involves shopping through a desktop or laptop. While e-commerce has been growing for the last few years, mobile commerce is the real success story.

Mobile commerce has been growing consistently and is poised to grow even more, thanks to the growing mobile penetration in the world. With billions of smartphone users, extensive innovation in the payments space, and increased dependency on online shopping, m-commerce is expected to continue as consumers' preferred channel for online shopping.
Therefore, if a business wishes to succeed in this competitive market in 2022, they require a successful mobile commerce strategy. But a mobile-optimized website just doesn't work anymore, as businesses need a mobile application to be truly distinguished. A mobile application can help a business gain more visibility, push out personalized strategies, build a more personal relationship and drive revenue, which is missed in mobile browsers and e-commerce. Moreover, apps drive more revenue as they are more user-friendly and speed up the shopping process, helping the user become a paying customer faster. If you are a business that is looking to build a mobile application or are looking to improve your mobile app, you are on the right track.

Using Videos For Products Marketing
Using videos has become the norm in many content-based processes, especially in social media. It is said that viewers retain more from videos than they do from audio, images, or text, and rightly so. Visual commerce is a great way to capture the user's attention, driving them through the funnel and converting them to a customer. With video content being adopted heavily across the globe, video commerce can be the game-changer for 2022.
Therefore, video-enabled commerce should be on your list this year. For starters, you can create high-quality product videos that showcase a product's features, benefits, and use cases. These videos can be helpful in convincing users to view more details about the product and click purchase. Product videos have also been known to increase the brand's authenticity and engage users for a more extended period.
Finally, videos can help users understand the product better, reducing return rates and improving repeat orders. Combining videos with live commerce — giving users the ability to chat and discuss the product can also benefit your business.

Combine Social Media With Shopping
There are thousands of online websites and applications selling something or the other. Therefore, you cannot expect your customers to visit your business and start shopping directly. With the increasing competition, standing out is critical, and the inability to do so will take your sales down. While users won't turn up to your platform every day, the probability of going to a social media platform every day is substantially high. Therefore, using shoppable posts to tag your products on social media applications might be a game-changer for many businesses this year.

Moreover, integrating social media into your mobile application can also prove to be the catalyst to significant growth. This integration can help you get more views, more downloads, increased usage, better brand visibility, and by all means, increased revenue. There are multiple ways through which you can integrate social media with your mobile application , including onboarding (social login), social sharing buttons, embedded social media videos, and social proof.

Conclusions
These were the top five e-commerce trends that we believe will dominate the industry in 2022. While the industry grows this year, the competition is expected to grow too. Therefore, businesses will have to be on their toes to ensure they are not behind in their offerings, technology, and user experience.

With GoodBarber, you can build beautiful and intuitive mobile applications with our no-code builder that complements your business. Make the most of your mobile application with GoodBarber, and stay ahead of your competition. Visit our section dedicate to eCommerce solutions and start to build your shopping app to speed up your time to market