Content Strategy—Mistakes to Avoid
Written by Muriel Santoni on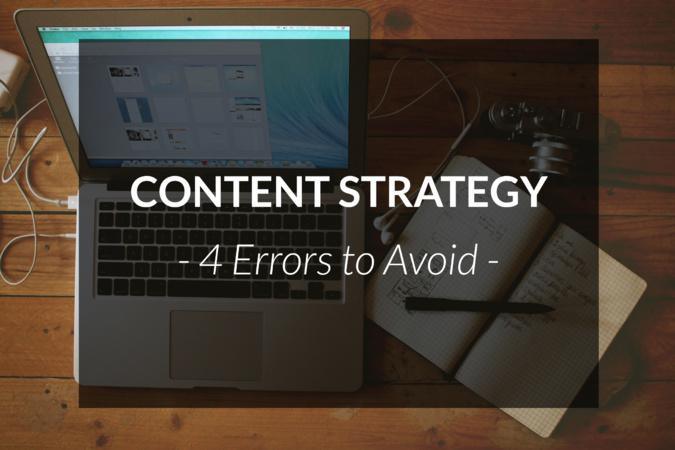 If you have followed our advice up until now, you've surely
created a blog for your business
. But despite your efforts, maybe your results are still not where you'd like them to be? Time to take a look and figure out what's going on.

You already know that content quality is fundamental. I have no doubt that you're providing relevant, beneficial content to your readers, but unfortunately sometimes it's not enough. There are certain elements that are crucial for giving value to your words, and ultimately bringing about the action you want from your audience.
Rule #1: Trigger the interest
To achieve the success you're anticipating, your content must be personal and elicit emotion in the reader. Curiosity, laughter, shock, thought—it doesn't matter, as long as your content isn't putting the reader to sleep. In general, the introduction is the ideal place to include a catch phrase that will convince your audience to keep reading.

Regardless of the industry, there are always certain, redundant topics that have already been covered hundreds of times. This doesn't have to be a problem, as there are many ways to talk about the same subject, but it requires finding THE original way to present the topic. If you can manage to do so, you will see a positive reaction from your readers.

Finally, even though you've heard if before, be yourself. Don't try to change the way you express yourself just because it's now taking place in the form of a professional, written situation. What's better than a personal tone to stir up emotion in your readers and give your content credibility? This allows your readers to identify with you and humanize what they are reading, helping them to feel close to you and encouraging trust.
Rule #2: Qualitative yes, ugly no
I'm not saying that if your design is perfect you can forget about the quality of your publications and still achieve amazing results—quality must be present in both content as well as in the way its presented.
Everything must be well thought out—
consider colors for example, and what they signify
. The page layout is also an important point: your content must be organized in a way that puts the most important points first, to be sure that the reader doesn't get lost. Pay attention to the images that illustrate your articles, they must be considered, coherent, of good quality, and properly adapted to the different platforms your blog could be read on (mobile app, tablet app, website, etc).
Generally speaking, try to organize your blog pages so that they are as clear as possible and the items displayed are visible (share buttons or help section, for example).
Don't forget that low-quality design or low resolution images can completely discredit your work, and reduce your content creation efforts to nothing.

Even once your content has been written and designed, the work isn't over—there's still publication. I'm sure you're well aware that simply clicking the "Publish" button and waiting for the rest of the work to do itself is not an option.
Rule #3: The importance of timing
The digital world moves at the speed of light, and if your content is published at the wrong time, it can easily fall by the wayside. There are many types of time constraints:

-general time constraints: availability of your audience, days of the week that are most suitable to the reader,

-one-time constraints: certain times of the year, or certain noteworthy events that must be taken into account based on the type of content you would like to publish.

For general time constraints, you must study your audience, take a look at available studies (there are many), and find out yourself though experimental testing, which moments give you the highest chance of reaching your audience.
Rule #4: Sharing, it's always about sharing
Don't neglect all of the great distribution channels that are at your disposition.
Influential networks,
friends, colleagues...encourage everyone to share your content.
Social networks
are obviously a goldmine for this type of task, because if the content is well organized and high quality, they can allow it to go viral and surpass your initial goals.
Finally, take your budget into consideration, invest in sponsored posts on Facebook, or in other campaigns in various social networks.
I'm sure that if your content strategy isn't working as well as you'd like, the solution can be found in one of the suggestions found above. All that's left is just to do it!
Translated by Alexandra Soroka