GoodBarber eCommerce app: reward your customers and increase sales with a loyalty program
Written by Marie Pireddu on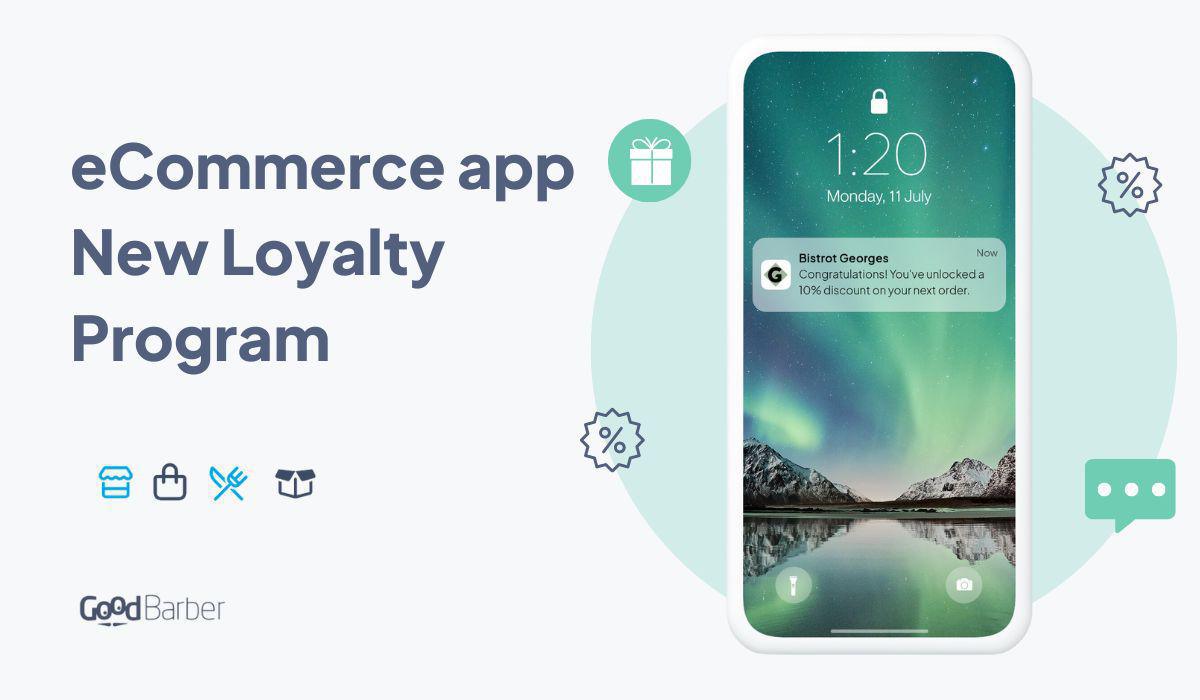 Building loyalty takes time, but one thing is certain: people are more loyal to stores that reward them. What could be better than getting compensated for a product you would buy anyway? A loyalty program is one of the easiest customer retention tools you could implement. It is a marketing tactic to get and keep customers returning to your store by providing them discounts. And there are also benefits for you!
We're happy to announce the release of the
Loyalty Program Extension
for GoodBarber eCommerce apps.
Read on to learn the benefits of offering a Loyalty Program and how to set this new feature in your app.
What is a loyalty program
A loyalty program in eCommerce is a marketing strategy used by online businesses to reward their customers for their repeat purchases and brand loyalty. Essentially, it's a system that encourages customers to keep coming back to the same online store by offering them incentives or rewards for their loyalty.
Typically, these loyalty programs work by giving customers points or some other type of reward for every purchase they make. These points can then be redeemed for discounts, free products, or other perks. The more a customer spends, the more points they accumulate, and the better rewards they can earn.
The goal of a loyalty program is to create a sense of community and belonging between the customer and the eCommerce business, which can help to increase customer retention and overall revenue for the business.
Loyalty programs are a proven marketing strategy used to:
Increase customer lifetime value and repeat purchases
Boost sales
Stand out from competitors
Build customer loyalty
Improve customer retention
A good rewards program both encourages and rewards repeat business. It offers points and discounts and sometimes more to keep customers excited about a brand and its products.
The most appreciated perks according to a YouGov study commission by Bolt are reward points and cash backs (66%), Discounts (64%), and lastly
Free shipping
(55%).
Why add a loyalty program to your GoodBarber eCommerce app?
There are a few benefits to offering a loyalty program to your customers.

1. It increases sales

Implementing loyalty programs can have a substantial impact on your online sales. By offering customers rewards in the form of loyalty points for their purchases, you can incentivize repeat business and foster long-term customer loyalty. Naturally, the value of these points lies in the benefits they offer. It is up to you to determine whether you will provide a fixed amount of the total purchase or a percentage discount to customers using their loyalty points.

2. It's Cost-Effective

In general, retaining your existing customers is more cost-effective than acquiring new ones. Building credibility with your current consumers requires a significant investment of effort, time, and resources, and fostering a loyal customer base from scratch takes a considerable amount of dedication. On the other hand, since your current customers have already experienced your product, it is less expensive to persuade them to make repeat purchases than it would be to convince a new customer to give your business a chance.

3. It increases Brand Awareness

Implementing loyalty programs can help you reach more people in a natural way. When customers receive an incentive with their purchase, they are more inclined to spread the word about your business or service to their friends and family. Since acquiring new customers can be pricey, loyalty programs provide a reliable means of reducing that cost.

4. It improves Customer Satisfaction

Online businesses that offer rewards programs provide a better shopping experience for their customers. By implementing customer loyalty programs, you can ensure higher client satisfaction. The incentives you provide demonstrate that you value your customers not just as one-time purchasers but also as long-term partners in your business.

How to set up your loyalty program in your app back office?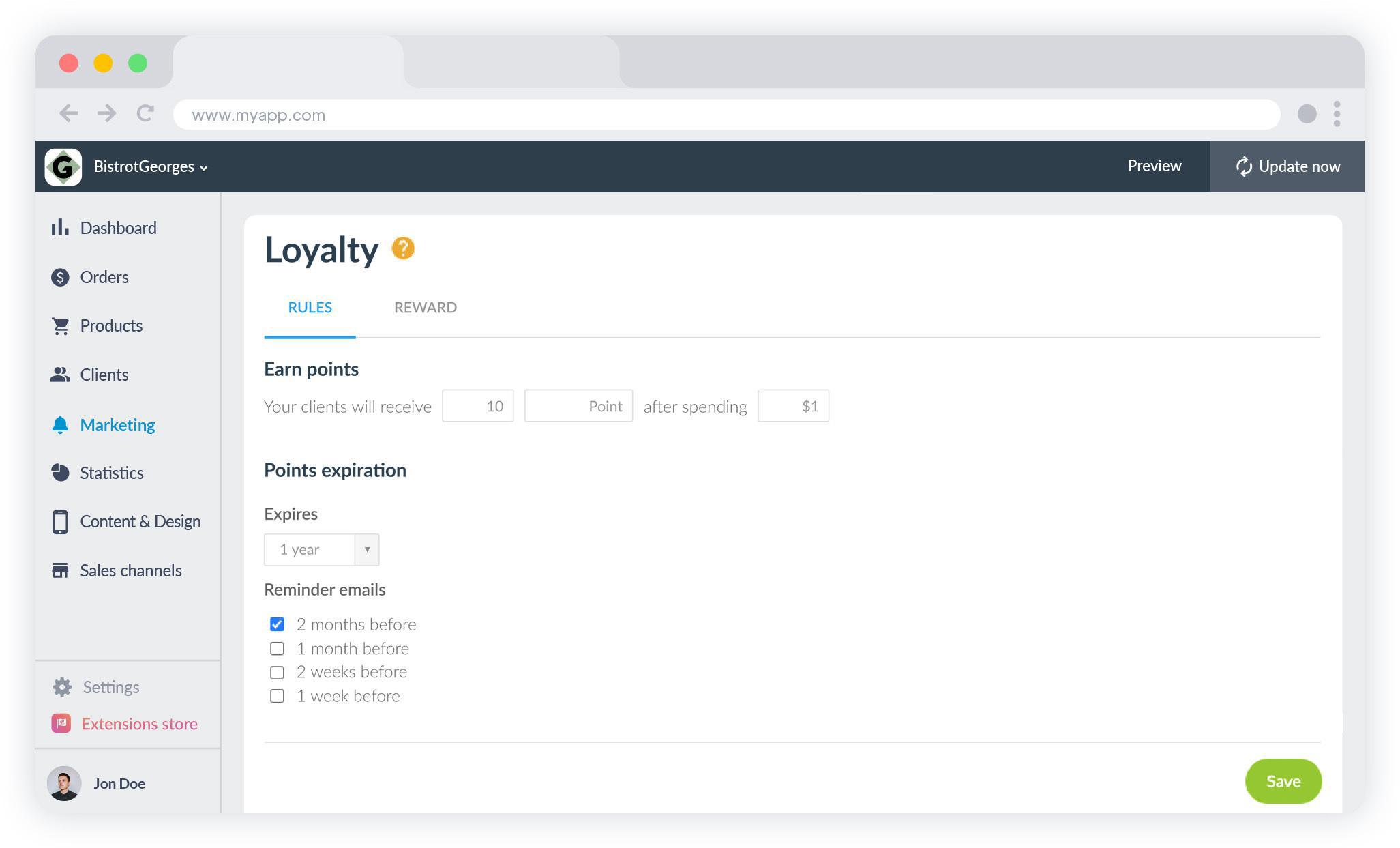 The loyalty program that you will offer to your customers with this extension is simple and effective.
For each purchase made in your app, your customer will accumulate points. This accumulation of points is done automatically. No specific action is required from your customer. Once the number of points reaches a threshold that you have defined, your customer receives a reward. You are the one who determines the correspondence between the amount spent in your app and the number of points obtained. You can also set a validity period for the use of points
How to set up the program?
In your app back office, from the menu
Marketing > Loyalty > Loyalty program.
The page will contain two tabs:
Rules and Reward. In the Rules tab
, the client will be able to set up his loyalty program by choosing:
How many points are generated for a specific amount spent


The name of the points (miles, stars, stamps, …)


The specific amount to spend to earn the defined number of points


The expiration date of the points


When to send the expiration mail reminders
In the Reward tab, you will define all the conditions of the reward:

Reward name
Number of points needed to earn the reward
Type of discount (fixed amount or percentage)
Validity period
Terms of use (none, order amount, or minimum quantity of product required)
​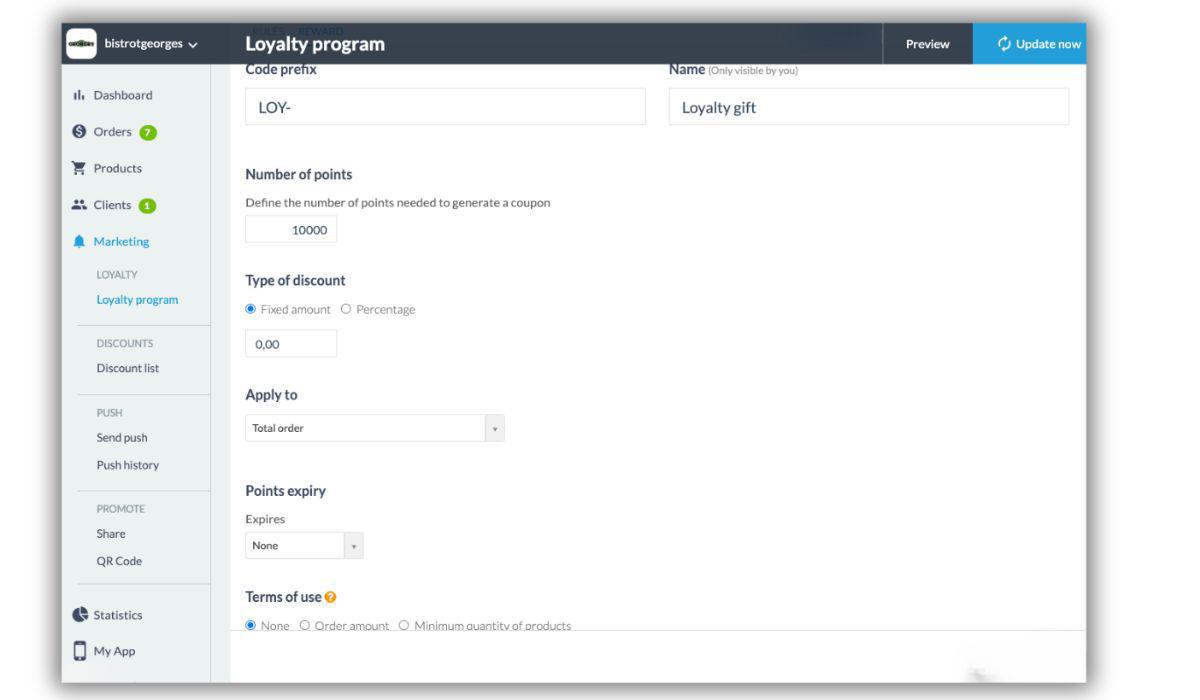 You can also edit the number of points manually from the back office. Useful in case of refund. You can do this from the
client details page
andclick on "Edit number of points"
When is the discount generated?
When the order is paid and successfully closed, meaning its status is Delivered or Finished:

The points generated by the order are credited to the customer


then, if the customer has reached the number of points needed, one coupon restricted to this customer is automatically generated. The number of points for this reward is also automatically deducted from the customer's total points. They keep the remaining points.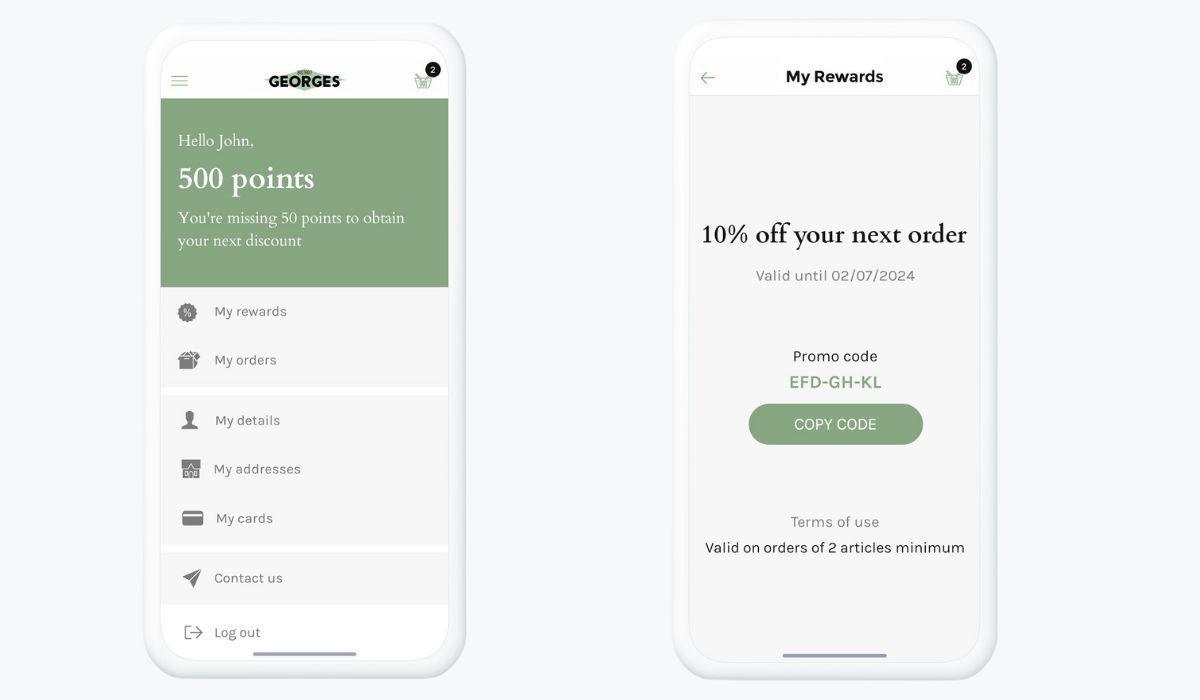 For example:
You've set the number of points needed to obtain a coupon at 1000.

Customer Doe has already earned 900 points and placed an order that credits them an additional 200 points. While the order is "Pending", the points are not yet seen on Customer Doe's profile.

When the customer receives their products and the order status is changed to "Delivered" or "Finished", then the number of points, in this case, 200, is added to the profile. The customer has now a total of 1100 points, which is enough points to generate a coupon.

Customer Doe is happy to be notified that they received a coupon.

Push notifications and email

Indeed, when your customers get a reward, you can inform them by push notification and email.

The content of the email and the notification are 100% customizable from your back office. You will be able to create a message in harmony with your communication style.
The push notification and email are sent automatically. They are sent as soon as the reward is obtained. When the customer opens the notification, they will be directed to their user profile, on the list of discounts. The email contains the discount code.

You also have the possibility to send automatic emails to alert your customer about the upcoming expiration of their loyalty points. You can warn them 2 months, 1 month, 2 weeks, or 1 week before their points expire. This is a good way to encourage your customer to place a new order on your app because, with each new order, the validity of the points is reset.