How to connect a Square POS to your GoodBarber App
Written by Marie Pireddu on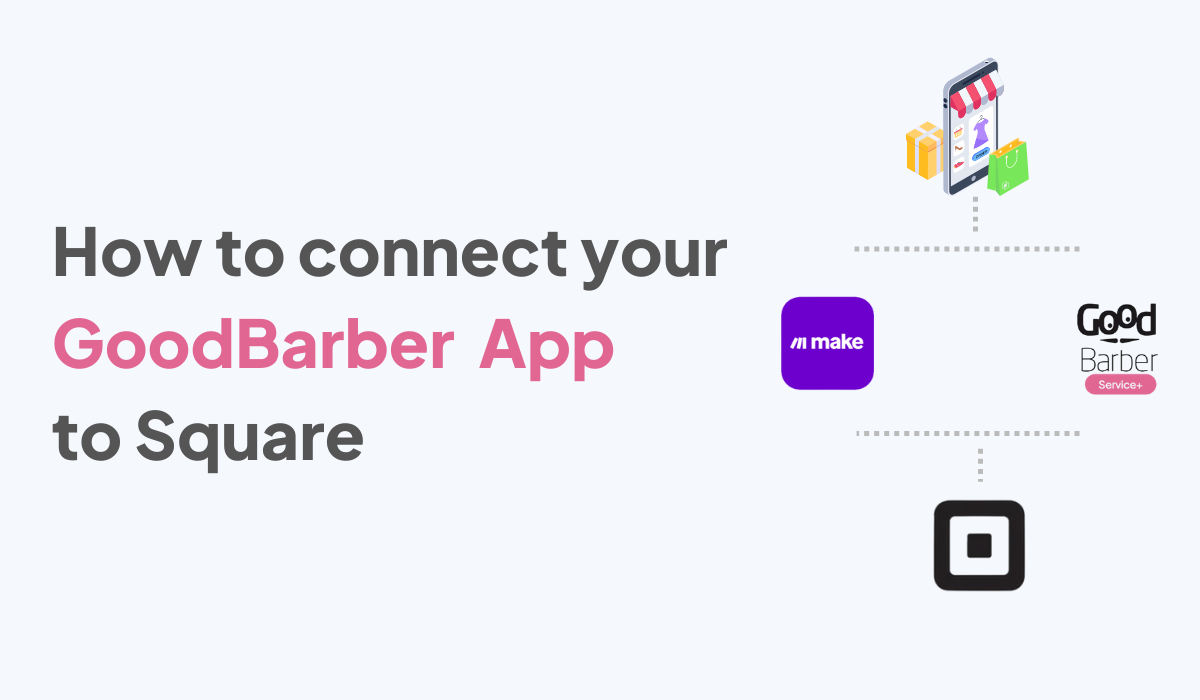 When running an online store, the payment gateway you choose to accept payments will have an impact on your sales.
While GoodBarber offers a smooth checkout process with several options such as Apple Pay, PayPal, and offline payment to name a few, some merchants choose the
Square POS system
as a complement. Square offers powerful features for store owners and hardware for brick-and-mortar stores.
We're often asked how to connect a GoodBarber eCommerce app to Square. You have 2 options:
1. Connect your GoodBarber app to a Square POS with GoodBarber Service+
2. Connect your GoodBarber app to Square with Make
But first, let's go over a few details about Square.
Square Terminal works as a standalone payment and POS terminal with software and receipt printer built-in. It accepts chip and contactless cards (with a slot for foreign swipe cards), or you can key in card details manually for phone payments.
Contrary to traditional card machines, Square Terminal is more than just for card payments. You can, for example, accept gift cards and edit your product library on the terminal.
From start to completion of each transaction, you use the touchscreen to navigate POS functions in the Square Point of Sale software built-in. Customers enter their PIN on the touchscreen too.
All transactions and activities on the terminal are connected to your backend Square account where more complementary features, eCommerce tools and integrations are available.
1. Connect your GoodBarber app to a Square POS with GoodBarber Service+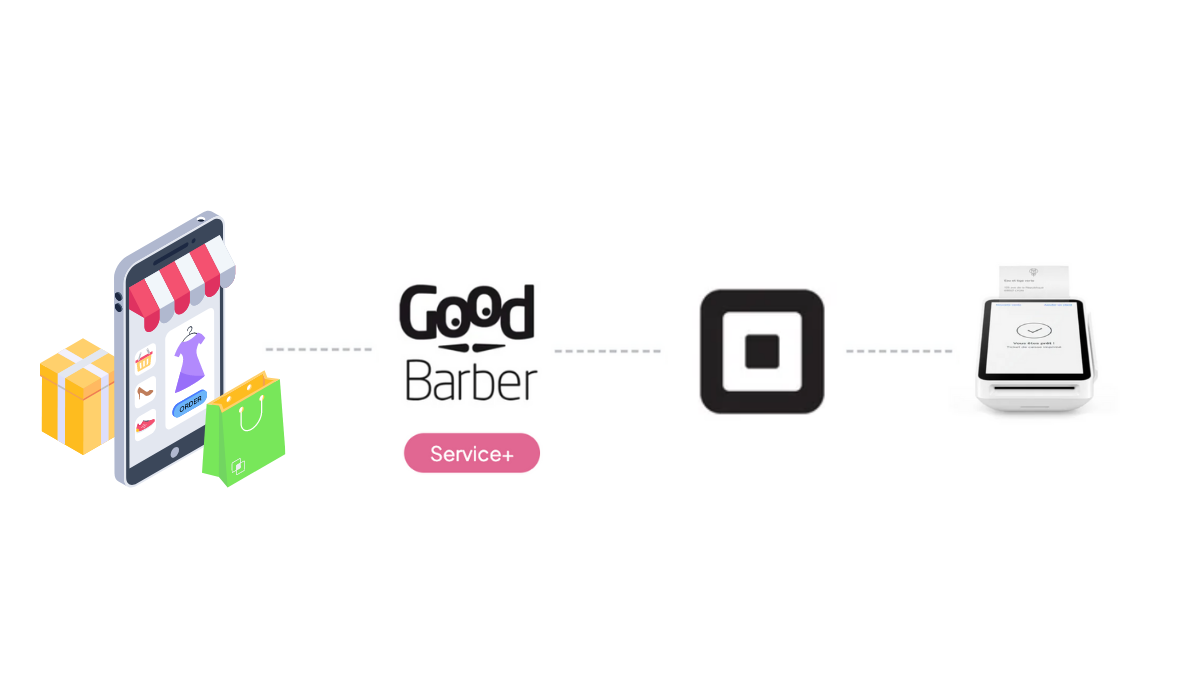 Our team can set up a direct connection to a
Square
terminal for your GoodBarber store. Orders received via your app are sent to your Square POS in real-time. You can manage your cash receipts through your Square terminal while allowing your users to place orders directly through your app.
Automatic synchronization of your catalog

Automatic synchronization of your orders

Direct printing of customer tickets

Possibility to connect additional thermal printers

Customization of the integration according to your needs
If you just starting out with Square and don't have a terminal yet, you need to create an account with Square here:
https://squareup.com/signup/
and order the terminal (99€).
This is different from a simple account creation as it is a payment terminal, so Square will perform some checks before validating your account.
Once this is done you can continue the process with our Service+ team to finalize the setup and connect your GoodBarber eCommerce app to your Square account.
With this connection, your pending orders will be sent to Square and your catalog will be synchronized. Each new order is notified to the Square terminal. You will also be able to print the ticket linked to the order from the Terminal as well as manage the transaction history.

​
If you're interested in connecting your GoodBarber app to your Square terminal, you can contact the
Service+
directly from the app back office. Simply open a ticket with our Support team and they will put you in touch with the team.
2. Connect your GoodBarber app to Square with Make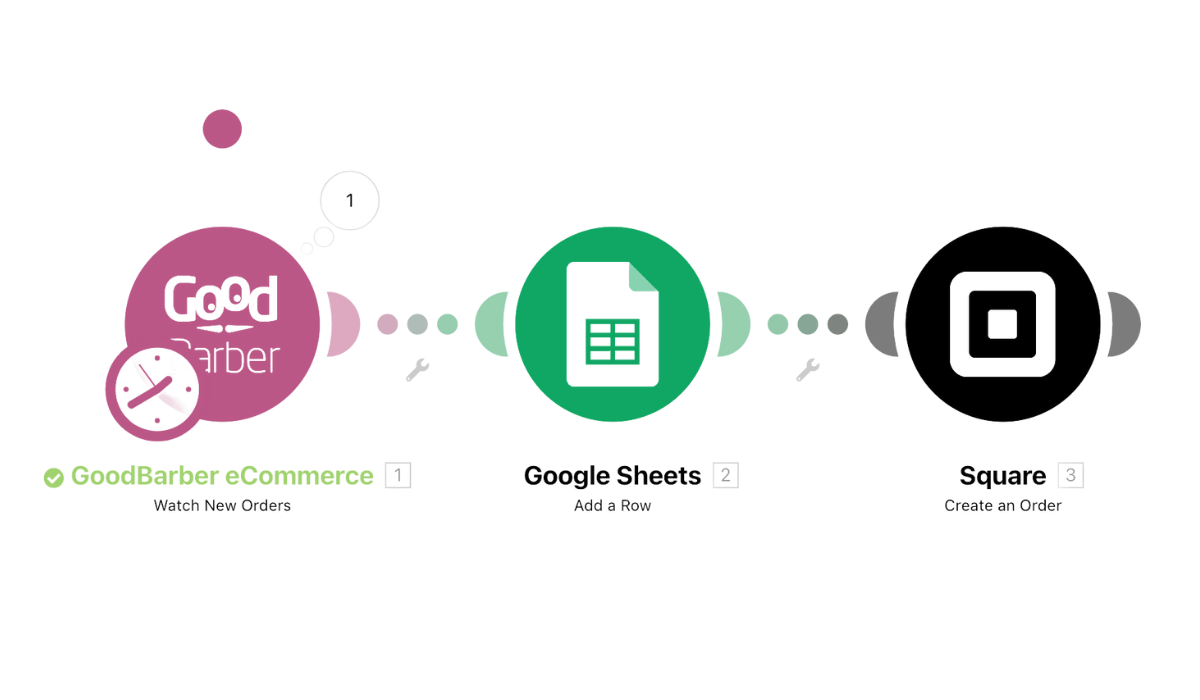 Another option is to use our
Make extension
.
Make is a tool that helps you automate repetitive tasks between your GoodBarber app and other online services, without any coding. When an event occurs in your app, Make can ask an online service to do a particular action, and vice versa.
If you haven't done so yet, sign up for Make, and authenticate your GoodBarber and Square accounts with Make. Then create your scenario: choose one of the apps as a trigger to start your automation, choose the resulting action from the other app, and select the data you want to send from one app to the other.
You can for example run a scenario using the GoodBarber "new order" trigger that will add a new row on a Google Sheet every time an order is placed on your GoodBarber app. Then the scenario will trigger a new order to be created on Square from that New Googe Sheet row.
Make
provides several online help to help you with the Integration of
Square
and
GoodBarber
as well as scenarios templates.
If you're interested in custom integrations, our
Service+ team is here to help.
They've already created solutions not only for
Square
but also
Expedy
(Thermal printer),
Shopify ,
and
Woo Commerce
and notifications of new orders on Slack or Discord for example.
Don't hesitate to get in touch with them to discuss specific needs for your eCommerce app.