How to convert your Shopify online store website into an mobile app
Written by Marie Pireddu on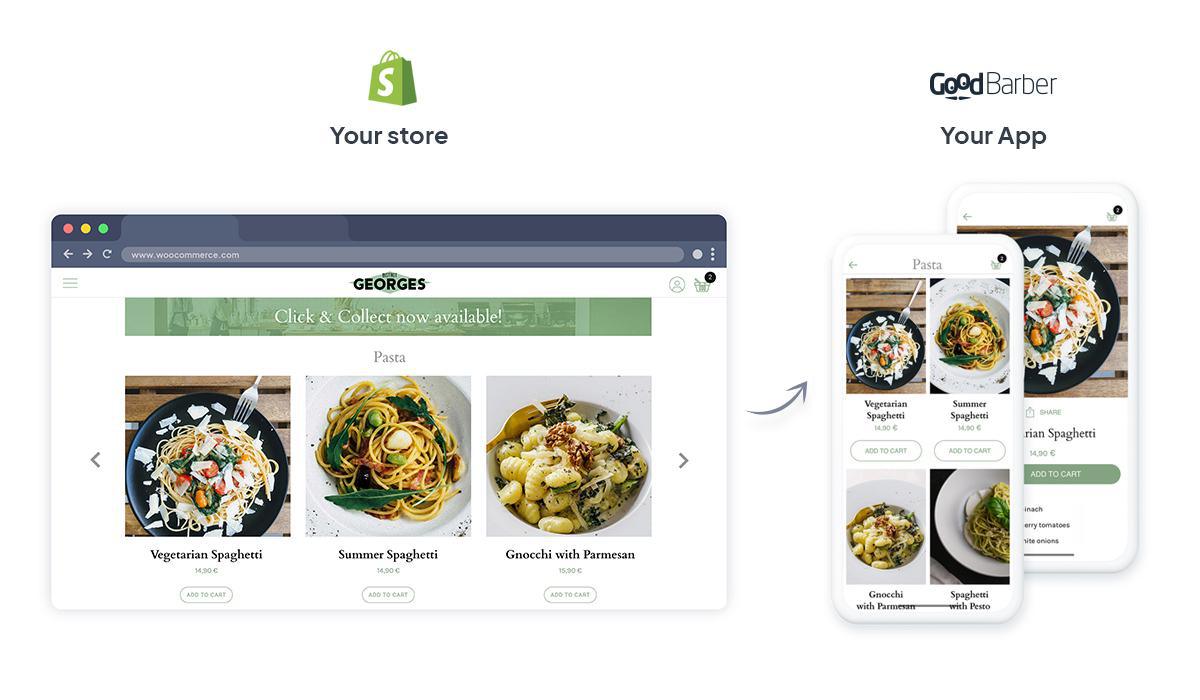 Selling your products on mobile is now a must. In the last year, 78% of consumers used their mobile phones to purchase their products. On top of that, more than 1/3 of these purchases have been made through a mobile app*. Indeed, eCommerce apps help build client loyalty and offer more convenience, speed, and stored settings. Who wants to keep entering their password right? ;)

So, if you're already selling online with Shopify, to stay ahead of the curve, it's time to combine that website with a native mobile app. In this article, we'll cover the why and how to convert your Shopify online store into a mobile app and how to use the Goodbarber connector for Shopify.

1. Why turn your online store into a native app
2. Do I need to start from scratch?
3. Connect your app to your GoodBarber eCommerce app
Why turn your online store website into a native app
Why should you consider adding an iOS or Android app to your store website? Well, even
Shopify recommends it
, since 2016 no less!
All jokes asides, native apps have a proven track record in
increasing conversion rates
(3 times higher than a website),
sales, and customer loyalty
thanks to
specific features
(push notifications, one-click payments for example).
Because a native app is built for use on a particular device and its OS, it has the ability to use device-specific hardware and software. Native apps can provide optimized performance and take advantage of the latest technology, such as GPS, push notifications (the #1 marketing tool for mobile apps), and cameras.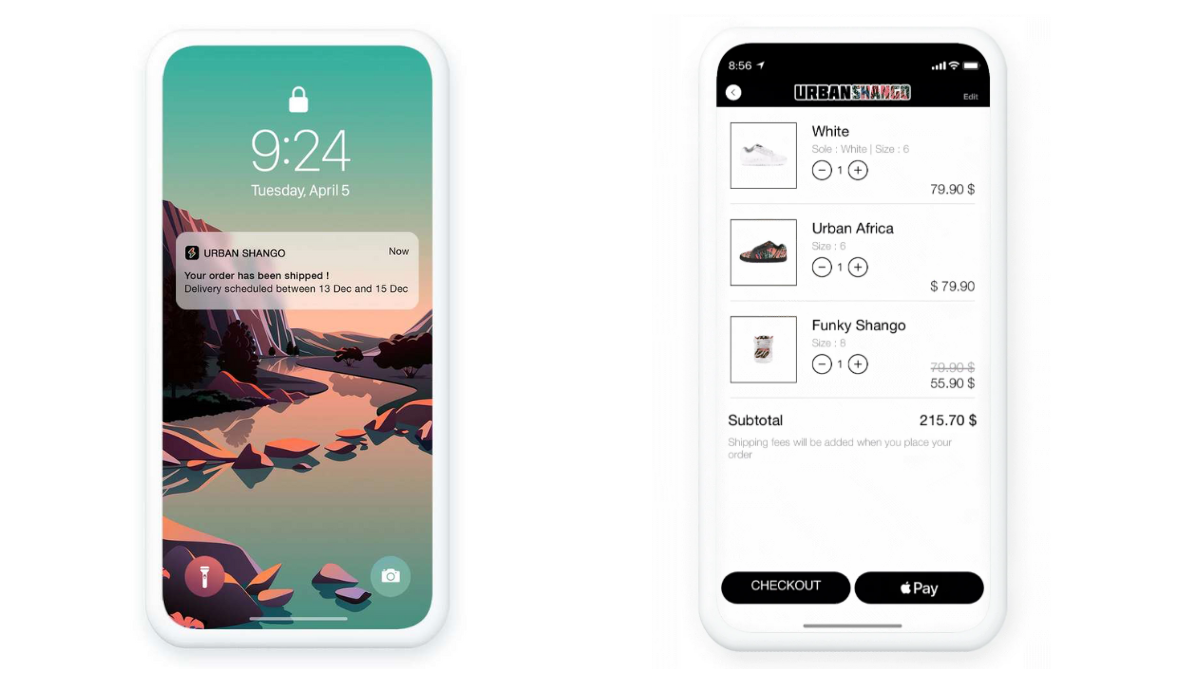 Do I need to start from scratch?
This question comes up quite often when looking to turn a website into an app. Well, the answer is: no, you don't have to. You can if you want to, but you don't have to. There are various approaches to turning your Shopify store into a mobile app.
You can:
1.
Hire a developer or agency to create a custom app.
You can have a custom app developed for your store but let's face it, this will cost you an arm and a leg. Even more so if you want an iOS and Android version.
2.
Use Shopify Plugins.
A more affordable solution is to use one of the plugins from the Shopify App Store. For a monthly fee (depending on the quality of the app), you'll find several solutions. There are no technical skills required and the process is quite fast. You simply need to the app to your Shopify store back office. However, your eCommerce app may lack some key features such as sales optimization features.
3.
Use an App Builder.
The most affordable solution for creating an app with all the features you need. The advantages of using an app builder:
No Coding Skills: you only need to choose the design templates, layouts, and modules and start with the creation of your app.
Feature-rich app: In most app builders, you'll find all the popular features of the eCommerce platforms, plus various extra features specific to mobile apps.
No maintenance or updates cost: All the support and maintenance issues are handled by the app builder. Its monthly fee includes such expenses, you are not required to pay extra.
You only create one app: cross-platform app makers have an interface where you create one app only and their software automatically creates an iOS and an Android version (depending on your subscription plan).
If you need help finding the right app builder for you, check out our guide on
how to choose the right app builder
If you decide to go the app builder road ( we highly recommend it ;) ), continue below to find out how to use GoodBarber connector for Shopify and convert your Shopify online store into a complete eCommerce app.
Connect your app to your GoodBarber eCommerce app
How does the GoodBarber's Shopify connector work?
It syncs your catalog (collections and products) from your Shopify store to your Goodbarber app. The connector uses the master/slave technology, meaning that each product your add to your Shopify store will automatically appear in your GoodBarber app, but not the other way around.
The connector also synchronizes your stock (when a product is purchased on your Shopify website, the stock of this product is also updated on the app and vice versa).
When an order is placed on your app, it automatically creates the order on your Shopify store as well.
As customers are managed in two separate databases, your existing Shopify customers will have to create an account in the app the first time they place an order.
If you don't have a GoodBarber app yet,
follow these steps to create your app:
Create an account with GoodBarber (you can start with the 30-day free trial. However, you will need a paid subscription to publish your app on the Store. You can find our pricing here
Once the account is created you will automatically land in your back office. A theme and template have automatically been applied to your app to get you started. But of course, you can change that and customize your design to fit your brand: color theme, logo, fonts, etc.
If you'd like GoodBarber to create the app and design it for you as well, please get in touch with our support from your app back office (or from this page ) to get a quote.
Design your sections
Add sales optimization extensions such as:
Abandoned orders (recover by email and push notification clients who have initiated an order without finalizing it)
Cart popup reminder (when a client returns to your app and their cart contains items from a previous visit, a popup is displayed allowing them to directly access the checkout),
Buy Again (your clients can renew an order in one simple click with the "Buy again" button)
Quick Buy button (your clients can easily add products to their cart from the Home page or while browsing a collection., never leaving the page they're browsing)
6. Contact our
Service+ team
to connect your Shopify store to your app back office. The cost of the setup of 99€ (for one app) plus the cost of your GoodBarber subscription.
7. Publish your app on the App Store and Google Play.
You'll find useful
tips on how to create a eCommerce app
on GoodBarber in this
article
.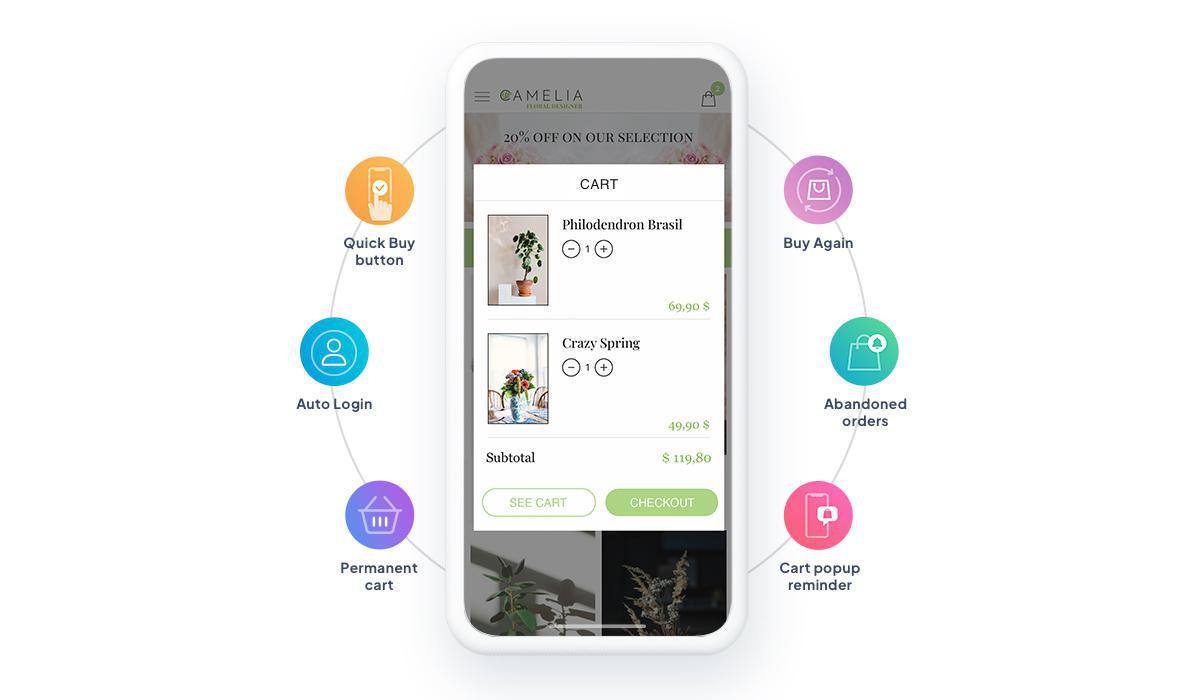 Once your app is published to can start taking advantage of one of the best marketing tools offered by native apps: push notifications. A push notification is a great way to bring back your clients to your app and continue to shop. Several marketing campaigns can be imagined with push notifications: announce back-in-stock products, special offers etc.
Create your app
now and test our Shopify connector!
(*
source
Adobe EMEA Consumer Research 2022)
.