New extensions to easily turn your podcast into an app
Written by Marie Pireddu on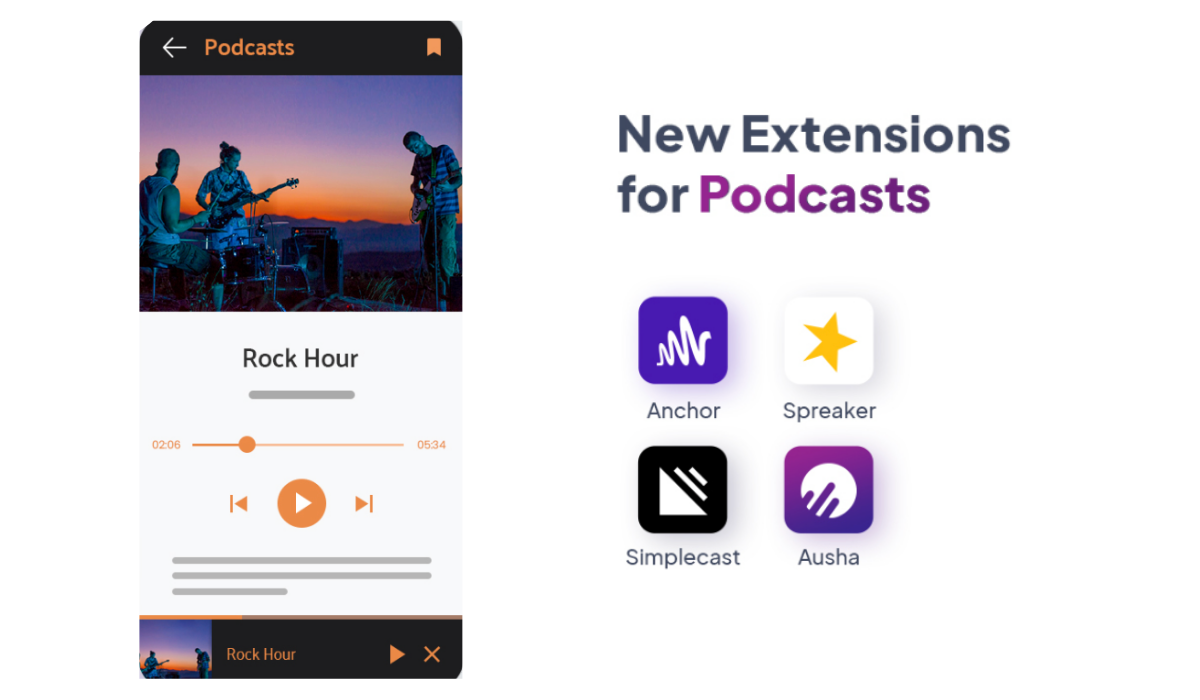 The audience for podcasting has grown significantly in recent years. According to a report by Edison Research, 78% of Americans are now familiar with podcasting, while 57% have listened to a podcast
Whether you're a business owner or starting a new venture, a podcast is an excellent way to build an audience and position yourself as an authority in your industry. They are a popular content platform because they're easy to consume. People can listen to podcasts on the go, in the car, at the gym, and even at work.
One of the best things about podcasting is the intimate connection you build with your audience. In a day, where social media has shrunk attention spans, your listeners will happily spend 30 minutes or so with you at any given time, giving you the ability to really dive deep into your topics.
Why turn your podcast into an app
A mobile app will give you the opportunity to
connect more directly with your audience.
Not only does it give a more professional touch to your podcast that will impress your listeners, but you can add
other features that will help you create a more engaged community
around your podcast:
Push notifications to announce new episodes, special guests, and more with specially targeted notifications delivered right to your users.
Videos: your listeners will also get to enjoy your podcast recordings, especially when interviewing guests.
Calendar for events, new episodes
Form: the best way to receive engagement: requests from listeners, questions you would answer on your podcast, etc.
Favorite sections: your listeners can create their own playlist from their favorite episodes.
Offline content: Your users can easily listen to your podcasts even without a network thanks to the Favorites feature. Your content is synchronized from your back office and stored directly in the app for offline playback.
Monetization with ads placements and/or premium content for your subscribers.
You also know that users who downloaded your app are more likely to be a loyal, engaged base leaving comments or likes on your episodes, helping you gain visibility and growing your followers.
Another benefit is exclusivity. Users only have access to your podcast. There's no getting distracted by other podcasts.
You can find more features to add to your podcast in our
blog.
Connect your existing podcasts to your GoodBarber app
While GoodBarber already offered several features to help your turn your podcast into an app such as the Podcast sections and
Podcast feed
, we have now added 4 new sections to make this even easier:
Ausha

This extension allows you to connect your
Ausha
account with your GoodBarber app. Once the extension is added and set up, you continue to host your podcasts in Ausha, and they will automatically be available in your app as well.
Anchor

As for Ausha, the
Anchor
extension allows you to connect your Anchor account with your GoodBarber app. Once the extension is added and setup, you continue to host your podcasts without any changes in your habits, your podcasts are automatically available in your app,
Spreaker

You can now broadcast the podcasts you created with Spreaker directly in your app. Simply link your Siplecast account to your GoodBarber app and your podcasts will be automatically synchronized in your app.
Simplecast

Another podcast hosting favorite, Simplecast can now be connected to your GoodBarber app for easy synchronization of your episodes. They will automatically be available in your app.


To connect these extensions, simply add them from :
- The extension page in your back office Extensions Store: click on "install" at the bottom of the page.
- By adding the section from the right side menu > add a section > load more > click on the extension you want.

You will automatically land on the editing panel of the section. Give it a name, add the URL of the feed from your podcast hosting platform and select where it will be displayed in the app.
You will then be able to add a thumbnail and design your new section.