Resellers: how to sell an app to a physical store?
Written by Christophe Spinettiii on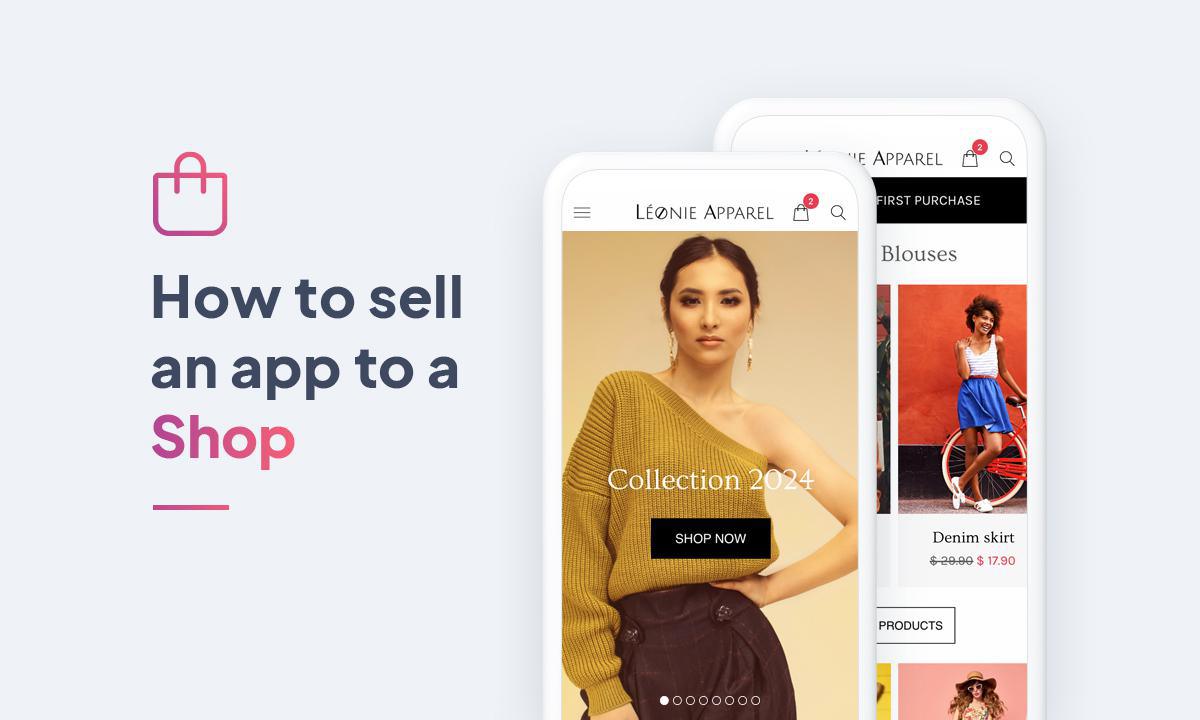 1/ Which target to reach?
When you decide to sell apps to physical stores, the possibilities are endless. Thanks to GoodBarber, you can customize the app you sell to the extreme so it will be possible to reach a whole bunch of sectors. But we will list the main ones:

- Fashion stores (Clothing, shoes, jewelry)

All fashion stores are already very active on social networks. This is the sector that generates the most online sales. That's why store owners are often very present on social networks. It is important for them to be in contact with their customers who are very connected. That's why an own online sales site, and even better, an app should be considered as an important development strategy for them. The customers of these stores consume a lot of information on social networks and are therefore very inclined to use their mobile to do their shopping. If you don't know which target to start with, we advise you to start with this target which is likely to be attentive to your sales pitch.

- Beauty stores

Beauty products are also sold a lot online. The universe is very competitive. Physical stores, which have their regular customers, are starting to feel that their customers are getting more and more information online, and rely a lot on influencer marketing in this field. If you add the ease of buying on the web or via apps, this kind of store has every interest in going to the mobile field to keep their customers interested. Plus, if they do campaigns with local influencers, it can further strengthen their mobile presence.

- Fine food Shops

Fine specialty stores aren't necessarily a dynamic sector in terms of eCommerce. It's a local business where advice is important. Nevertheless, it is a sector which is trending more and more in the city centers and therefore, faces strong competition. If a delicatessen knows how to promote itself on mobile, it will undoubtedly have a competitive advantage. Moreover, these are businesses that generally make good margins, which can allow them to offer an app as a way to increase their sales and improve their image.

- Technology stores

Online commerce is predominant in this sector. Moreover, the products of major brands such as Apple, Samsung, Huawei, and others, are the same everywhere and the competition is therefore fierce. Nevertheless, there is a clientele that still buys these types of products in stores. Having an app for these businesses could have a loyalty objective. Moreover, there are a lot of consumables and accessories in this domain, which do not necessarily require the advice of a salesperson. In this case, the consumer will be able to order a protective cover for their iPhone from their usual shop but from their sofa... and get it the next morning ;)

- Opticians

Everything can be bought online nowadays. You can even buy glasses online. Nevertheless, this sector resists well to the internet competition because customers like to try by themselves the glasses and when they have to buy glasses, they usually go from the ophthalmologist to the store directly. The glasses are made to measure and in general, customers feel more reassured. So why reach this target? First of all, artificial intelligence tools are progressing very fast, and trying on glasses online will soon be a formality. And the same goes for corrected lenses: a doctor's prescription is directly sent to a site, and customers will receive their glasses within a few days. So, having an app that highlights the global offer of glasses, that allows ordering consumables, and that manages the daily customer relationship can allow opticians to anticipate these new ways of working.

- Florists

Florists, for the most part, sell bouquets for special occasions. A birthday, a family event, a wedding, or even unfortunately a funeral. Sometimes you have to rush to a florist to choose and buy the bouquet you want. Sometimes, you even need to ask for delivery because you can't go in person to the said event. Florists who position themselves with an app can make life much easier for their users. This target, which sells a lot by phone, can be a privileged target for app sales.
2/ Which features to highlight?
For physical stores, at the design stage, the app will look a lot like a pure player app. The main goal here is to highlight the products offered by the store but also to show that it has a strong local attach and that, as we will see in part 3, can be a selling point.

- Collections and product pages

First of all, the first functionality that the shopkeeper needs is to be able to create collections and product pages. With GoodBarber, you have all the tools needed to meet the specificity of these stores. Collections and sub-collections allow you to create the architecture for almost any shop. Then, thanks to the product pages, you can impress your lead by showing them the possible options. First of all, you can add up to 9 photos. You can of course add as much text as you want and even put a technical page. Finally, there is the possibility to add an embed video. The variants are useful for products with different capacities or different colors. This way, the end customer doesn't need to go to all the products to see the different variants. They can do it from a drop-down menu inside the product page. An interesting option is the "similar products" that facilitate additional sales.

- Coupons

Coupons will be very useful for merchants. Indeed, on the internet users are used to receiving promotions often. Thanks to this very useful and customizable option, you can show your merchant customers that they can create promotions only for their loyal customers, or only on certain product lines, or only from a minimum purchase.

- Push notifications

To promote the coupons offered by your merchant customers, what better way than to offer them the possibility to send push notifications. These notifications are undeniable assets to attract the attention of users. First of all, users must agree to receive these notifications. So it's never considered as spam. They are in demand. Also, once the user clicks on the notification, they are sent into the app and there you can define which section of the app they are directed to. And so the user experience is ultra-smooth and integrated into the operating system of their smartphone. This limits any friction that could block a sale.

Moreover, push notifications can be used to communicate about other events than coupons. Your customer can use them, for example, to communicate about schedule changes, the creation of a new collection or a change of address or concept. Only apps can offer this proximity to the end-user because it is the best way to contact them on their favorite tool: their smartphone.

- Click and collect (+ offline payment)

One thing that gives physical retailers an advantage over pure players is proximity. In this case, an app can allow a physical retailer to go and get sales on the pure players' ground, but it can also bring people back to the store. The more people the merchant receives, the more sales opportunities they have. That's why the Click and Collect option is so appealing to them. It's all about placing an order on the app and picking it up in-store. The final customer can even do without entering their address if they choose click and collect to have an even more fluid experience.

- Business card + Map

A merchant can take advantage of the business card options to offer a general presentation of their business. They can add photos and videos. They will be able to communicate their values and take advantage of showing their proximity and make it an asset. Internet users or users of local stores apps like to know who they are dealing with and it is important to give them a context. The Map option of course is also essential for app users to easily find the store when they need to go there.

- Forms

Some merchants sometimes have custom or on-demand services. And these services cannot be sold via a product form. In this case, having a customizable form can be interesting. Thanks to this, customers can request a quote. They can also ask for specific information about the products sold, or about the store in general. This can be very useful to keep contact with its customers and users.

- Blog

A blog option can be added in the app. To be honest, local merchants often don't have the time or motivation to keep a blog up to date. Moreover, if the blog contains few old and not updated articles, it has no interest. But if the merchant wants to use an external service provider to maintain the blog it can be interesting for him to have a content management tool integrated to his eCommerce app. The blog can be used to promote the store, establish its expertise in its field of activity and can help with search engine optimization if it has decided to publish the web version of the app. If you have the resources in-house, it will even be a good opportunity for you to sell this additional service.

With the competition that merchants face on the internet, they sometimes feel frustrated not to be able to compete with such players. Well, thanks to Goodbarber apps and your expertise, you will be able to prove to them that it is possible to compete with web-based companies only.
3/ What points to use to sell an app to a physical store?
Apart from the options themselves, which can pick the interest of your potential client, to completely convince them to buy an app, you will have to provide them with strong and relevant reasons. They really need to see the interest of owning an app and not think that it's a toy they're buying. Here are a few selling points that will convince your merchant customers.
- Stay open 24/7
With an eCommerce app, your merchant customers will be able to remain open 24/7. Thus, customers who wish to shop from their sofa, check availability, or look at the merchant's latest news, won't have to go to the store. They will be able to have access to their collections as soon as they want and shop without any time constraint or without making a detour to the physical store. The user experience is optimal. An app is really appropriate (more than a website) because sales on mobile are increasing and conversion rates in native apps are 3x higher than for the mobile website.
- Reach a wider customer base
Of course, when you are on the web or on the stores you can theoretically sell to the whole world. In reality, it is much more difficult than we think. The competition is tough in all sectors and you have to invest a lot in marketing to reach a very large target. Nevertheless, with an app, your merchant will be able to be visible and especially sell outside their usual area of business. Without wanting to go worldwide, they will be able to widen their usual zone of influence. If they want to do national campaigns, they will be able to do so, and that's a great selling point. If you manage your client's marketing, this is even an opportunity to sell them options and increase your revenues.
- Promote products more easily
As we've seen above, it is extremely difficult and expensive for a physical business to advertise, and communicate about its products. Of course, there are social networks.
It goes with the app
. Your customers can advertise on social media, but the associated link brings back to an app, the user experience will be optimal. Let's not forget that social networks are mainly consulted on smartphones. In addition to social networks, there is a very effective tool to promote the merchant's products via the app: the push notification. As we've seen above, this marketing tool is very effective because the user has given their consent to receive the notifications. Therefore, the message will never be considered as spam. However, be careful not to send too many notifications, as this can bore users. Their advantages are numerous. First of all, your client can do a complete targeting (type of platform used, geographical area, group of users, people who have not connected to the app for a long time...). They can even schedule the times to be sure that users will receive the notifications at the appropriate time. Also, it is not mandatory to send the homepage link in the notification. If your client wants to promote a new pair of shoes, they can send the user directly to that product page. The marketing action will have even more impact.
- Attract people to the store (and make additional sales)
As we said before, the goal of a physical store is to bring people into the actual tore. The Click & Collect option will bring a new type of customer into the store. Sometimes, these customers will be in a hurry and will just come to pick up their order. In this case, the store must have an adapted process to make the experience as smooth as possible. But sometimes they'll browse, and if they find other things that interest them, they can buy those items in addition to what they picked up on the app. Also, if some products are sold by size, customers will be able to try them on in-store and thus change sizes much more easily if it doesn't fit. This is why the merchant must always be ready to add service to the sale made via the app and create the opportunity to make additional sales. In this case, the app will have really acted as an acquisition channel and will have proved to be even more profitable for the merchant.
- Give a modern image
We spend on average more than 3.5 hours a day on our smartphones. The big social networking, gaming or e-commerce companies capture most of this usage time. Nevertheless, consuming locally via an app will become more and more popular. Users are in demand. And so, a local merchant who positions themselves on this market, in addition to making sales, will give themselves a modern image. It will even be a good selling point for the app. It will also help to attract a younger clientele.
- Retain existing customers
An app is downloaded on a store by definition (App Store for iOS and Play Store for Android). If the person makes the effort to download the app, chances are they will use it. But you shouldn't stop your efforts here. Indeed, some studies show that we use only 10% of the apps available on our smartphones on a regular basis. That's why it is essential to offer regular marketing and promotional actions on the app. It is necessary that users see an interest to come regularly to the app and use it. Once this is achieved, loyalty is assured because if the user experience is good, the customer will be more likely to order via this app than to do tedious research on the internet to find a product that the app sells. Another point to make for your customers is regarding the use of an app compared to a mobile site. In order for the user to find your customer's site on their smartphone, they have to search in their browser. And in this case, if competitors of yours or big players are advertising on the searched keyword, the user may go to a competitor in passing. Whereas if the user has the app on their smartphone, they won't bother typing a name on the web. They will go directly to the app.
If you, as a GoodBarber App Reseller, decide to start selling apps on Physical Shops, you have some strong selling points. The features offered have been specifically designed for this type of business and they will really see a real return on investment.