Resellers: How to sell an online courses app?
Written by Christophe Spinetti on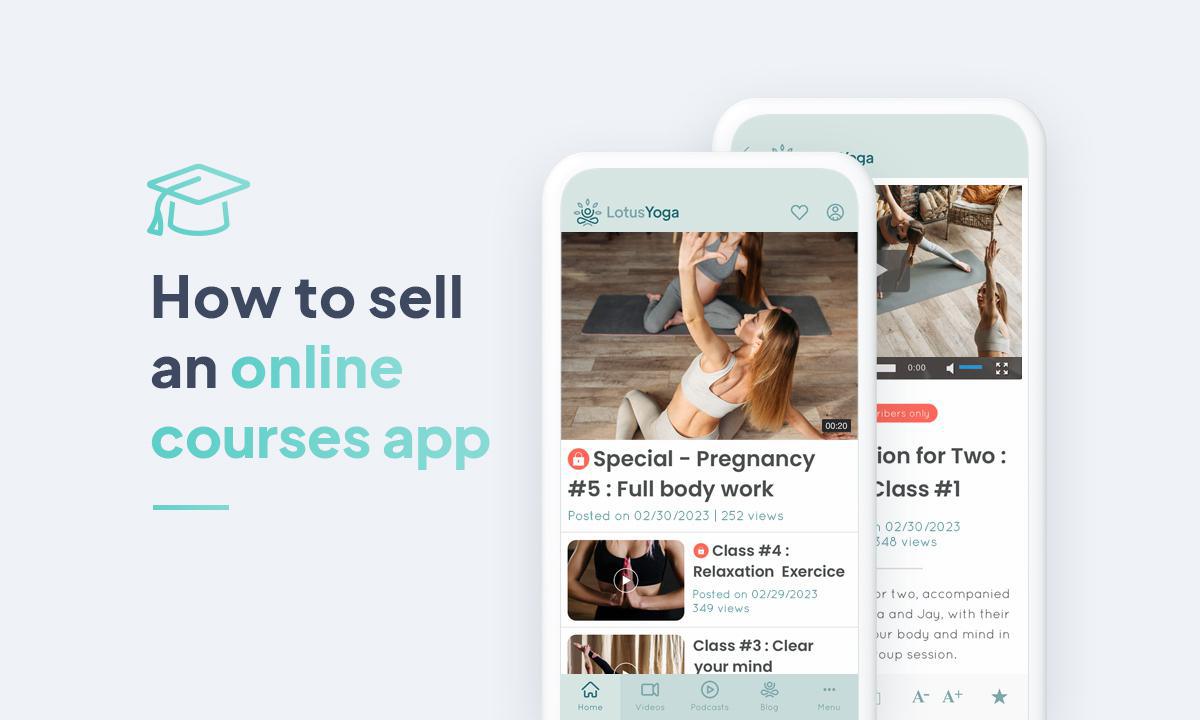 Since the beginning of February, you can finally add the "in-app purchase" option in your GoodBarber content applications. As a reseller, this opens up new opportunities for you to expand. What is the "In-app purchase" option? Basically, it means that the app doesn't have to be paid for when downloaded from the store, but users will be able to purchase subscriptions to access certain content directly from the app. And in this case, this option is particularly suitable for leads or clients who want to provide online courses and monetize these courses. In this article, we'll give you the keys to selling online courses apps.
1/ Identify and get in touch with your target
2/ The advantages to put forward
3/ Features for online courses
1/ Identify and get in touch with your target
The "in-app purchase" option can be of interest to a wide range of business sectors. But it's true that it's particularly well suited to sell subscriptions for
online courses
. In this case alone, the target is very wide. To identify your target, you have 2 solutions.
Either you decide to specialize in a certain type of course, even if it means starting with
demo apps,
and tackle a large geographical market. You can sell apps without necessarily having physical contact with your clients. Modern tools allow you to create online demos easily and efficiently.
Or, you decide to stay in a smaller geographic area and go after all the leads that are likely to give online courses.
In both cases, the industries you can target are numerous:
Sport: First of all, of course, all classes oriented towards sport, fitness, or yoga are on the rise. More and more independents are starting up in this sector and the demand is strong. So it is already an obvious choice to consider this sector of activity.
Wellness, coaching, and personal development: In today's world, more and more people are turning to coaches to help them in their personal and professional lives.
Music: An interesting target can be music teachers. Many of them are comfortable with sound and perhaps image, and therefore will be fans of an app where they can showcase their talent and take advantage of their art.
Tutoring: Tutoring is hard to find in some cities, or is very expensive. Moreover, students are not motivated to go there sometimes. Here, the course is inside their favorite "toy": their smartphone. This can increase their motivation ;) Students on the contrary are looking for help and resources to pass tests and/or midterms. Studies are expensive, so it will be possible for them to devote part of their budget to online courses if they see an added value.
Business: Many coaches or consultants give marketing, sales, management or financial investment advice on a website, they can also do it via an app, right? This sector, although difficult to target, can be lucrative because these are people who charge quite a lot for their services.
Technology: Being part of the technology world, you know that in this sector the course possibilities are endless. Computer technicians or engineers, community managers, no-code specialists, traffic managers, not to mention all the specialists of specific tools (Google Ads, Google Analytics, WordPress, Salesforce, GoodBarber....) are likely to offer online courses. Moreover, this ecosystem is constantly evolving. Hence the justification for a subscription because your clients will always have fresh material to bring to their subscribers.
Finally, there is still a slightly different target, which can be difficult to identify. These are the influencers. They give lots of advice and make "tutorials" for their community. Most of them are paid by brands in exchange for visibility. But you could try to sell them an online course app, why not? Their audience is loyal and might be willing to pay a subscription to follow specific tips. You can also offer them an online course app and use it to promote your product.
To find these clients, you can of course use traditional techniques, such as using your professional network or personal relationships. You can also do traditional prospecting or simply propose this new service to some of your existing customers. You can advertise on AdWords and on social networks. The approach is different, on AdWords the users do a specific search so they are most likely already interested in your product. But the competition is tough and your budget can quickly explode. On social networks you will generate interest, you can take advantage of it to create fun content and let your creative side flow ;) On top of that, if you decide to stay in your geographical area, you can get in touch with sports clubs, music schools, advertise on local radio (it's not very modern but it still works locally).
2/ The advantages to put forward
Once you have identified your target audience and your marketing strategy, here are the elements you can use to successfully sell an online course app with in-app purchases:
Free App: Just because the app contains in-app purchases doesn't mean it's paid for at the time of download. On the contrary, it is highly recommended to make it freely available on the store, in order to get as many downloads as possible. The goal is to generate interest in the user so that they are motivated to take out a subscription.
Access to 4 billion users: Of course, this claim is deliberately provocative. The App Store (Apple) has a little over a billion users and the Play Store (Google) almost 3 billion worldwide. Theoretically, you have access to this entire user base, however, there are lots of language spaces and huge competition depending on the country. Your app will surely serve a smaller target than the 4 billion but nevertheless, you know you are offering a tool capable of reaching a very large number of users. Without typing a line of code and with a single dashboard to manage iOS and Android in one place.
Growing online courses: The eLearning market has reached $250B in 2020, with 21% growth per year expected between 2021 and 2027. The mobile share is expected to triple over this period. The demand is there. There's no need to demonstrate it further. Your customers will be comforted by this data because it will show them that if they don't get into mobile soon, they will lose a lot.
Adapted course format: Nowadays, having access to a lot of information on different media inevitably lowers our attention and concentration capacity on a single task. Smartphone courses are particularly adapted to the new uses because you can take a course wherever and whenever you want. For example for courses in Video format, most of the time in apps (at least it is a good practice), they are short formats. It's more motivating because the user has the feeling that he/she has achieved a goal after 10 minutes. Moreover, it is easier to adapt to the learning pace. Some people go faster than others and for the slower ones, long videos can be discouraging. It is better to have 10 videos of 10 minutes than one video of 100 minutes.
More sedentary population: Nowadays, given the health circumstances, the world population is becoming more sedentary by force of circumstance. And the habits taken during the different confinements remain. Taking evening classes away from home is less and less motivating. With new technologies, learners prefer to take courses at home. Travel time is increasingly seen as a waste of time. The eLearning Apps are therefore at the forefront to alleviate these problems.
Easy purchase on the stores: In-app purchases are managed directly by the platforms. You don't have to worry about any payment system to set up. Moreover, as it is managed directly by the stores, the user interface is designed to make the payment and the purchase process as easy as possible. This is a critical factor in any form of online commerce. Thanks to the constant optimization of the user experience provided by the App Store and the Play Store, the conversion of leads into customers is very efficient. For your information, app users spent 133 billion dollars in the stores in 2021 worldwide. 20% more than in 2020.
Recurring revenue: An online course app brings in recurring revenue via "in-app purchase" subscriptions. If the attrition rate (number of people who unsubscribe from your app) is low, your client will quickly get to a comfortable recurring income. They will be able to focus on creating new courses on a regular basis and maintain their relationship with their subscribers. Note: The "in-app purchases" option is free to set up when publishing an app but a commission is taken for each transaction by the platforms. GoodBarber does not take any commission on sales. It is 15% at Apple and Google. It increases to 30% only at Apple and only if your customer exceeds 1 million dollars in sales over 1 year. If one of your clients passes this threshold, don't hesitate to contact us, we would be happy to put forward a "1 million dollars" app ;)
Modern image: If your clients are selling online courses from an app, regardless of their business, they will create a stir by talking about it.. They will definitely have an audience and they will have a very modern image. This advantage won't be valid in a few years, because having an app will have become commonplace. That's why you have to convince them not to miss the opportunity ;)
Management tool: If you sell an online course app, no matter how you operate or how you invoice, you will surely have to give your customer the hand to update their courses. Indeed, a content creator who sells their online courses must be able to add, modify or delete content at any time, without contacting you. In any case, this is a good practice that we recommend. So you can tell your client that you are providing them with a super easy-to-use tool. Everything is done from the web, without having to install any software on their computer. They have total control over the organization and updating of their content.
3/ Features for online courses
Once you know your target audience and have worked out your pitch, you'll need to find out what options and features GoodBarber offers to support your demonstration. Here is a list of features that will help you with this task:
Content apps: In-app purchases work on GoodBarber's advanced CMS (Content Management System). The "in-app purchases" are made on intangible products, so we added this option on content apps (Classic Apps) and not on eCommerce apps intended to sell "physical" (material) products. Moreover, the payment system is managed by the platforms (iOS and Android) so we did not implement a payment gateway in this module. Our flexible management of the app's tree structure, especially thanks to the "Menu" section, will allow to set up tiered menus. It is also possible to create categories within each content section. The tool offers a unique flexibility for the organization and classification of courses.
Content types: You can provide your customers with a wide range of content types for courses. There are articles, videos, and podcasts. You can also add "Map" and "Agenda" sections in the "in-app purchases" but in general, this doesn't apply too much to online courses. The absolute weapon will of course be the video. You can import a file or embed a video. For teaching courses, this seems to be the most entertaining and suitable format on a smartphone. However, podcasts may be of interest to some of your clients who do not have the added value of creating a video. And finally, articles will also be useful for some written courses or white papers. It will be up to your customers.
Subscription periods and rates: In the "in-app purchases" option, you can offer your customer to choose their rates and the duration of their subscriptions. They can choose different subscription periods (week, month, quarter, semester, year) and a range of prices is proposed by Apple (between 0,49€ and 349,99€). The prices on the Play Store are freely set by the customer. Your customer can choose to create several subscriptions with different durations, and of course, a price adapted to each duration.
Incentives: One of the aspects that can also appeal to your customer is that he can offer incentives to encourage their users to take out subscriptions. For example, they can offer a free trial version for a certain period of time (between 3 days and 1 year). This is even a piece of advice you can give them, the trial version is an effective marketing tool. Make sure it is not too long either. Moreover, your client can also leave some free courses directly available on the app. These courses, which will be introductory courses, for the most part, will give an idea of what awaits the users once they have taken the subscription. And there, you will have to advise your customer well so that the free content makes them want to subscribe to the app. Finally, they will even have the possibility to offer free subscriptions thanks to GoodBarber. This can be used especially for partnerships or for influencers who will advertise them. They can also use this option to run a contest on social networks by offering a free subscription and thus create a buzz around their app.
Search engine: If your client offers a wide range of courses, or does not necessarily have a lesson plan, it will be useful to offer a search engine. Members will be attracted to this option because sometimes they have an idea in mind and they don't want to waste time searching through the sections. A search engine is very efficient in quickly finding what you are looking for in the app. And if the courses are "written" courses (Section "Articles"), the search will also be done in the content of the article itself.
Push notifications: We keep saying that the "Push notifications" option is the " key element" of native apps. Indeed, the user has given their consent to receive them so they don't consider them as spam. Moreover, they receive them directly on their smartphone, integrated into the operating system, so the user experience is optimal. The interest of pushes for your customers who give online courses is multiple. They will be able to use them to give news about the app or their courses. But also, they will be able to carry out marketing actions with promotions or giveaways as we have seen above. Finally, the "Scheduled Push" option is particularly adapted to their business model. Indeed, in order to keep their customers, who pay a subscription fee, they will have to add courses regularly. So they can create, thanks to GoodBarber, an automatic rule so that a notification is sent each time they add new content. And they can even schedule different notifications based on the type of content added or the category involved. The goal, of course, is to make it easy for users to discover new courses and keep them coming back to the app.
Buttons and Widgets: We just saw above that just having an app gives a modern image to your business. But you need to let your customers and leads know that. With GoodBarber, your clients have the possibility to generate buttons with the App Store and Play Store logos, linking directly to the download link of their app. In addition to giving a modern image to their company, they make it easier for users to access the app. There is also the possibility to generate a QR code that they can print on business cards, flyers, put on their counters... This QR code also links to the download link of the app. Great marketing tools to promote the app.

Bonus - Advertising agencies: Normally, the monetization of an online course app is done through the sale of subscriptions. However, if some of your clients are not interested in this business model or if they want to generate additional revenues, they can add an advertising network to the app. There are 2 models. The external advertising network and the internal network. For the external ad network, you just have to create an account on Admob, AdManager, or Facebook and you integrate the ad networks in the app. These platforms will display ads in the app in the form of banners or interstitials (full screen) and they will give a part of the revenues generated by these ads to your clients. If you choose the internal option, it will be up to your client (or you!) to create and sell the advertising space on the app. In fact, you will be able to display the ads you want (banner or interstitial) and charge the advertiser the rate you want per click or per number of displays.
We are aware that in-app purchases are becoming increasingly popular. It seemed essential to us to offer this option to our clients. As a reseller, this new offer will open up many new business opportunities for you and will further expand your potential target audience. We look forward to seeing your first projects with this new feature.