View more extensions
Verified reviews
Display product reviews in your app
Service+
This extension can be installed based on your needs, by the GoodBarber team. Contact us for more information.
Automatic collection of reviews
Ask your customers to review your products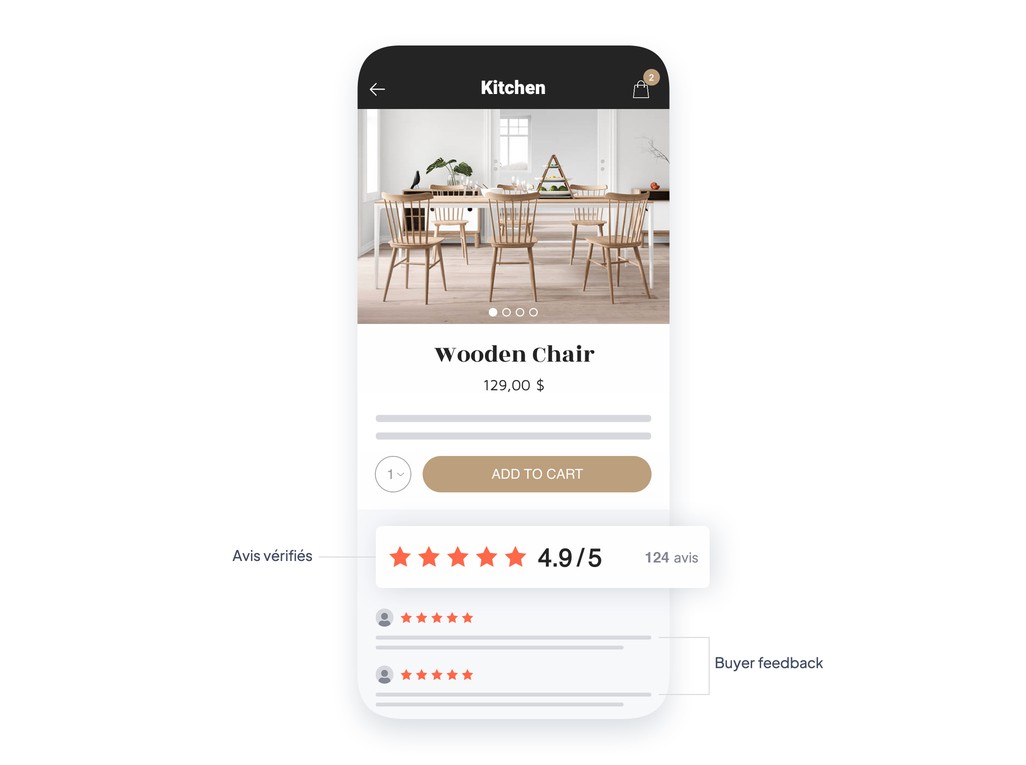 Our Service+ team can create a connector between your GoodBarber app and the Verified Reviews service.

Verified Reviews is a trusted third party that allows you to collect reviews on your products from your customers.

The review request is automatically sent by Verified Reviews to your customers, after they have made a purchase on your app.
Authentic reviews in your app
Rating and comments in the product page
A specific development is made by our Service+ team to add additional information to your product files: the rating and the comments

The rating is calculated by Verified Reviews based on the total number of reviews received for the product.
The comments left by your customers on Verified Reviews are displayed at the bottom of the page on each product sheet.
Why collect reviews?
There are several advantages to using an external review collection service for your online store:
Increased customer trust: Customer reviews are a form of social proof that can help build customer trust in your business and products. Customers are more likely to buy from a company that has positive and authentic reviews.

Improved online reputation: Customer reviews can help improve your company's online reputation, as they provide proof that you are a trustworthy company that provides good customer service.

Product and service feedback: Customer reviews can provide valuable feedback on the products and services you offer, which can help your business improve by meeting customer needs and expectations.

Increased SEO: Customer reviews can help improve your website's SEO, as they provide fresh and relevant content that can help improve your ranking in search engine results.
Verified reviews
Our team is here to build a solution based on your needs. Enter your email address below to get contacted by our team.
We have received your request. You will be contacted soon.