Use Facebook as a new sales channel.

Facebook's Marketplace allows you to sell your products from the social platform and benefit not only from a tremendous visibility but also the smoothest shopping experience.
Create your own store on the Marketplace, synchronize your GoodBarber catalog and open up to the 1.929 billion daily active users of Facebook.

All of your GoodBarber products will be added automatically to your Facebook catalogue managed via your Meta Business account.
Facebook users who want to buy any of your products seen on Facebook platform, will be redirected to your app so they can make their purchase.
Install Facebook Marketplace extension
1. Open GoodBarber extension store
2. Install Facebook Marketplace extension
Synchronize your GoodBarber catalog with your Facebook catalogue
GoodBarber automatically generate a dynamic feed that allows you to synchronize your GoodBarber product catalog directly with your Facebook store.
The feed is automatically updated with all your products, their prices, their stock...

1. Go to the menu Sales channels > Facebook Marketplace
2. Click the link "More info in the documentation "* to learn how to set your Facebook Marketplace.
*At the bottom of Facebook documentation page, if available, you can select your own language.

3. Follow instructions from "Upload a new data feed to a catalogue"
- At step 7. Choose how to upload your file, follow instructions for "Use a URL"
- Copy your Feed URL from your back office to be able to continue your Facebook settings.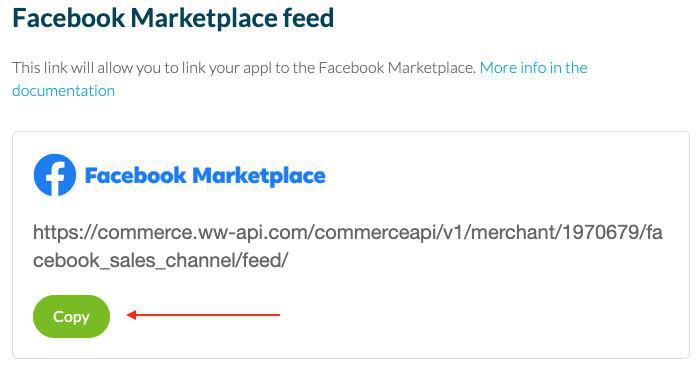 4. Your data feed now appears in Data sources. You can select it to see an overview or manage its settings.
More articles