Install a domain name (DNS configuration)
A DNS configuration gives the management of your domains DNS completely to GoodBarber.
DNS stands for Domain Name System, it controls subdomains for instance, you won't be able to set them anymore. For more information, read this online help.

Warning: If you already use your domain name somewhere other than your GoodBarber project, or have existing emails linked to your domain, DO NOT use a DNS configuration. You would lose the use of your emails and/or your other project wouldn't be accessible via your domain any more.

GoodBarber doesn't sell domain names, you need to buy one from a registrar (for instance GoDaddy , Gandi , Ionos , OVH or the one of your choice).

1. Go to the menu Sales channels > PWA > Domain name
2. Choose the option titled "I want to install my domain by delegating the management of the DNS servers to GoodBarber" then Click "Next".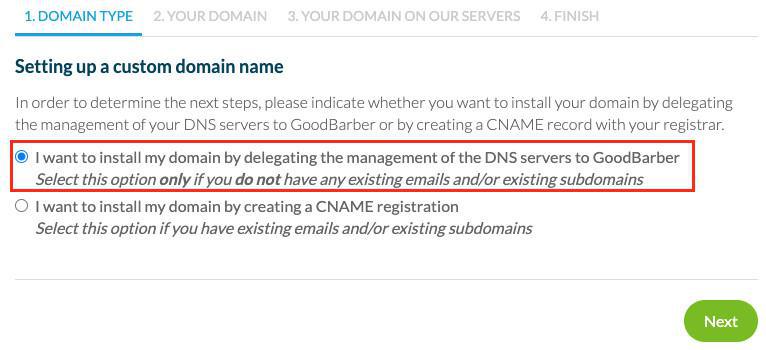 Indicate your domain name
1. Indicate the domain name you would like to install, without specifying www.
2. Click "OK".

DNS set up on your registrar platform
At this step, you get the parameters to fill in on your registrar interface.

1. Login to your registrar interface
2. Edit the DNS for the following values:


| | |
| --- | --- |
| | Name Server |
| Primary Server | dns1.goodbarber.com |
| Secondary server | dns2.goodbarber.com |
| Secondary server | dns3.goodbarber.com |
You can finalize the installation of your domain on the back office once your modification are propagated. Be aware it may take as long as 72 hours before your modifications are propagated.
Go to the menu Sales channels > PWA > Domain name and click "Next"

MX records allow you to configure your emails to use an external email service like G Suite.
GoodBarber does not manage emails from your domain, by default there will be no MX associated with your domain.

1. No email management: select "I do not want an MX record for this domain" to skip this step or come back to it later.
2. Creating emails at G Suite: select "Use the G Suite records" and see this online help to configure your G Suite MX.
3. You have existing emails linked to your domain: do NOT choose a DNS configuration but rather a CNAME configuration.

Finalize the installation in your back office
1. Click "Finalize the installation".
GoodBarber will finalize your domain installation, your project will be accessible via your domain name.

More articles