Set Google Analytics | Progressive Web App
Create your account on Google Analytics platform
You can use your Google Analytics account to view the usage statistics for your progressive Web App (PWA).
1. Login to your Google Analytics account or register if it's not already done
2. Go to menu "Admin" (at the bottom left of the screen)
3. Click "Create Account"
4. Fill in the Account name, then click "Next"
1. Fill the property name, then select the reporting time zone and currency
2. Click "Next"
1. Select the information related to your business
2. Click "Create"
Google Analytics Terms of Service Agreement
1. Accept Google Analytics Terms of Service Agreement.
Set up a data stream to start collecting data
1. Choose the platform "Web"
2. Fill in your PWA url and Stream name (as shown in our exemple below)
3. Click "Create Stream"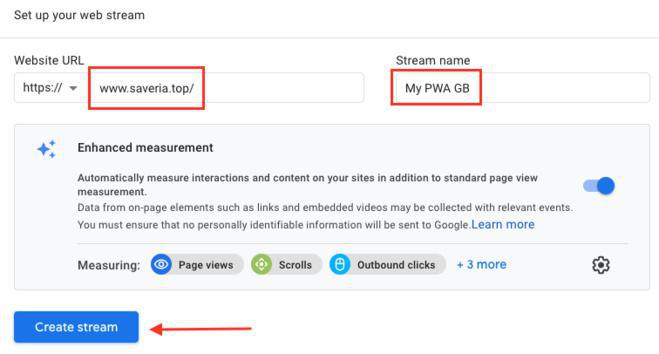 1. Copy the "Measurement ID"

Integrate your tracking ID on your PWA
1. Select "On" under Google Analytics in the menu Statistics > External analytics > PWA
2. Paste your Measurement ID copied at the previous step
3. Click "Save"
4. Update the settings of your application in the menu Sales channel > PWA > Update in order for the configuration to be implemented in the PWA.

For more details about Google Analytics, please check Google Analytics documentation.
More articles