How to monetize a mobile news app?
Written by Marie Pireddu on
We spoke in a previous article about the necessity for newspapers, the world of the press in general, to
offer a digital option.
Indeed, the consumption of information is now constant, 7 days a week and 24 hours a day. The digital transformation in this field opened doors for better possibilities. We witnessed the development of different types of news apps, each offering a higher standard of user experience.
The next challenge for news apps was to generate revenues while maintaining a great experience for their readers. A good monetization strategy is therefore crucial.
In this article, you'll discover the different available options for a news app's monetization and how to implement them in your GoodBarber app.
Note: we'll focus on ways to monetize an app offered for free on the Stores.
In-app advertising: ad networks and selling app placements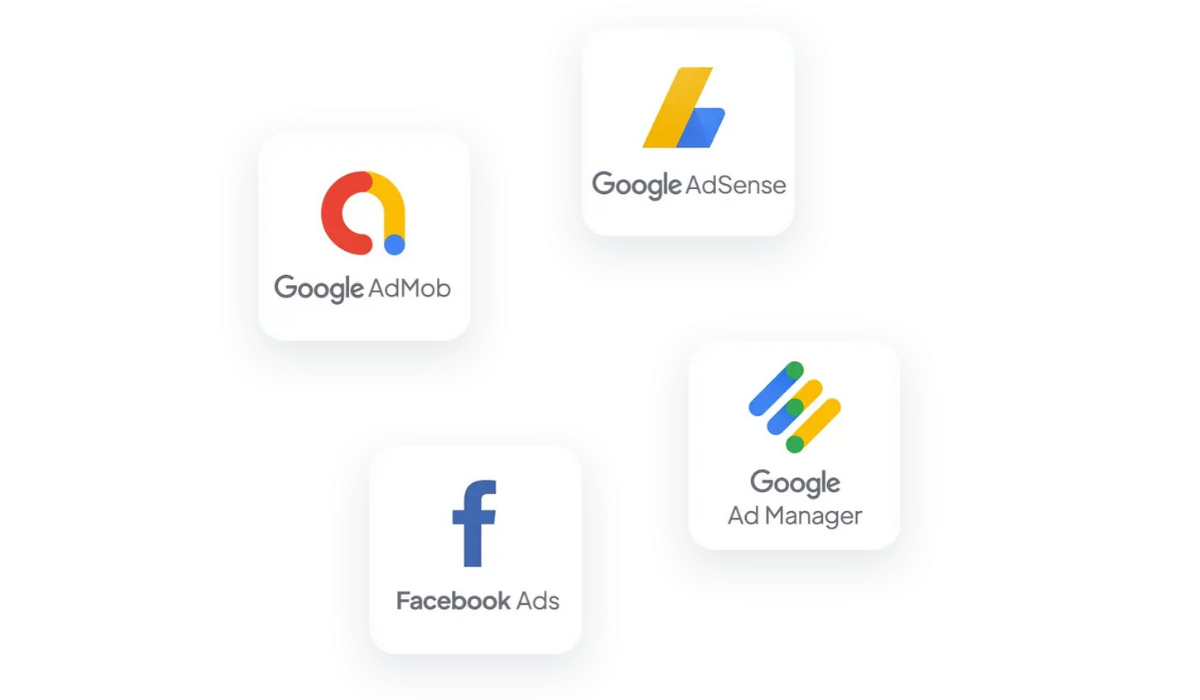 Let's start with the easiest way to make money with your app: advertising.
As a news company, you can make money from your app by placing different kinds of ads. GoodBarber offers you two options.

External ads: With the External ads add-on, you can connect to third-party ads network like AdMob, Ad Manager or Facebook. GoodBarber will retrieve and display automatically the ads.
Selling ads placement: This solution suits both businesses with high traffic and local press. First, you will need to install the (free) Internal ads add-on. This feature allows you to create your own ads. It might be more interesting for you to deal directly with advertisers and/or local businesses to sell ads placements in your app. You can find brands that fit your niche and offer them to place ads for their products or services on your app. If you're a local newspaper, local events or festivals could be another option.
In-app Ads are displayed under the following formats:
Interstitial:
It's a full-screen ad. The interstitial ads are shown after a user has completed 3 actions in between the list page/widget and an item page.
Banner:
this ad is displayed in items lists and items. For instance, in an article section, the banner appears at the bottom of the article list. When the user clicks to see an article, the banner is displayed at the bottom of the article.
You can find out more about how to set up your ads in this article.
​

However, with the increase in popularity of ads blockers, displaying ads must be treated carefully.
So, let's move on to our next solution to monetize your news app: subscriptions
In-app purchase: the Subscription model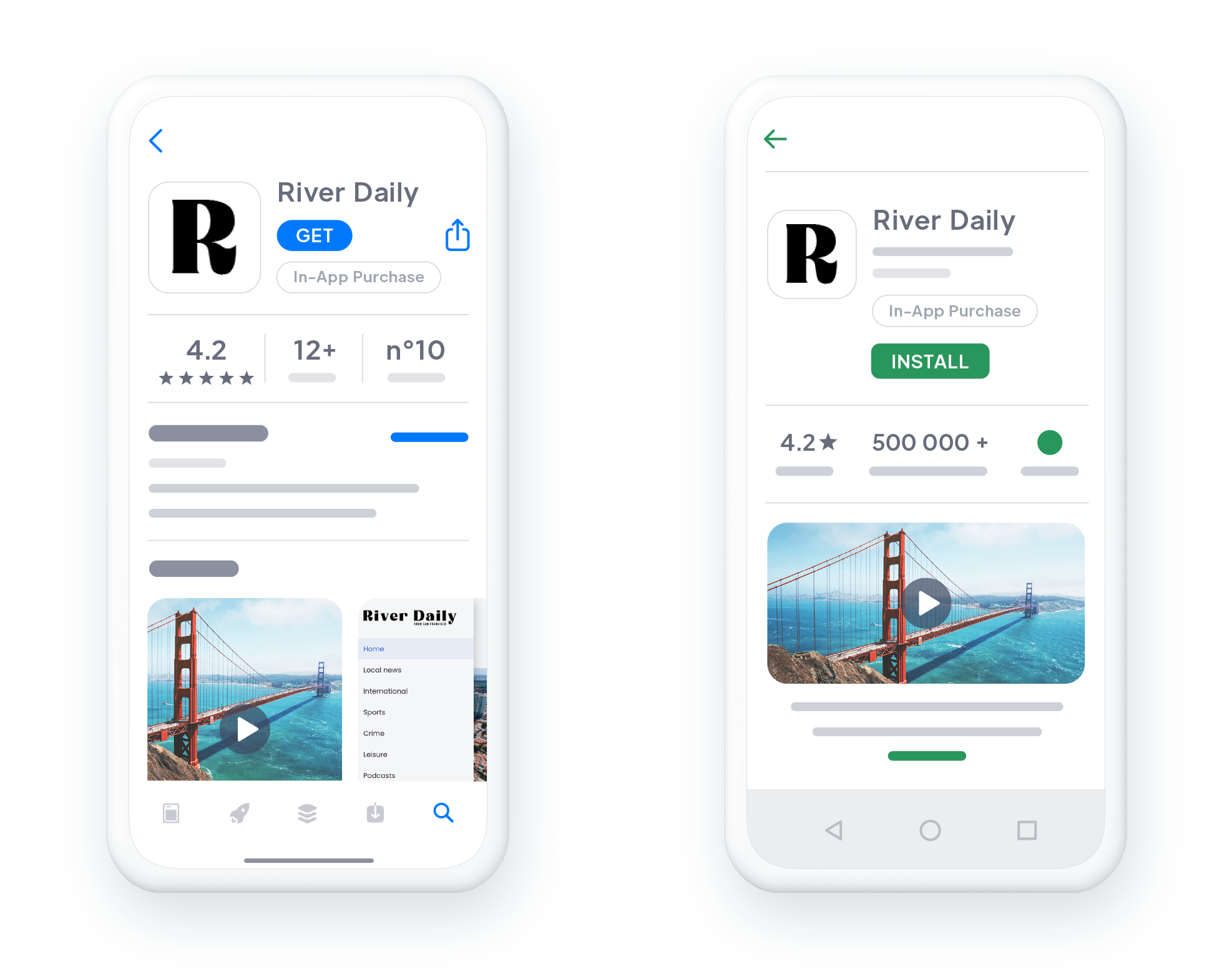 In-App Purchase has become very popular and lucrative. They
account for almost 50%
(48.2%) of the revenue generated by mobile apps. This is more than advertising revenue (14%) and paid downloads (37.8%). And among the different categories of i-app purchases, the subscription model is the most popular. Indeed, subscriptions offer benefits for both you and your users. They provide you with a
recurring, reliable income
as well as a
more loyal and engaged
audience. For your users, in-app purchase offers a great experience and added value without having to leave the app. No need to enter any card details, everything is linked to their accounts on their respective platforms (iOS or Android).
Now that you know the benefits of monetizing your news app with subscriptions, it is time to plan your strategy.
The
GoodBarber in-app purchases add-on
offers you the possibility to define exactly how you want your content to be accessed: what do you want to offer for free, what content should be paid, the duration of the subscription period, etc.
Which strategy to apply to restrict your content?
You have three options:
Restrict all the articles and leave one paragraph visible so users can preview the content. A subscription will be required to read the rest of the article. This is a strategy used by many if not most apps in this sector.
If your app has multiple article sections, leave some categories free and always accessible, while others will require a subscription to be visible.
For example, a typical news app will have these sections: Latest or daily news, Politics, Sport, Environment Entertainment, and Weather. it makes sense to restrict the categories that are most relevant to users based on the target audience (Politics, News, Ecology) and leave the Weather and Entertainment categories accessible by all, without a subscription.
Whether there is a single category or several, you also have the option to leave a few articles accessible freely. It gives your readers the chance to discover more about the app, and figure out if they're interested in subscribing. `in this situation, restrict the more in-depth articles like the investigation, strong topics, or exclusive news and leave the more traditional articles accessible without subscribing.
What type of subscriptions?
Once you've decided on which strategy to opt for to restrict your content, it's time to decide what types of subscriptions to offer.
The ideal is to propose several subscription durations, with several price ranges, to suit a maximum of users.
A good practice is to propose increasing rates according to the duration. Generally, the longer the duration of the subscription, the more interesting the price becomes.
Weekly subscription: It is generally less expensive at first sight since it's for a short duration. It is intended for a public who is looking for a particular piece of content but who won't necessarily be interested in the long term. They only have a punctual interest in your content.
Monthly subscription: This is generally the most popular as it offers an intermediate price. Most subscriptions, no matter for what product or service will offer a monthly subscription. Your readers will be used to this format already. Users who subscribe to this plan are also likely to remain more loyal.
Annual subscription: This is the top tier, generally the most expensive option, but also the most advantageous. Since it's for the long term, the price usually includes a discount (12 months for the price of 10 for example). However, some users are reluctant to subscribe to this option, as they don't want to pay a large amount at once. Subscribers to this offer will be most loyal. Since their subscription will be effective for a full year, they'll have the time to really know your app, your content and it will most likely become part of their daily life. Reading the news on your app will become a habit and they'll want to keep it that way and renew their subscription in the future.
The importance of the free trial.
No matter the strategy you applied to restrict the content of your app, a key factor to convince users to purchase a subscription is thefree trial
.
Yourself, you most likely used our 30-day free trial to try out our platform before purchasing your plan. The same goes for your readers.
In your GoodBarber back office, for each subscription you set up, you can associate a trial period to them. This is a period during which the user has access to the premium content authorized by the chosen subscription, without being charged.

The trial period is a very important element in a marketing campaign. It is a no-risk, no-commitment proposition for the consumer, allowing them to test the premium version of the app before paying. Moreover, it gives you insights into the user experience, if they liked the app, and if necessary adapt the app accordingly.

The trial period must be adapted to the content offered and to the frequency of publication of the app's content:
If new content is added regularly to the app, the trial period can be quite long. This allows the user to have time to appreciate the app, to create a habit, and really see the type of content published on a longer term. Knowing that new content is published regularly will create a need for the user to have access to it, and therefore to subscribe.
If the new content is not published frequently, a shorter trial period is more appropriate. If the user has the time to read all the content offered by the app during the trial period, they won't see any interest in subscribing.
For example: If new content is published every day, the trial period can be several weeks, while it would only be a few days if the content is published every month.

Generally, for a weekly subscription, the trial period is 3 days, for a monthly subscription, it is one week and for an annual subscription, it is often 15 days
The GoodBarber new in-app purchase add-on is a very detailed and complete feature that will help you create and restrict content, plan the right strategy for your subscription and promote it. For example, the Premium Sticker is a great marketing tool to let your readers know which content is exclusive to subscribers.
By following the above tips, you're on your way to becoming a successful news app owner.
If you're haven't created your app yet, you can find all the tips to build a successful news app here .
Several online help related to in-app purchases are here to help you set everything up in your GoodBarber app.